Uzbekistan's "System Reset"
By: Eldor Aripov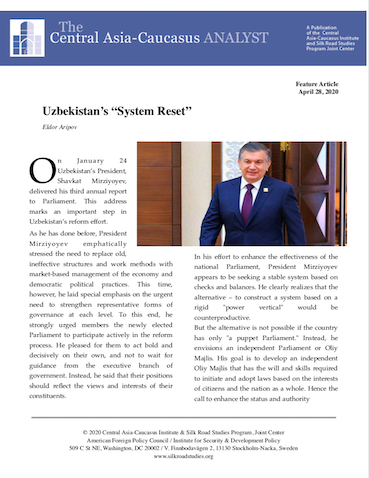 On January 24 Uzbekistan's President, Shavkat Mirziyoyev, delivered his third annual report to Parliament. This address marks an important step in Uzbekistan's reform effort.
As he has done before, President Mirziyoyev emphatically stressed the need to replace old, ineffective structures and work methods with market-based management of the economy and democratic political practices. This time, however, he laid special emphasis on the urgent need to strengthen representative forms of governance at each level. To this end, he strongly urged members the newly elected Parliament to participate actively in the reform process. He pleased for them to act bold and decisively on their own, and not to wait for guidance from the executive branch
of government. Instead, he said that their positions should reflect the views and interests of their constituents.
In his effort to enhance the effectiveness of the national Parliament, President Mirziyoyev appears to be seeking a stable system based on checks and balances. He clearly realizes that the alternative – to construct a system based on a rigid "power vertical" would be counterproductive.
But the alternative is not possible if the country has only "a puppet Parliament." Instead, he envisions an independent Parliament or Oliy Majlis. His goal is to develop an independent Oliy Majlis that has the will and skills required to initiate and adopt laws based on the interests of citizens and the nation as a whole. Hence the call to enhance the status and authority
of parliamentarians. To this end, also, he sharply broke with tradition by proposing a law that will oblige ministers to respond personally to requests from members of parliament.