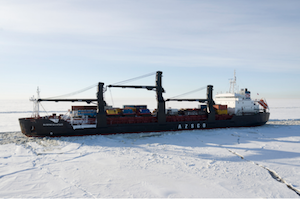 BACKGROUND: Halford MacKinder's Eurasian heartland theory has had a revival in recent years. Advocates of Eurasian heartland geopolitics usually argue that land-power control of the World Island is the ultimate high-ground. However, an often-overlooked aspect of MacKinder's original Eurasian Heartland thesis is that he directly references the Arctic Ocean. His map of the World Island blocks access to Eurasia by an "Icy Sea." Yet the 21st Century combination of a thawing Arctic Ocean and new industrial developments in Western Siberia opens up the possibility of sea-power geopolitics to the Eurasian heartland. This presents the possibility of Kazakhstan gaining maritime access to the Arctic.
Development of the Northern Sea Route (NSR), connecting East Asia and Europe via the thawing Arctic Ocean adjacent to Russia's Eurasian Arctic is already advanced. Industrial and shipping transport architecture from Yamal-Nenets is laying the foundations for a future self-reinforcing future industrial cluster along Myrdalian circular cumulative causation lines. The combination of port development, a viable Arctic Ocean shipping route and the possibility of greater industrial development further upstream into Eurasia offers huge industrial complementarity possibilities to Kazakhstan.
Key to the development is Russia's Sabetta Port on the Gulf of Ob', opening to the Kara Sea and the Arctic Ocean and ultimately to East Asian and European markets. Sabetta was built to service the South Tambeyskoye liquefied natural gas (LNG) field, to ship from Yamal to East Asia. While Sabetta has been developed primarily as an LNG liquefaction and outward shipment port, it is also concurrently developing multimodal containerized freight capacity. In 2015 the local Yamalo-Nenets Autonomous District legislative assembly approved a rail plan to better connect it to the Russian industrial complex: "Construction and Operation of the New Non-Common Use Railway Line Bovanenkovo-Sabetta."
Local government authorities are excited about developing the port for container transshipment. Ural Bureau Customs Chief Vyacheslav Goloskov has said that while Sabetta was "initially meant as a dedicated gas offloading port … now it has effectively become Ural's gate to the sea." Goloskov argued that if icebreakers lead the way for LNG ships, then ice-class containerized cargo vessels can follow in the wake, making Sabetta a year-round transshipment port. The NSR is already attracting increasingly diverse cargo shipments, for example refrigerated fish from Vladivostok-Arkhangelsk and timber from Arkhangelsk to Shanghai.
An effective transshipment port at Sabetta means that for Kazakh trade to enter the World Ocean it must only reach Sabetta first. Development of the inland waterways from the Yamal-Nenets bridgehead is already being pursued by regional Russian subnational governments in the West Siberian plain. Linking up with this continental river transport system offers Kazakhstan the possibility of a viable maritime route. The Ob'-Irtysh River is navigable for the entirety of its 5,410 kilometers from the Kazakh-China border to the Kara Sea. The Ob' river portion of the transit – 1,200 kilometers from the West Siberian Plain to Sabetta – is navigable by ocean-going vessels. An electronic navigation database for river transport along the Irtysh is slated to be finished by 2020 under Russia's "2020 Development Strategy for the Russia Federation Transport System" and "2030 Development Strategy for Inland Water Transport," allowing for safer transit of the river by ocean vessels.
IMPLICATIONS: Kazakhstan's main transport corridors are currently railways and roads moving mostly east to west. While these east-west and west-east axial corridors remain the key extant and potential economic development zones, the possibility of a south-north axial transport corridor to West Siberia is emerging. In 2016 two major transits were made from South Korea across the Northern Sea Route first to Sabetta and then deep inland up the Ob'-Irtysh: one to Tobolsk in the Omsk region of the Russian Federation, the other to Pavlodar in Kazakhstan.
This Northern Sea Route freight to Kazakhstan first transited the Arctic Ocean from Ulsan, a heavy industrial port in South Korea near the heavy shipbuilding center Busan, transiting to Sabetta on the Yamal Peninsula. The total journey from Ulsan to Pavlodar, Kazakhstan is about 14,000 kilometers with over 2,000 kilometers on the Ob'-Irtysh twin Siberian rivers. The initial delivery of heavy plant equipment to an oil refinery in Pavlodar was a two-stage river barge operation from Sabetta to Omsk and then from Omsk on to Pavlodar. The principal initial attraction of this ocean-river transport artery is for super heavy oversized cargo such as plant machinery and equipment that cannot be transported in TEU-standard containerized freight and does not have specialized ocean freight capacity that super large ore carriers, or liquefied natural gas containers have. For example, the weights of the two petrochemical reactors delivered to Pavlodar were 527 and 550 tons.
Alexander Voronenko at the Shanghai Cooperation Organization Research Centre at Khabarovsk State University of Economics and Law has collected materials for what he calls "Project Ob'-Irtysh." Voronenko argues for the south-north development of the inland waterway for a perpendicular connection with China's east-west New Silk Road Economic Belt. Along with Sabetta, the inland river ports of Salekhard, Khanti-Mansyisk and Omsk are developing port capacity. Amazingly this inland river transport system has also recently been used to transport heavy equipment from the Volga to Omsk: from Volgogradneftemash plant via Saint Petersburg and then on to Gazpromneft refinery plant in Omsk – replicating a similar journey undertaken in 1984 under the Soviet system which transported from Volgograd to both Omsk and Pavlodar using the inland waterways.
Russia's development of Yamal-Nenets is the infrastructure and global market paradigm shift that Kazakhstan needs to exit Eurasia by sea. Domestically, Russia's Federal Ministry of Maritime and River Transport manages the river system through the "Ob'-Irtysh Basin Inland Waterways Administration" while the Arctic NSR has its own federal agency in Russia. But bilateral legal frameworks between Russia and Kazakhstan are already in place to easily increase river transport volumes between Russia's Omsk and Kazakhstan's Pavlodar and Semey.
CONCLUSIONS: Like much of Kazakh history, its Arctic maritime strategy is largely dependent on Russian economic development, investment, and geopolitics. For Kazakhstan, the real variables are threefold: greater investment in Sabetta port and its development into a containerized transshipment port; capacity and reliability of the river barge system from Sabetta to Omsk; and Chinese and Russian cooperation for increased vessel transits on the NSR. If the NSR-Sabetta-Omsk multimodal ocean-river transport system develops alongside increases in trans-Arctic shipping from East Asian ports to Sabetta, then developing the final leg from Omsk to Pavlodar, and even Semey in Kazakhstan is not a difficult prospect. The possibility of containerized maritime transport along a West Siberian-Arctic Ocean river-ocean corridor has the possibility to transform Kazakhstan into an effective maritime nation with access to the Arctic. By extension, it opens Kazakhstan to the maritime economies in both East Asia and Europe and further into the World Ocean.
AUTHOR'S BIO: Tristan Kenderdine is Research Director at Future Risk, This email address is being protected from spambots. You need JavaScript enabled to view it. .
Image Source: Tuomas Romu via Wikimedia Commons accessed on 1.23.2019