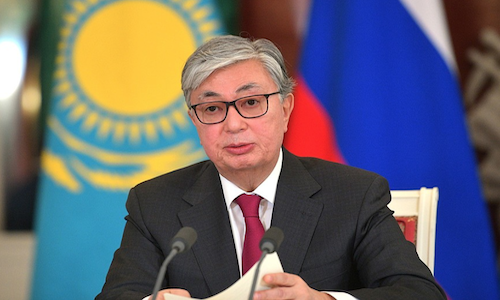 BACKGROUND: Kazakhstan's presidential succession needs to be understood in a broader internal and regional context. Peaceful or successful transitions of power in the authoritarian post-Soviet states are a fairly rare occurrence, given the difficult and potentially explosive nature of these processes. Uzbekistan's recent transition is an exception. Yet a similar scenario would likely not have been acceptable to Nazarbayev, who wanted to preserve his hallmark policies, whereas Shavkat Mirziyoyev dismantled much of his predecessor's legacy.
The lack of functioning democratic mechanisms and the prevalence of informal patronage networks among the ruling elites make it virtually impossible for voters to change the leadership in a democratic ballot. Instead, longtime leaders have on several occasions been pressured to cede power in revolutionary or near-revolutionary conditions like in Ukraine, Georgia, and most recently in Armenia. Successions often bring uncertainty in the ruling elite, since new leaders can turn against their predecessors' families and close associates to build their own loyal patronage network. This has happened in neighboring Central Asian countries, particularly in Kyrgyzstan. Presidential successions in the post-Soviet space often bring fears of instability due to elite infighting and possible coups d'état, thus new leaders need a sufficient power base to navigate the competitive politics of local power elites.
Kazakhstan's succession scenario was seemingly carefully designed and implemented by the former president to avoid elite infighting and destabilization, especially against the backdrop of ongoing serious social unrest in the country caused by socioeconomic hardship. A former first secretary of Kazakhstan's communist party, Nazarbayev has ruled in Kazakhstan since the country's independence and has been able to ensure relative stability. The planning and orchestration of a smooth transition of power was likely viewed as necessary in order to avoid destabilization or intra-elite conflict. This is particularly important in hydrocarbon-rich Kazakhstan, which maintains a strong kinship system and where competition for access to the control of natural resources is very high. Over the past thirty years, the country's oil wealth has facilitated the consolidation of an extensive elite around Nazarbayev and his family, close associates and other loyalists. Moreover, a micromanaged transition of power will allow Nazarbayev to retain his political clout without formal responsibility and safeguard his political legacy.
IMPLICATIONS: Kazakhstan's non-transparent political system does not permit clear-cut conclusions about the details of the succession scenario. However, several analysts noted unusual activity in Kazakhstan's highest echelons of power, indicating that preparations for the succession have been underway for at least several years. In 2018 and early 2019, far-reaching reshuffles took place in the senior ranks of the Kazakh government. Last year, the president appointed several new members to his cabinet including the ministers of defense and finance and the head of the presidential administration. This year, just before his resignation, Nazarbayev dismissed the whole cabinet for failing to address country's worsening socioeconomic conditions. Yet many analysts suspected that poor performance was only a pretext, since previous large-scale changes to senior positions were undertaken to prevent intra-elite conflicts and the emergence of strong political competitors.
Nazarbayev took several steps to ensure that he retains ample political influence and stays immune from prosecution. In 2010, the former president was granted the title of Elbasy (Leader of the Nation), awarding him the lifelong right to be consulted on state decisions as well as legal immunity for Nazarbayev, his family and their property. Constitutional amendments passed in 2017 limited presidential powers in favor of the parliament and cabinet, which was widely viewed as a move to restrict the prerogatives of the future leader should Nazarbayev step down. In mid-2018, Nazarbayev assumed chairmanship of the reformed Security Council, which had just been transformed into an influential body with a wide set of prerogatives in shaping state policy. After his resignation, he also retained chairmanship of the Nur Otan party.
The focal point of the succession process was the question of Nazarbayev's successor, who clearly was supposed to be handpicked and prepared for long-term rule. Frequent speculations held members of Nazarbayev's close family, particularly his daughter Dariga Nazarbayeva, to be the most likely candidates for the presidency, even though the former president himself declared in an official interview in 2016 that he did not envision his children to succeed him. Unexpectedly, the former Senate chairman, Tokayev, was instead picked to become Kazakhstan's next president. In line with the constitution, Tokayev assumed office on March 20 following Nazarbayev's departure. On April 23, during the Nur Otan congress, the ruling party unanimously nominated Tokayev as its candidate in the June 9 snap elections, with Nazarbayev's public blessing. As was widely predicted, the interim president decisively won the ballot by collecting more than 70 percent of the votes, however, the voting was fraught with serious irregularities. International observers from OSCE pointed out that the authorities restricted critical voices and limited political pluralism during the electoral campaign. Observers also voiced serious doubts about the vote counting on Election Day, given cases of multiple voting and ignoring counting procedures.
Tokayev is a graduate of the prestigious Moscow State Institute of International Relations and a former career diplomat specializing in China. He also has extensive political credentials after holding various important posts in Kazakhstan's Ministry of Foreign Affairs, including deputy foreign minister and foreign minister. He has also served as prime minister and most recently as chairman of the Senate. He is widely regarded as a longtime loyalist to Nazarbayev and a skilled technocrat without a strong political power base of his own. The steps taken by Tokayev after assuming the presidency suggest that he does not intend to dismantle his predecessor's legacy. He decided to rename the country's capital Nur-Sultan (previously Astana) in Nazarbayev's honor, and to rename the main streets of other Kazakh cities after the former president. In his first public address to the nation, Tokayev emphasized the importance of stability and the need to continue implementing existing internal and foreign policies. He reaffirmed the government's recent commitment to improving the social welfare of citizens and announced new social programs in Kazakhstan's two poorest regions.
During his inaugural visit to Russia on April 3, Tokayev reiterated his commitment to preserving Kazakhstan's strategic partnership with Moscow. Yet Kazakhstan under Tokayev will in all likelihood retain its established multi-vector foreign policy – Tokayev was one of the architects of this pragmatic external policy based on simultaneously maintaining good relations with Russia, China and the West. Given Kazakhstan's recent launch of a large privatization program, the country needs Western investment to prop up its troubled economy.
CONCLUSIONS: Kazakhstan's presidential succession can be summed up as "a change without change." Under the new president, the country is not likely to undergo radical changes, all the more so since previous President Nazarbayev will retain substantial clout in Kazakhstan's political life. The new president's room for maneuver will be considerably circumscribed as long as Nazarbayev and other prominent members of his family retain substantial power in the country. Yet the smooth transition of power and the country's political future are clouded by mounting social discontent. Over the last several weeks and on Election Day, thousands of protesters hit the streets of many Kazakh cities to express their disappointment with the new leader, who is widely seen as a continuation of Nazarbayev's rule. So far, crackdowns and the introduction of populist policies have not put these protests to rest, suggesting that popular unrest exacerbated by economic hardship will be one of the chief concerns for the new president.
AUTHOR'S BIOS:
Natalia Konarzewska is a graduate of University of Warsaw and a freelance expert and analyst with a focus on political and economic developments in the post-Soviet space.
Image Source: kremlin.ru accessed on 6.18.2019