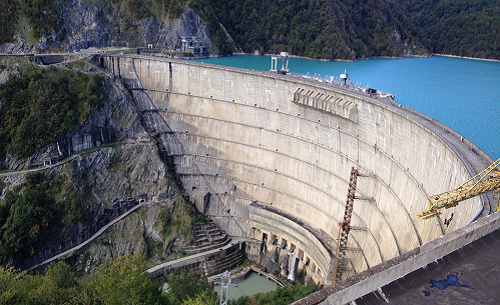 BACKGROUND: On February 19th, Enguri Dam in the Zugdidi region of Georgia was shut for an assessment of what critical maintenance needs to be done. The dam and power plant will remain closed for two to four weeks. How much damage inspectors will find is uncertain (Georgian estimates of 30 million Euros and 3-4 months of repairs compare oddly to Russian estimates of US$ 1 billion and 3 years of repairs), but what is clear is that another dangerous moment in regional relations is at hand.
The aging Enguri Dam, modeled on Colorado's Hoover Dam and first opened in 1978, is considered an engineering marvel. It is the second-highest arch dam in the world, and the largest single source of power in Georgia. Last year it generated almost a third of all Georgia's electricity, and provided all of Abkhazia's power. Although the dam is situated securely in Georgian territory, the electricity facility it powers is located 15 kilometers away, in the breakaway Republic of Abkhazia. In spite of Abkhazia's declaration of independence in 1992, and Russia's recognition after the 2008 war, Georgia still considers the region part of its own territory. In stark contrast to the decisions taken by Ukraine regarding Crimea, Georgia is unwilling to cut off power to the residents of its breakaway province. And if it were to grow less charitable, there is still the matter of Abkhazia controlling access to the power facility.
Somewhat bewilderingly, Georgia supplies power generated by Enguri to Abkhazia at no charge. Back in 1996, the government agreed to give Abkhazia 40 percent of the power generated in exchange for recognition of Georgian ownership and access to the facility. As years passed, Georgia went through major reforms in metering, billing and demand reduction, while Abkhazia's demand (where power was free) remained at Soviet levels. Abkhaz demand has been on a sharp upward path ever since the 2008 war – with Abkhazia (population 241,000) now consuming more electricity than Georgia's capital city of Tbilisi (population 1.2 million). According to the Georgian Energy and Water Supply Regulatory Commission report, Georgia provided 17.31 percent of all its power supply to Abkhazia in 2015.
As Abkhaz demand rose, now backed by Russian presence, the 40 percent somehow became a guaranteed minimum amount of power for Abkhazia regardless of Enguri's production. The Georgian grid has been improved and strengthened, and is now the strongest in the region, but meanwhile Enguri has remained in decline, due to significant silt buildup at the dam, deteriorating concrete and seepage, and declining water levels. In recent years, during low-flow seasons, Abkhazia often gets all the power generated from Enguri, and during past repairs and inspections, Georgia has been compelled to buy power – from Russia – to keep the lights on. Unless Georgia were willing to cut Abkhazia off its grid, keeping the lights on in Abkhazia is a key component of keeping the rest of Georgia's grid stable.
This might seem like delicious irony to Abkhazia, but the implications are deeply troubling and the situation unsustainable. Abkhazia's rise in consumption is no doubt influenced by the arrival of 5,000 Russian troops, plus their 5,000 family members and the establishment of three military bases – all of which are receiving power at no cost – from their adversary. Meanwhile, the very source of that power is being degraded.
IMPLICATIONS: With the glaring exception of Abkhazia, Georgia has developed an electricity sector that is a model in the region – relatively efficient and transparent, and ready to sell seasonal hydroelectricity to its neighbors. Georgia was recently invited to join the European Energy Community after years of negotiations, which reflects both Georgia's accomplishments in energy and its aspirations to continue to develop a western-approved model of energy sales. Even Russia, which owns significant assets in Georgia, has benefitted from Georgia's electricity sector reforms. The Russian parastatal Inter-RAO, which manages all of Russia's dealings with transboundary electricity, has many years of experience in Georgia, where it is the lead owner in the Telasi company (which manages the electricity grid of Tbilisi) as well as the owner of several blocks of thermal power. The Georgian government reports a good relationship with Inter-RAO, a company whose behavior in the former Soviet space tends to vary from professional to predatory, depending on the strength of the regulatory institutions of the host state.
In a break from past practice, whereby Georgia had been compelled to purchase electricity from Russia to supply Abkhazia during periods when Enguri was not operating, this time Inter-RAO has offered to supply power to Abkhazia during current inspections. Georgia welcomed this announcement, but the role Inter-RAO plans to play at the facility remains unclear. Inter-RAO may be attempting to create a debt-for-equity situation with Abkhazia whereby it will angle to become a part owner of the facility based on its coverage of Abkhaz energy debt. Inter-RAO has tried to take on a role at Enguri in the past, without success. Six months after the 2008 war, Russia and Georgia arrived at a secret agreement regarding the management of Enguri, but Inter-RAO leaked the agreement (which showed that Georgia was bypassing Abkhazia to negotiate directly with Russia) and public outcry caused it to be abandoned. The government of Abkhazia has not been open to renegotiations since then.
The cost, both of renovations and alternate power during the renovations, is a critical uncertainty as is the amount of time repairs will require. EBRD is fronting the first 30 million Euros for repairs, but no one (not even the Georgian public) is eager to provide substantial capital for a facility that has to manage across hostile borders without clear agreements, and gives away much of its power.
Abandoning Enguri would be a disaster for both entities. Georgia wants to continue to own and operate it, but cannot afford extensive repairs without collecting payment for electricity. Abkhazia cannot produce electricity without Georgian cooperation, not even if with greater assistance from Russia. Both are bound to the shared energy infrastructure, and neither entity is made better off by shared energy instability. Clear agreements on supply, political will to implement power distribution sector reforms on the part of the Abkhaz de-facto authority, together with individual re-metering, introduction of cost-based retail tariffs, payment enforcement, demand side management and improved transparency are all essential to provide Abkhazia with longer term energy security. If Inter-RAO (whose corporate motto is "energy without borders") can play that role, it will be a welcome strengthening of the regional grid. If, on the other hand, Inter-RAO seeks to profit from continued confusion associated with the facility, it will hasten the demise of Enguri.
CONCLUSIONS: Global electricity exports are rising, and can serve as an important vehicle for reducing costs and bringing more green energy into grids. As a world leader in international electricity trade, Russia's interest in helping move Abkhazia to a more secure electricity footing exceeds its interest in continuing to consume free electricity at its bases there. Abkhaz interests are not well-served by unaccountable and rising electricity consumption.
Reliable, affordable electricity is a critical component of development and security. International attention to the problem should be looking to ensure that Russia helps ensure that its client, Abkhazia, doesn't become colder and darker by destroying its long-term access to energy. Meanwhile the widely disparate estimates of the cost and time needed for repairs suggests that outside technical advice and oversight will be a critical aspect of confidence-building and a fair resolution.
AUTHOR'S BIO: Theresa Sabonis-Helf is Professor of Security Studies at the National War College/National Defense University, and is currently on sabbatical researching electricity politics in Central Asia and the Caucasus. She is a member of the Council on Foreign Relations and an Adjunct Professor in the Science, Technology and International Affairs program at Georgetown University. The opinions represented in this article are solely those of the author, and do not reflect the official position of the National Defense University, the Department of Defense, or the U.S. Government.
Image source: Theresa Sabonis-Helf on 29.10.2016