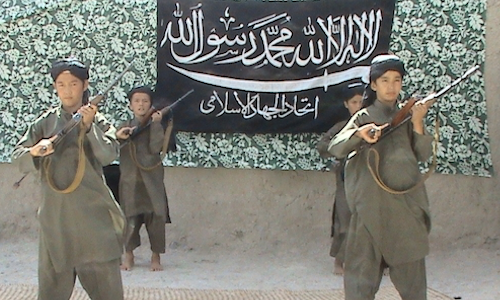 BACKGROUND: Abu Zar first entered the jihadist scene in Pakistan as a replacement of Qari Zafar, who was the head of Lashkar-e-Jhangvi and died in a U.S. drone strike in Waziristan in 2010. Zafar had been wanted by the U.S. government for his role in the bombing of the U.S. Consulate in Karachi in 2006.
Abu Zar has said he was introduced into jihadist networks in 2006 when he was working as a teacher at an Islamic school in Karachi. One of his students was Qari Hussain Ahmad Mehsud, who was the cousin of late Pakistani Taliban leader Hakimullah Mehsud, and was killed in the same drone strike that eliminated Qari Zafar in 2010.
After that drone strike, Abu Zar retreated to the Afghanistan-Pakistan border, where he came in contact with IMU fighters. Although Abu Zar never precisely filled Qari Zafar's shoes in Lashkar-e-Janghvi, he did become the IMU's leading mufti and featured prominently in IMU, Pakistani-Taliban and the Uighur-led Turkistan Islamic Party (TIP) videos and traveled throughout Pakistan giving sermons to tribal members.
Abu Zar often lashed out against China for its alleged support of Pakistan's crackdown on the Lal Masjid in 2007 and Myanmar for its policies towards the Muslim Rohingya ethnic group. Abu Zar also publicly supported the Pakistani Taliban's attempted assassination of Malala Yousufzai and encouraged tribal leaders to accept Uzbek and other foreign fighters.
Indeed, one of the mysteries in Abu Zar's background is how he learned to speak fluent Uzbek, despite no record of him living in Uzbekistan. He is only known to be of Rohingya-Burmese descent and Pakistani nationality and thus a native Urdu speaker. Nonetheless, Abu Zar's language ability in Uzbek elevated him quickly to a prominent role within the IMU, as he was an interlocutor between the IMU and its Urdu-speaking Pakistan hosts in the tribal areas. Moreover, as a muhajir, or migrant, by ancestry, Abu Zar could legitimately represent other migrants from Central Asia.
The key transition for Abu Zar was in 2015 when IMU leader Usman Ghazi and he pledged allegiance to ISIS and abandoned their longstanding allegiance to the Taliban and al-Qaeda. Four reasons likely explain Abu Zar's embrace of ISIS: first, he knew Mullah Omar died in 2013 (before the Taliban announced Mullah Omar's death in August 2015) and thus could not continue to be loyal to a dead person, especially when Abubakar al-Baghdadi presented himself as an alternative; second, from his hideout in Pakistan's tribal areas he was fooled by ISIS propaganda and believed the Caliphate was as large as ISIS claimed; third, he was inclined to support the idea of the Caliphate, which neither al-Qaeda nor the Taliban planned on claiming in the near-term; and, fourth, he may have been influenced by former Lashkar-e-Janghvi comrades who merged with the Khorasan Province, by which ISIS refers to Afghanistan, Pakistan and Central Asia.
Abu Zar became silent for more than a year after the Taliban claimed in July 2015 to have killed Usman Ghazi and dozens of IMU members for betraying the Taliban. Only in October 2016 did Abu Zar emerge in two videos of the IBB explaining why he was wrong to have supported ISIS, two videos with the TIP, and a videos promoted by a newly announced Rohingya jihadist group in Myanmar.
IMPLICATIONS: Before the Syrian civil war, all Central Asian jihadist groups, such as the IMU and TIP and others such as the Islamic Jihad Union (IJU), were under the umbrella of al-Qaeda and the Taliban. After the Syrian civil war broke out in 2011 and ISIS emerged as a competing alternative to al-Qaeda three years later, the thousands of Central Asian jihadists who streamed into Syria as well as their brethren back in Afghanistan and Pakistan had to decide between al-Qaeda and ISIS.
The TIP moved almost all of its resources to Syria and became further enmeshed with al-Qaeda in Syria. The IJU stayed in northern Afghanistan with the Taliban. Some remaining fighters of Jund al-Khilafah shifted to Syria and joined ISIS. Central Asians, and especially Tajiks, who traveled to Syria independent of any of the main groups in Afghanistan and Pakistan after 2014 tended to join ISIS.
The IMU is perhaps the most complicated scenario because the IBB and another Uzbek-led militant group, Tavhid va Jihad Brigade (TJB), formed in Syria in 2013 and were originally linked to the IMU by funding and fighter networks. But they quickly became estranged from the IMU due to the vast geographic space between them. The IBB and TJB, like the TIP, became enmeshed with al-Qaeda in Syria and maintained loyalty to the Taliban. The IMU back in Afghanistan and Pakistan faced funding and recruitment shortages because of the flow fighters to Syria and in 2015 Usman Ghazi ultimately decided to join ISIS possibly because the IMU received some funding from ISIS in return for Ghazi's loyalty.
The Taliban is, however, still the primary militant group in Afghanistan, which knew where Ghazi was located and was able to destroy the IMU as retaliation for Ghazi's betrayal. Rather than "punish" Abu Zar in the same way as Ghazi, however, the Taliban seems to be adopting the tactic to publicly show his "rehabilitation" by renouncing ISIS and now being part of IBB. Al-Qaeda in the Arabian Peninsula (AQAP) even included Abu Zar's "apologies" for supporting ISIS in its newsletter after Abu Zar's two videos with IBB in October 2016.
Rehabilitating Abu Zar serves the interests of the Taliban and al-Qaeda, as it sends a message to other ISIS members that if they join forces with al-Qaeda after ISIS' downfall in Mosul, Iraq (and later Raqqa, Syria) they can still rejoin al-Qaeda and continue the jihad. Moreover, al-Qaeda is trying to elevate its al-Qaeda in the Indian Subcontinent (AQIS) branch and Abu Zar's Rohingya heritage will be a boost.
If the Taliban continues to take territory in northern Afghanistan, it will enable IBB through its newly announced Khorasan Branch to relocate some resources back to Afghanistan, especially if the combined Russian-Iranian-Syrian assault in northwestern Syria makes survival there untenable for the IBB.
CONCLUSIONS: The Taliban and al-Qaeda made a smart move by bringing Abu Zar back into their fold. In addition to him, other Central Asian jihadist veterans are still with al-Qaeda, such as Abdul Haq al-Turkistani of the TIP, who was believed to have been killed in a U.S. airstrike in Pakistan in 2010 until he resurfaced in TIP videos in 2016, including one in which he condemned ISIS. Al-Qaeda wants to create long-term bases for its jihad in Syria and Afghanistan and its roots are now deep in both countries.
Central Asian jihadist groups now also have two hubs in Syria and Afghanistan, with IBB's promotion of a Khorasan Branch and Abu Zar as a charismatic religious profile in that region. IBB and TIP, which also maintains an Afghanistan Branch, will likely be able to sustain a presence in Afghanistan in case they and al-Qaeda are expelled from Syria. These Central Asian jihadist groups will likely be able to transfer fighters and funding between Syria and Afghanistan based on their needs and the needs of al-Qaeda more broadly.
This means that Central Asian countries may have had a short counter-terrorism respite while fighters flowed to a seemingly far away Syria, but in the long-run Central Asians in al-Qaeda-aligned groups such as IBB – as well as those Central Asians still in ISIS – will pose a threat to Central Asia.
AUTHOR'S BIO: Jacob Zenn is a Fellow of Eurasian and African Affairs at The Jamestown Foundation.
Image source: Silk Road Reporters, accessed on January 10, 2017