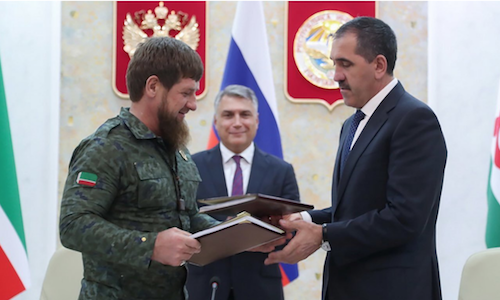 BACKGROUND: Ingushetia continues to experience domestic political fallout and unrest following its recent land deal with Chechnya. On September 26, the leader of Ingushetia, Yunus-Bek Yevkurov, and his Chechen counterpart, Kadyrov, signed an agreement on the border between the two republics. Officially described as delineating the border, which had never been formally settled following the split of the two republics in 1992, the deal in fact transferred nearly 10 percent of Ingushetia's territory to Chechen control.
The deal caused outrage among the Ingush public, who were incensed it had been signed with no public consultation. Civil society mobilized for nearly two straight weeks of continuous protests, with tens of thousands of demonstrators rallying on the streets of the Ingush capital, Magas. The protests appeared to span all ranks of society, across age gaps, religious divides (including Salafists) and gender, with a high representation of women unusual for political activity in the region. Local security forces even joined the demonstrations, praying alongside activists and preventing riot police from neighboring republics from entering the protest grounds. Several Ingush parliamentarians declared that their votes on the land deal in the republican parliament, where 17 of 25 deputies officially voted in its favor on October 4, had been falsified. Opposition among government elements increased further when, on October 30, Ingushetia's constitutional court ruled that the agreement contravened the republic's constitution and was thus invalid barring a referendum.
Despite the near-unanimous opposition, Yevkurov remained steadfast in his adherence to the deal, causing his resignation to become one of the main demands of the protests within days of their outbreak. Chechen authorities responded more harshly: Kadyrov stated to Chechnya's parliament that he was amazed with Yevkurov's patience "with such people who spread lies and provocations." He further threatened the protesters, calling on them to "come to my land and have just one protest." On October 19, Kadyrov made his first of two nighttime visits (a third was conducted by Chechen parliament speaker Magomed Daudov) to Ingushetia to demand an apology from an elder who had made derogatory remarks towards him. Each of these visits were met by hundreds of Ingush men, but passed without further escalation.
The land agreement's final legal status appears to have been settled. Protesters have resumed intermittent demonstrations at government-approved intervals, while the Ingush court's decision meant the case was referred to the Russian Federation constitutional court. The court reviewed the case on November 27, and on December 6 declared the deal was lawful. Ingush activists now plan to refer the case to the European Court for Human Rights.
IMPLICATIONS: The present crisis has wide-ranging consequences for the North Caucasus. The decision of the federal constitutional court is particularly impactful. While awaiting the court's declaration, the Ingush pledged to bring their protest movement to Moscow. They also asserted that they will open a case with the Russian constitutional court concerning the Prigorodny region, a part of the neighboring republic of North Ossetia. Prigorodny was part of Ingushetia until 1944, when Joseph Stalin liquidated the Chechen-Ingush ASSR and deported its population to Central Asia; unlike other areas, it was not returned when the republic was reconstituted in 1957. It has been a point of contention ever since, with open clashes between Ossetian and Ingush militias in 1992 leaving hundreds dead and tens of thousands of Ingush displaced. The legacy of Prigorodny is the main reason the present transfer has been so contentious; the Ingush say that, since the Russian constitutional court has established the precedent that it is lawful to alter the borders of the republics, this gives them legal basis to expect the transfer of Prigorodny back to Ingushetia. This issue is possibly the most serious land dispute in the North Caucasus today, but it will also open the question of other border questions that exist throughout the region: for instance, the demands of some Kabardin and Balkar activists to split their dual-nationality republic into two constituent parts, or last summer's calls by Nogai activists to join their region (in northern Dagestan) to neighboring Stavropol Krai.
The present scenario also presents both Ingush regional authorities and federal ones with a dilemma. How exactly will they mollify protesters if the deal does indeed go through? It seems very unlikely that Yevkurov will remain as Ingushetia's leader: his popularity has all but disappeared, and he is seen to have no remaining legitimacy among broad swaths of the Ingush population. It is wholly unclear who would replace him, however. When ethnic clashes emerged in Kabardino-Balkaria in August, the republic's president was soon replaced with another, Kazbek Kokov, the son of Valery Kokov, who headed the republic from 1992 to 2005. There is no such political dynasty to draw from in Ingushetia: the previous head, Murat Zyazikov, remains wildly unpopular due to the harshness and incompetence of his rule while Ruslan Aushev, the republic's first head, does not have any family members serving in high-ranking positions. Dispatching a governor from Moscow, as was done with Dagestan and its present leader Vladimir Vasilyev in September 2017, is also an option, but such a figure would have little legitimacy among the populace or ability to ameliorate their concerns. The transformation of Ingush civil society that has been brought about by the protests has made it into seemingly a key player whose views must be taken into account by the ruling class.
Finally, concern must be paid to the instigator of this crisis: Kadyrov. The Chechen leader's ambitions have consistently grown throughout the decade and a half he has ruled his republic, and he now appears to be angling to formally expand his regional sphere of control. There are real concerns he could attempt to pursue another irredentist claim following his present success, this time targeting Dagestan. Chechnya has long laid claim to the part of that republic formerly known as Aukh district, populated mostly by ethnic Chechens and also previously part of the Checheno-Ingush ASSR. At any rate, Kadyrov's willingness to agitate matters on a regional scale should be highly concerning to the Kremlin and its persistent obsession with "stability" in the often-restive region.
CONCLUSIONS: Civil society has grown deceptively strong in most areas of the North Caucasus in the past several years, most notably in Dagestan, where peaceful protests over municipal and republican issues have become commonplace. Despite this, few would have foreseen the present mass manifestations in Ingushetia, which certainly mark a new watershed of public political expression in the widely-repressed region. The past two months also underscore the divide that has emerged between Chechnya and Ingushetia: despite sharing a common culture, history, and language (Chechen and Ingush are nearly mutually intelligible), Chechnya is tightly controlled to such a degree that popular opposition to government decrees is unthinkable. Yet even despite this, the mass outpouring of support for Yusup Temerkhanov, the Chechen man convicted of killing Russian army colonel and war criminal Yuri Budanov, following Temerkhanov's death in August showed that Chechen society remains deeply polarized and able to mobilize as well.
The lack of a clear exit from the present crisis, along with the willingness of Kadyrov to use force to get his way, make the current situation susceptible to escalation and possibly violence. Federal authorities should intervene more directly to assuage protesters before this can occur. It is also clear Ingushetia, if not the wider North Caucasus, requires a more direct avenue for public participation in policymaking, but given Moscow's traditional approach, chances for this emerging appear dim.
AUTHOR'S BIO:
Neil Hauer is an independent security analyst and journalist based in Tbilisi, Georgia. His work focuses on the Syrian conflict, particularly Russia's role, politics and minorities in the South Caucasus, and violence and politics in the North Caucasus, particularly Chechnya and Ingushetia, where he conducts regular fieldwork. He holds an MA in post-Soviet studies from Carleton University and previously served as senior intelligence analyst at The SecDev Group in Ottawa, Canada for three years.
Image Source: Ingush Republic Press Service accessed on 1.17.2019