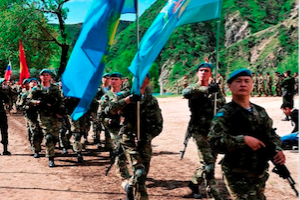 BACKGROUND: Poisk 2016, staged in Tajikistan on April 18-22, was the first of its kind for the CSTO, focusing on rehearsing the joint use of intelligence and reconnaissance capabilities to assist in countering an ISIS incursion. Poisk 2016 illustrates Moscow's contingency planning for an ISIS-linked security crisis within a CSTO member state and its response options, while testing intelligence assets, planning for future operations and strategic-operational mobility for the rapid insertion of forces, and using advanced networked technology among the Russian component.
Poisk 2016 was split between the Lyaur and Mogab training ranges near Dushanbe. The exercise involved 1,500 personnel, four helicopters, artillery and Military Transport Aviation (Voyenno Transportnoy Aviatsii – VTA) aircraft. Poisk 2016 was conducted under the direction of Russia's Central Military District (Tsentral'nyy voyennyy okrug –TsVO). The mainstay of the force grouping was provided by Russia, while smaller numbers were sent from Armenia, Belarus, Kazakhstan, Kyrgyzstan and Tajikistan; around 600 Russian servicemen were from the 201st Base in Tajikistan. In terms of troop numbers and hardware deployed the exercise was comparatively small. Its uniqueness lies in the exercise concentrating on joint intelligence and reconnaissance operations to support a CSTO response to a crisis in Tajikistan. Marking the first CSTO combat support exercise, the Russian top brass made claims about the capabilities it demonstrated on the CSTO's behalf. CSTO Joint Staff Chief, Colonel-General Anatoliy Sidorov, claimed: "Despite the distance of CSTO member state military units, upon the political decision in case of a real threat the CSTO collective response forces will help the country which has appealed to the CSTO in a day."
The exercise was attended by Tajikistan's Defense Minister Lieutenant-General Sherali Mirzo, CSTO Secretary-General Nikolay Bordyuzha, TsVO Commander Colonel-General Vladimir Zarudnitsky, and Colonel-General Anatoliy Sidorov, as well as Russian command elements from the 201st Base. The exercise scenario envisaged an incursion across the Afghan-Tajik border by a well-armed militant group, launching an attack on a humanitarian aid convoy. Forces were dispatched to collect intelligence, conduct reconnaissance and facilitate the neutralization of the militants. Reports of the appearance of "black flags" used by the hypothetical militants left little doubt that the exercise planners had ISIS in mind. The group, finally located, was destroyed using Russian assault helicopters and BM-21 (Grad) Multiple Launch Rocket System (MLRS). Poisk 2016 focused on enhancing collective military intelligence capabilities, improving the system for collecting, analyzing and disseminating timely intelligence. Although joint intelligence and reconnaissance operations were central to the exercise, the leading force elements were Russian military intelligence officers, or GRU Spetsnaz from the elite Airborne Forces (Vozdushno Desantnye Voyska – VDV).
IMPLICATIONS: Strategic-operational mobility relied upon Il-76 to move Russian forces and specialist intelligence equipment. AN-124-100 Ruslan transport aircraft carried two Mi-8AMTSh assault transport helicopters with equipment from Tolmachevo Novosibirsk airbase to Dushanbe airport. Troops and equipment were therefore rapidly airlifted to the exercise area, speeding up the deployment timings. The two Mi-8AMTSh were joined by two Mi-24 attack helicopters.
Among other tasks during Poisk 2016, they conducted low altitude flights in mountainous areas, inserting troops and supporting units during the exercise. Given its overall intelligence and reconnaissance tone, the use of teams operating in small numbers is consistent with utilizing the Mi-8AMTSh platform, with a troop transport capacity of up to 34.
Military personnel involved in the exercise were not drawn from units normally associated with CSTO exercises. Russian GRU Spetsnaz appears to have led the exercise and provided training to allies. While military media referred to Russian Spetsnaz, no mention was made of the Special Operations Forces (SOF) formed in 2013 under a separate command, though such SOF personnel were used in operations in Syria. It also appears that Central Asian counterparts involved in Poisk 2016 were frequently reduced to mere observers, either of GRU Spetsnaz demonstrating sophisticated technology, or kinetic parts of the exercise simply being conducted solely by Russian servicemen. The entire five-day exercise was directed from the National Defense Management Center (Natsional'nyy Tsentr Upravleniya Oboronoy – NtsUO) in Moscow, with the command of TsVO and local command and control (C2) through a mobile unit operating in the suburbs of Dushanbe. Similar to the conduct of Russian operations in Syria, the NTsUO played a pivotal role in the C2, and points to the network-enabled aspects of the exercise.
Also mirroring Russia's operations in Syria, which involved intelligence coordination with coalition partners in Baghdad, the exercise saw the formation of a Joint Intelligence Control Point (Ob'yedinennyy punkt upravleniya razvedki – OPUR). Staff in the OPUR decided on the organization and conduct of intelligence and reconnaissance missions in the zone of responsibility for the deployed force grouping. During the exercise, this was Russian-led and saw GRU Spetsnaz working closely with Belarusian counterparts to fulfil various intelligence related tasks, with target coordinates sent to the OPUR for analysis and dissemination.
At the tactical-operational level, Russian military personnel were equipped with the Intelligence Communication and Control Complex (Kompleks Razvedki Pravleniya i Svyazi – KRUS) "Strelets." The KRUS Strelets is a component of the soldier equipment system "Ratnik" which is being introduced into elite Russian units. Currently the KRUS Strelets has been procured by Russian SOF, GRU Spetsnaz and other elite units including peacekeeping formations. This domestically produced system enables the individual serviceman to be networked, as part of an integrated intelligence and communications system. Strelets involves networking C4ISR, extending into detection of targets, aiming and targeting, and providing data for small arms use. The latest generation Strelets-M is compatible with Russian military equipment including reconnaissance, surveillance, targeting systems, radar, range finders, and unmanned aerial vehicles.
CONCLUSIONS: While the concept of staging such a specialist exercise was agreed by the CSTO council of defense ministers, it is clear Russian forces, doctrine, approaches to warfare and advanced technology dominated Poisk 2016. The use of KRUS Strelets-M in the execution of numerous tasks including targeting, coupled with the commands involved in running the exercise, denoted advances in Russian network-centric warfare capability. These features are in stark contrast to the capacity of allied militaries to conduct such operations, and the exponentially widening gap between elements of Russia's Armed Forces and CSTO allies must cause concern to Moscow.
Russia's experience of conflicts in Ukraine and Syria suggests the Kremlin may be ready to consider limited intervention in Central Asia if the security situation deteriorates to overstretch local capacities. Although operations could be placed under the umbrella of the CSTO, in real terms this would only be a veneer, as the type of capabilities Russia can offer far eclipse those of the host nations. Poisk 2016 is also part of the Kremlin's efforts to convince regional capitals that during any future security crisis, they can and must look only to Moscow for assistance.
AUTHOR'S BIO: Roger N. McDermott is an Affiliated Senior Analyst, Danish Institute for International Studies, Copenhagen and an Advisory Scholar: Military Affairs, Center for Research on Canadian-Russian Relations (CRCR) Georgian College Ontario, Canada.
Image Attribution: www.eurasianet.org, accessed on May 31, 2016