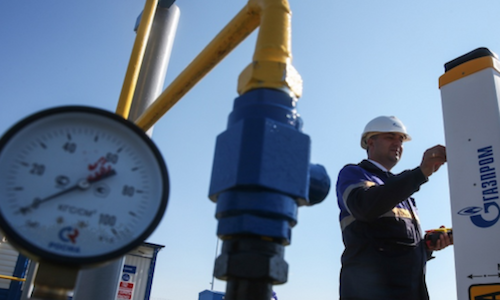 According to Gazprom's annual report, in 2018 the company imported 12.3 billion cubic meters (bcm) of natural gas from Kazakhstan and 3.8 bcm from Uzbekistan for re-export to European customers. Gazprom's subsidiaries in the region also buy gas to feed into their local gas distribution networks – in 2018 2.9 bcm of gas was purchased from Uzbekistan to supply Southern Kazakhstan, and 0.3 bcm from Kazakhstan to supply Kyrgyzstan. Gazprom not only imports Central Asian gas to Russia and distributes gas locally, but also exports Russian gas to the region. Due to the location of gas fields and inherited infrastructure from the Soviet Union, Kazakhstan buys Russian gas to supply some parts of the country. Overall, Russia exported 6.2 bcm of gas to Kazakhstan in 2018.
In April 2019, Gazprom resumed imports of natural gas from Turkmenistan after a three-year break, purchasing 1.2 bcm of gas until July 1, 2019. In late June, Gazprom's Chairman Alexei Miller stated that the company was planning to increase gas imports from Central Asian countries to over 20 bcm for 2019-2021. A few days later, Gazprom and Ashgabat reached a new gas purchase deal to supply the Russian company with 5.5 bcm per year until mid-2024. So far, it remains unclear whether the agreement means that import of Turkmen gas will increase at the expense of supplies from other Central Asian countries or that plans to import Central Asian gas have been reviewed to include even larger volumes from the region.
IMPLICATIONS: Until 2009, Gazprom benefited massively from re-exporting Central Asian, particularly Turkmen, gas to European customers. Turkmen gas exports to Russia peaked at 42.6 bcm in 2007 and the two sides even envisioned increasing it to 80 bcm a year. However, the 2008 global economic crisis reduced gas demand and prices to historically low levels in Europe and created excess gas export capacities in Russia itself. Russia ceased importing gas from Turkmenistan in 2009 after a pipeline explosion, which Ashgabat claimed was engineered by Russia in order to stop imports without legal repercussions following Ashgabat's agreement with China to build an export pipeline across Uzbekistan and Kazakhstan. When imports were resumed in 2010, they averaged 11 bcm per year until 2014. Russia then lowered the volume further to 4 bcm in 2015 and again stopped imports altogether in 2016 due to a price disagreement and Gazprom's own excess production capacities.
However, both demand and prices for natural gas in Europe seem promising enough for a limited revival of Gazprom's re-export business with Central Asia. Indeed, despite the introduction of sanctions and calls from European politicians to reverse the continent's dependence on Russian gas, export volumes to European markets (including Turkey) continue to expand and set a new record at over 200 bcm in 2018. Two controversial gas pipeline projects from Russia to Europe – Nord Stream 2 and TurkStream – continue to advance despite objections from some EU members. BP's data indicates that with exports to Europe and the CIS amounting to 230 bcm in 2018, Russia exported more than the difference between its natural gas production (669 bcm) and domestic consumption (454.5 bcm) of that year. Thus, for the first time since the 2008 crisis, Gazprom is finally in a favorable situation to revive re-export from Central Asia, although in a much smaller scale than in the late 2000s.
Russia's ability to increase gas imports from Central Asia depends on not only on European demand, but also on the availability of free production capacity in the region. Capacity differs vastly from country to country. For instance, major gas fields in Uzbekistan have already matured and production rates declined, while significant decreases in domestic consumption are not possible due to the country's growing population. According to BP, natural gas production in Uzbekistan has over the last decade dropped from 56 bcm a year at its peak in 2008 to 48.7 bcm in 2018, while domestic consumption has remained relatively stable at around 40 bcm. Gazprom's overall gas purchases from the country also declined from its peak of 15 bcm in 2008 to 6-7 bcm in 2018. Although Gazprom is developing several Uzbek fields in Shakhpakhty and the Ustyurt Plateau (Lukoil, another Russian company, is also active in developing the Ustyurt block), these are not large enough to replace the major fields that have passed their prime.
Conversely, gas production in Kazakhstan, another major energy exporter of the region, is slowly but steadily growing – the extraction of natural gas grew by 25 percent in the last 7 years, reaching 24.4 bcm in 2018. Yet for the time being, the country prioritizes supplying domestic customers in northern Kazakhstan and to double gas shipments to neighboring China in order to meet the 10 bcm export target set in a 2018 contract between KazTransGas and PetroChina.
The Central Asian country that is actually in a position to increase gas exports to Russia is Turkmenistan, which holds the fourth largest gas reserves in the world. When Russian gas import volumes from Turkmenistan plummeted in the late 2000s, China quickly filled the vacuum and commissioned the first line of the Central Asia-China pipeline in 2009. However, while it has subsequently become the dominant buyer of Turkmen gas, China's imports totaled only 33.3 bcm in 2018, much lower than Russian imports a decade ago. Ashgabat also stopped gas exports to Iran in January 2017 due to payment disagreements, losing another important customer who imported 6.7 bcm of gas from Turkmenistan in 2016. Thus, Turkmenistan possesses enough excess production capacities to launch sizable gas shipments in a new direction.
CONCLUSIONS: Although it is too early to predict a large-scale Russian comeback in Central Asian gas politics, Russia is positioned to pursue a more assertive strategy in this regard in the coming years. Upon the completion of new grand pipeline projects intended to deliver Russian gas to European customers, even more Central Asian gas can be expected to flow towards Russia. Moreover, along with economic considerations, Russia's rising profile in Central Asian gas politics will serve its broader strategy for maintaining its political and diplomatic influence in Central Asia. Indeed, a new deal with Turkmenistan could aim to dissuade the country from pursuing the construction of a Trans-Caspian pipeline, which otherwise seems more plausible after the August 2018 signing of the Convention on Legal Status of the Caspian Sea in Aktau.
AUTHOR'S BIO:
Azad Garibov is an independent analyst on the South Caucasus and Central Asia, regional trans-national transit corridors and Caspian affairs.
Image accessed 10/24/19