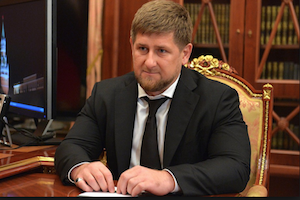 BACKGROUND: The first group of returnees from Syria, family members of ISIS fighters from the former Soviet Union, arrived in Grozny on November 13. The all women and children group consisted of 34 Russian citizens from Chechnya, Dagestan and Ingushetia, and 7 citizens of Kazakhstan and Uzbekistan. In mid-December, Chechen authorities brought home the second group, consisting of 93 women and children, as Kadyrov officially reported to Russia's President Vladimir Putin. Kurdish militias captured all returnees during the siege of the ISIS stronghold Raqqa. From January to March 2018, Chechen authorities returned 150 Russian citizens from Syria and Iraq. This number is likely to increase due to the discovery of more women and children from Chechnya, Dagestan and other regions of the Russian Federation at several refugee camps in Iraq, according to Senator Ziyad Sabsaby, Kadyrov's official representative in the Middle East and North Africa.
In an interview on January 9, the head of Ingushetia Yunus-Bek Yevkurov stated that Ingush nationals who went to fight for ISIS in the Middle East are welcome to return. They will face prosecution if evidence emerges of their involvement in criminal activities, however, they can otherwise resume a peaceful life in the republic. Ingush siloviki (security forces) claim that 123 Ingush nationals have travelled to Syria since 2014. According to Yevkurov, five Ingush returnees had reintegrated and resumed their civilian lives. Security forces killed two other former ISIS combatants after they attempted to "participate in criminal activity," while eight female family members of ISIS fighters from Ingushetia had returned to the republic.
IMPLICATIONS: Chechen authorities have promoted their return of North Caucasian residents as a great success in the region. Several local TV channels announced that the returnees were "liberated from slavery." In reality, however, the security services immediately took all adult returnees into custody.
According to the Caucasus Knot, Chechen women returning from Syria could enter Chechnya on condition that they subjected themselves to criminal investigation. Chechen security services reported that they released the women after interrogation and that they were safe with their families. However, as reported by Oleg Orlov, a member of the NGO Memorial, the fate of Chechen returnees depends directly on decisions made by Kadyrov in each individual case. For example, Muslimat Kurbanova who voluntarily returned from Syria on March 12 received a sentence of 8 years in prison. Another Chechen returnee, Zagidat Abakarova, received a similar sentence in March. Yet, Chechen authorities decided to postpone the implementation of their sentences because both women have small children.
As reported by the Caucasian Knot, Dagestani authorities imprisoned two returnees in Makhachkala. Naida Shaykh-Akhmedova, a resident of Dagestan returning from Iraq in mid-January, received a sentence of 4.5 years in prison for organizing and participating in illegal armed groups. It remains unclear, however, whether Shaykh-Akhmedova travelled to Syria alone or along with an ISIS fighter. Another Dagestani national, Khalimat Alkhotova travelled to Syria in order to marry an ISIS member. She was brought back to Dagestan in November 2017 and sentenced to a prison term. According to a report compiled by the Russian opposition outlet Novaya Gazeta, siloviki in Dagestan extorted money from the returning women's parents in order to close the criminal cases against them and if they refused, the returnees faced sentences for participation in terrorist activities, as was the case with Shaykh-Akhmedova and Alkhotova.
Ingushetia's Yevkurov emphasized that although the authorities will allow and even encourage returnees to return to peaceful life, they are making efforts to ensure that the returnees do not revert to terrorism and that these women are not working as ISIS recruiters. Hence, the returning women will likely be under surveillance for a certain period.
The idea of locating the families of North Caucasian ISIS fighters and bringing them back appears to be a brainchild of Kadyrov, who has personally managed the project. Given that Chechen emissaries have taken on the responsibility for returning not only Chechen and other North Caucasian residents, but also residents from other regions of Russia and even from Central Asia, Kadyrov seems to be seeking credit for this project internationally. Analysts believe that the Chechen government's involvement in the return of North Caucasian families from the Middle East is yet another attempt by Kadyrov to demonstrate his influence in Moscow and to present himself as an all-Muslim leader in the Russian Federation. Indeed, reports on Chechen TV about the return of women and children from Syria and Iraq simultaneously praised Kadyrov and his leadership skills.
In his annual press conference on December 14, Putin personally expressed his gratitude to Kadyrov for "saving children" in Syria and Iraq and returning them back to Russia. Putin confirmed that he would wholeheartedly continue to support Kadyrov's undertakings in the Middle East.
Since thousands of Russian citizens have travelled to the Middle East to join ISIS, many with their families, Kadyrov's project is still in its infancy. According to a statement released in 2015 by the then assistant head of the FSB, Yevgenii Sysoyev, over 7,000 residents of Russia and other former Soviet republics have joined ISIS in Syria and Iraq. With only a few hundred returnees so far, Kadyrov still has to locate and return thousands of North Caucasians from the Middle East. For this purpose, Kadyrov appears to have acquired considerable access to Russia's diplomatic and military channels in the Middle East, which is unprecedented for a regional leader. Until recently, Kadyrov maintained his political leverage in Syria through a 400 men-strong battalion of Chechen military police stationed in Aleppo, which was the largest military unit dispatched to Syria from the North Caucasus. After 1.5 years of service, the unit returned to Chechnya on February 11. Nevertheless, Kadyrov continues to maintain a presence in Syria through his emissaries, involved in the distribution of Chechen humanitarian aid. For example, on February 10, the Akhmad Kadyrov Foundation dispatched a humanitarian convoy consisting of two trucks to Deir-ez-Zor, a town recently liberated from the Syrian rebels.
CONCLUSIONS: Russia's alliance with the Syrian regime and its close links with Iraqi Shiites have enabled access to ISIS prisoners of war. The Chechen leader was quick to take advantage of this opportunity. His ability to return North Caucasian women and children appears to boost Kadyrov's image in Chechnya, and to solidify his position with the Kremlin. It has also allowed Chechen authorities to control the return of the militants' families, who might otherwise have returned in secret. Detentions and interrogations of returnees have given Chechen siloviki much needed intelligence about the militant group. Unlike Chechen authorities, other North Caucasian leaders were apparently caught unprepared for the return of their residents. The official treatment of returnees in Ingushetia, and particularly in Dagestan, demonstrates that local siloviki have little clue as to what should be done with ISIS family members. Ingush authorities are keen on monitoring each of the republic's few returnees individually, whereas Dagestani siloviki, who have to deal with the largest number of returnees, resort to a variety of methods, including extortion and imprisonment.
AUTHOR'S BIO: Huseyn Aliyev is a LKAS Research Fellow at the School of Social and Political Sciences, University of Glasgow. He specializes in armed conflicts, non-state armed groups, and informal practices. Huseyn is an author of "When informal institutions change. Institutional reforms and informal practices in the former Soviet Union" (University of Michigan Press, 2017). Huseyn's most recent publications appeared in Third World Quarterly (2017), Terrorism and Political Violence (2017), Security Dialogue (2016), and International Security (2015).
Image source: By: kremlin.ru, accessed on 5.23. 2018