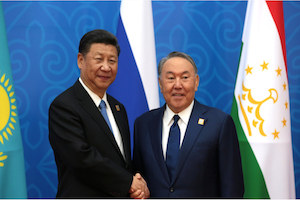 BACKGROUND: A forthcoming International Capacity Cooperation 13th Five-year Plan will list Kazakhstan as China's "main axis" to Africa, the Middle East and Central Europe, while it designates Indonesia and Malaysia as the gatekeepers to the Malaccan route to Europe. Industries that China is offshoring include steel, nonferrous metals, building materials, chemicals, automotive, agriculture, construction machinery, and aerospace technologies.
Key to China's industrial capacity transfer strategy in Central Asia is moving aluminum capacity to Kazakhstan, Azerbaijan, and Mongolia. To this end, on March 31, 2017, representatives of China's aluminum industry met in Beijing with officials of the National Development and Reform Commission, the State-Owned Assets administrator (SASAC) and the China National Nonferrous Metals Industry Association to form the China Nonferrous Metals International Capacity Cooperative Enterprise Alliance. China National Nonferrous Metals Industry Association Communist Party Secretary Chen Quanxun, said that the combination of the policies Going Out, International Capacity Cooperation, and Belt and Road have resulted in increased foreign direct investment in non-ferrous mines, mineral rights and plants in 2016.
Kazakhstan's Minister for Investment and Development, Zhenis Kasymbek, was recently on a working visit to China where he met with China's Ministry of Transport. The delegation met with representatives of China National Machinery Import & Export Corporation (CMC), Cereals, Oils and Foodstuffs Corporation (COFCO) Gezhouba Cement (construction), Cathay Industrial Biotech (biogenetics and biotechnology), Shandong Hi-Speed Group Corporation (transport infrastructure), Norinco (China Northern Industries – diversified defense, vehicles, machinery and construction), Sinosure, Export-Import Bank of China, and the Silk Road Fund.
In February 2017, Kazakhstan's Ambassador to the People's Republic of China Shahrat Nuryshev met with Xu Weihong, chief economist at AVIC Securities, discussing construction of a mining and chemical-metallurgical complex in the Zhambyl region and the development of a special economic zone in Pavlodar. The projects are worth US$ 2.3 billion with Chinese partners China Metallurgical Group Corporation, China Machinery Engineering Corporation and AVIC Corporation. The investment in the Kazakh industrial cluster will output titanium dioxide, silicon dioxide and vanadium pentoxide to China for use in the production of aircraft and aerospace industries. China has invested in industrial projects in Kazakhstan, including Kazakhstan Aluminum, Kaz Minerals copper mine in Aktogay, and Petrochina's petcoke project in Pavlodar, all of which are at least partly funded by Beijing's policy banks China Development Bank and the Export-Import Bank of China.
On the Kazakh side, most Chinese aluminum investment roads lead back to Alexander Mashkevich's Eurasian Resources Group (ERG), in which the Kazakh government owns 40 percent. The Eurasian Natural Resources Corporation arm owns a third of the mining and metals sector in Kazakhstan including Kazakhstan Aluminum, Kazakhstan Electrolysis Plant, TNC Kazchrome, Sokolov Sarbai Mining, and the Eurasian Energy Corporation.
IMPLICATIONS: Much of the Kazakh enthusiasm derives from the high-level international capacity cooperation agreement signed with China in 2015. In January-September of 2016, the inflow of direct investments from China already amounted to US$ 623.9 million, a sevenfold year-on-year increase. This is part of the 50 joint Kazakhstan-China industrial capacity cooperation projects agreed in 2015, worth US$ 25-30 billion over five years, and intended to create industrial cluster cooperation zones in transport infrastructure, manufacturing, construction, and agriculture.
However, ERG is large enough to want to invest in China, and feels that reciprocal capital investment channels should exist given China's investment in Kazakhstan. ERG is unhappy with existing obstacles preventing it from raising capital on the Shanghai Stock Exchange, and instead being beholden to policy bank capital. ERG has argued that its domicile in Luxembourg entitles it to list in Hong Kong under English Common Law, and that the Hong Kong-Shanghai Stock Connect means it is then eligible to raise capital in Shanghai, following the model set by Rusal in 2010. China does not agree and has blocked any attempt by ERG to issue securities in China.
Outside China, ERG is cooperating with Chinese policy bank funds to develop projects both domestically and internationally. ERG has partnered with China Nonferrous Metals Industry Group, Export-Import Bank of China, Industrial and Commercial Bank of China and China Export & Credit Insurance Corp to complete an US$ 800 million copper and cobalt project in the Democratic Republic of Congo's Katanga district. The project will come online in 2018 to supply China with 20,000 tons of cobalt, its single biggest supplier, enough to make batteries for 500,000 electric vehicles. Congo's Katanga is home to nearly half the world's proven cobalt reserves, with cobalt and manganese set to be in high demand due to China's battery boom. ERG is also seeking Chinese funding to double the capacity of the Kazakhstan Aluminum plant, which currently produces 300,000 tons per year, requiring around US$ 3 billion of Chinese capital. It has also reached a separate agreement with China Development Bank for at least US$ 2 billion in financing for three projects in Kazakhstan in the aluminum, iron ore and power sectors.
Kazakhstan is working to make investment in its aluminum production and mining industries friendly to foreign capital. Kazakhstan's Minister of National Economy Timur Suleimenov said that the Ministry is looking to modify mining tax laws in order to attract more foreign direct investment. According to the new tax law, mining companies will need to pay only after-profit tax, removing taxes for exploration and mining. In order to implement the 100 Steps national industrial policy, the Kazakhstan Ministry of Investment and Development is writing a Codex on Minerals and Mineral Resources for submission to the Mazhilis (parliament) in late 2017. The new code will introduce the "first come first served" principle based on the Australian model, simplify approvals of mineral exploitation rights, and apply CRIRSCO standards (Committee for Mineral Reserves International Reporting Standards) to mineral reserves assessments.
It is clear that China's geoindustrial policy can develop infrastructure in the region and transfer industrial capacity in sectors such as non-ferrous metals, which can help close Kazakh industrial complementarity gaps and fill in the industrial base. In Central Asia, many states retain partially functioning or unclosed industrial complementarity loops, a heritage of their position as peripheral nodes the Soviet continent-wide state industrial planning. Present-day water resources, transport networks, energy networks, and a variety of traditional industrial bases remain dysfunctional or isolated due to the economic decoupling from Moscow. However, it is equally clear that there will be no reciprocal opening of Chinese capital markets and that Kazakh firms can cooperate only under China's policy bank model. Private, or state, capital generated on the Kazakh side will not be allowed to cross the mountains back into China.
CONCLUSIONS: China's International capacity cooperation policy will bring investment to Kazakhstan's non-ferrous metals industry, offshoring its excess aluminum capacity. However, capacity cooperation, and the wider Belt and Road infrastructure investment policy are strictly beneficial to China due to its perpetuating policy banking model. In effect, China establishes a parallel trade and investment system, intrinsically tied to Chinese state-owned enterprises and the institutions of Chinese state capital. International capacity cooperation is a genuine attempt to bring entire industrial clusters to China's external geographies in order to develop the industrial bases of its trading partners, while offshoring is current cyclical overcapacity problem. Moreover, China's fixed-capital investment in the region's traditional industrial bases is a gift that the Central Asian republics cannot afford not to ignore. However, Kazakhstan and other Central Asian partners should be aware that this capital has state-strings attached, and that there will be no reciprocal opening of China's consumer, production or capital markets.
AUTHOR'S BIO: Tristan Kenderdine is a PhD candidate at Australian National University Crawford School of Public Policy and Research Director at Future Risk This email address is being protected from spambots. You need JavaScript enabled to view it. .
Image source: By kremlin.ru accessed on 10.19. 2017