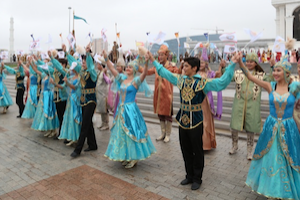 BACKGROUND: Similar to many other Central Asian nations, Kazakhstan was uncertain about its fate as a new nation in the beginning of the post-Soviet era. Northern Kazakhstan also has a large Russian-speaking population. From the outset, Kazakhstan's President, Nursultan Nazarbaev, pursued a close relationship with Russia and proposed a loose alliance under the ideological umbrella of "Eurasianism," which emerged in the 1920s among Russian émigrés. The cornerstone of the teaching is the assumption that Russia descended from the Mongol Empire, which created a state of political-cultural "symbiosis" among mostly Orthodox Russians and Turkic minorities.
Yet the Kremlin ignored the Eurasianist model in the beginning of post-Soviet history. Most of the Russian elite viewed Russia as part of the West and Central Asia as a useless heirloom of the Soviet past. By the beginning of Putin's second term, the situation had changed, and Putin regarded the solidification of Russia's presence in the former Soviet space as a key foreign policy objective. In this context, Eurasianism reemerged as a useful ideological overlay. Kazakhstan also re-embraced Eurasianism albeit in a different interpretation; implying not only the equal treatment of all states involved in the planned Eurasian Union but also freedom for each party to engage in relationships with other powers.
In fact, Kazakhstan's new Eurasianism became an ideology of Kazakh nationalism, which largely paralleled the emerging form of Russian nationalism. The historical narrative was adjusted accordingly, presenting Turkic people as the most important players in the early Middle Age Eurasian history, passing the imperial torch to the Mongol Empire as a basically Turkic state, and marginalizing the notions of "symbiosis" between Slavic and Turkic peoples – the central element of traditional Eurasianism. In the Kazakh version it was Turkic peoples, not the Russian state, which succeeded the Mongol Empire, with Kazakhs being one of the most important among these. Russia and Russians emerged in Central Asia only centuries after the formation of the Kazakh state and mostly in the capacity of brutish colonial masters. Finally, Kazakhs liberated themselves and the borders of present-day Kazakhstan directly coincide with the historical borders of the old Kazakh state; leaving no legitimacy for Russian claims to Northern Kazakhstan.
Those who have ventured to challenge this version of the past and present, by extension questioning the very legitimacy of Kazakhstan as a state within its present borders, have faced serious problems with Kazakh authorities. While the critics of Kazakh Eurasianism have expected assistance from Moscow, such support has failed to materialize. From Moscow's perspective, supporting especially Russian nationalists in Kazakhstan could help catalyze extremist forms of Russian nationalism also in Russia, which would be difficult for the Kremlin to handle.
IMPLICATIONS: Kazakhstan's authorities consider individuals who challenge the official narrative about the peaceful coexistence of Kazakhs and Russians, or suggest a separation of Northern Kazakhstan and linking it to Russia, as potentially dangerous troublemakers. In fall 2015, Kazakh police arrested Igor Sychev, a 26-year-old ethnic Russian from Northern Kazakhstan who "received a harsh sentence for polling the residents of a local city for their views on the Ukrainian crisis and, implicitly, whether or not they want to join Russia." The case against Sychev was unprecedented. No trials have previously been conducted in Eastern or Northern Kazakhstan simply on the basis of a poll on the Russian-speaking population's attitudes towards the possibility of Northern Kazakhstan separating from Kazakhstan and joining Russia.
Sychev and other Russian nationalists in Kazakhstan clearly expected some form of assistance from Moscow. However, not only has Moscow ignored their plight but actually helped Astana in its suppression of dissent. A recent example is the case of Aleksandr Belov (Potkin), who was arrested in Moscow in late 2015. He was accused of preparing a coup to overthrow Kazakhstan's government. According to Russian prosecutors, he plotted to separate Northern Kazakhstan from Kazakhstan and attach it to Russia. However, Potkin had reason to believe that his plan was in line with Moscow's interests, since Putin himself proclaimed in 2014 that Nazarbaev created Kazakhstan as a new state that never existed before.
Putin made this statement in 2014, when Russia had recently annexed Crimea and Moscow openly supported the Russian-speaking separatists of Eastern Ukraine. Considerations of a possible annexation of Northern Kazakhstan were clearly present in the minds of Kremlin officials. Individuals like Potkin are potentially useful for Moscow, in order to threaten Kazakhstan with support for Russian nationalists and even separatism in Northern Kazakhstan, in parallel to Moscow's direct military involvement in Ukraine.
Yet Moscow refrained from similar engagement in Kazakhstan and even arrested Potkin. Moscow's disregard for Russian nationalists in Kazakhstan did not primarily stem from sympathies for Astana. In fact, radical Russian nationalists pose a threat not only to Astana, but to Moscow as well. These nationalists, in both Russia and Ukraine, have a distinctly "socialist" outlook and implicitly demand either a redistribution of wealth or a broadened social security net for the majority, consisting of ethnic Russians. Such plans are not on Putin's table and the Kremlin is concerned that Russian nationalism could transform from its imperial and controlled form into a dangerous undercurrent of public discontent, especially at a time of increasing economic problems.
In this situation, Moscow views radical Russian nationalists as a much larger threat than Kazakhstan's attempt to distance itself from Russia through the construction of an alternative historical narrative. Therefore, Moscow has not only ignored the appeals of Russian nationalists in Kazakhstan, but even assisted Astana in its repression against these individuals.
CONCLUSIONS: Throughout 2015, Astana celebrated the 450th anniversary of Kazakhstan's statehood with great pomp and an implicitly anti-Russian message. Simultaneously, Astana arrested several individuals who had displayed strongly pro-Russian attitudes. Some were clearly Russian nationalists and connected either directly or indirectly with nationalists in Russia, pursuing the objective of uniting all Russians in one state. Yet reestablishing the Russian empire is not the central element of their ideological design. In contrast to imperial Russian nationalists, they have little concern for the might of the Russian state. Instead, they focus on the well-being of the Russian people and advocate broad social and economic reforms that, while endangering the position of the oligarchs, would benefit the majority of ethnic Russians. This is hardly in line with the outlook of the Kremlin, which understands that actively confronting Kazakhstan's vision of the past and present by empowering Russian nationalists either in Kazakhstan, Ukraine or Russia is potentially dangerous for the regime.
AUTHOR'S BIO: Dmitry Shlapentokh is Associate Professor of History, Indiana University at South Bend.
Image Attribution: img.astana.kz, accessed on May 26, 2016