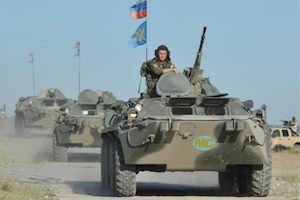 BACKGROUND: Tajikistan's defense ministry attached high priority to the bilateral exercise, though it vastly inflated participating Tajik personnel numbers. Tajikistan's military personnel participating in the exercise included defense ministry units and reserves, but the hyperbolic claims of 50,000 massively eclipse the totals for men under arms in its military. The figure found its way unquestioningly into some Russian media reporting. Nonetheless, the presence of Tajikistan's Defense Minister Sherali Mirzo and high ranking officers from Russia's Central Military District (Tsentral'nyy voyennyy okrug –TsVO) attest that this was no ordinary antiterrorist exercise. Tajikistan's defense ministry stressed that Russia had for the first time deployed forces and assets in addition to its 201st Base in Tajikistan (Dushanbe, Kulyab and Kurgan-Tube) using a total of 2,000 personnel, 950 armored vehicles and artillery pieces, and 32 combat and Military Transport Aviation (Voyenno Transportnoy Aviatsii-VTA) aircraft.
The active phase of the joint exercise involved forces interacting at five training ranges: Lyaur, Sumbula, Momirak, Harbmaydon and Halkaer. According to statements by both sides, the concept for the exercise was to rehearse a response to a coordinated external terrorist threat. Of course, such a terrorist threat in real terms posing a threat to Tajikistan's territorial integrity may well be expected to invoke a collective response from the Collective Security Treaty Organization (CSTO). Yet, using the bilateral format to host such exercises is by no means a novelty. The 201st Base frequently holds joint antiterrorist training exercises in Tajikistan. In October 2015, the Lyaur training range also featured in an exercise designed to rehearse repelling a terrorist incursion into Tajikistan.
IMPLICATIONS: In preparation for the exercise, Russia commenced movements of air platforms from TsVO mainly using its Tolmachevo airbase in Novosibirsk as well as its airbase in Kant (near Bishkek). The latter was also used to redeploy assets already based there, while the base itself functions under the CSTO umbrella. Approximately one week prior to the exercise the Russian Aerospace Forces (Vozdushno Kosmicheskikh Sil—VKS) sent assets to Ayni airbase (near Dushanbe) in Tajikistan including Tu-95MS and Tu-22M3 strategic bombers, Su-25M, Su-24 fighter-bombers, Mi-24 attack helicopters, as well as Mi-8 multirole transport helicopters and An-124s closely coordinated with the VTA. Tu-95MS strategic bombers flew from Engels airbase, Saratov via Kazakhstan and Kant, Kyrgyzstan.
Russian attack aircraft reinforced Tajik Air Force units at Ayni airbase. Two pairs of Mi-24 and Mi-8 were deployed from Novosibirsk and Kant respectively. During the antiterrorist exercise issues of interoperability were addressed and both sides worked on a common approach to destroying "illegal bandit groups," "enemy bases" and "warehouses." The Tu-M3 strategic bombers were used to drop 500 kg bombs on notional illegal armed groups and their supply points in the foothills of the Eastern Pamirs. VKS and Tajik Air Force pilots practiced strikes against enemy infrastructure including ammunition dumps, training camps and enemy formations. They also concentrated on close air support (CAS) operations, with additional forces from motorized rifle, armored and artillery units, Special Forces, airborne and air assault provided by Russia's elite Airborne forces (Vozdushno Desantnye Voyska – VDV).
While the Air Group seems closely modelled on the VKS operations in Syria, which the Russian General Staff judges to be ideally suited for the range of targets involved, the inclusion of the Tu-22M3 as in its use in Syria, appears part of Moscow's strategic messaging to other actors. As in the operation to seize Crimea, events that ensued in Donbas and the VKS operations in Syria, Moscow folds into its Air Group a component (strategic bombers) that sends a warning to foreign powers to keep out. In this case, given ongoing tensions between Moscow and NATO and the deterioration in Washington-Moscow ties, it is a reminder to U.S. defense planners that the Kremlin will not tolerate American interference in its security interests or possible operations in Central Asia. Moreover, with China's increasing security attention to Central Asia, the Tu-22M3 reminds Beijing that Moscow is the security provider in the region; and it intends to keep it this way.
It is also important to note the broad range of military units used in the exercise and use of air power, which suggests that as in Syria the main priority for the VKS in the exercise with Tajikistan was the rehearsal of CAS. This fits with the insertion of airborne air assault, Special Forces alongside manoeuver units as well as artillery units. Western observers of the Russian operations in Syria have tended to overlook the fact that the Russian Army remains heavily tied to artillery: they use artillery as the key on-the-ground asset to range mass fires on enemy territory and formations with large numbers of artillery pieces. It also tested deployment speed and use of the VTA to facilitate the movement of assets. Russian forces may also have been experimenting with tactics tested and refined in Syria, especially concerning the coordination of units and the use of local forces to assist in the overall operation.
According to the press service of the Russian TsVO, the joint exercise was conducted using advanced information and automation tools, to facilitate high speed transmission of information, data and orders in a seamless network-centric environment. This involved the newly formed National Defense Management Center (Natsional'nyy Tsentr Upravleniya Oboronoy—NTsUO) in Moscow, which featured heavily in Russia's media coverage of its Syria intervention, as well as various command and control centers (C2), particularly the headquarters of TsVO and deployment of mobile C2 and emergency centers.
CONCLUSIONS: What makes the latest iteration of the antiterrorist theme in the Russia-Tajikistan joint exercise so unique is the assembling of the Russian air grouping, the deployment methods used, additional assets ranging beyond the existing 201st Base and the first flights of Russia's strategic bombers in Central Asian airspace since the dissolution of the USSR. Moreover, the Russian air group components used in Tajikistan bear a remarkable resemblance to the air group assembled and used in its air strikes and CAS operations in Syria.
Although the exercise implies Moscow takes seriously the potential threat to Central Asia from international terrorism, with a possible incursion by Islamic State or Taliban forces, this seems more contingency planning than anticipation of a crisis. The strategic message is clear: security crises in Central Asia that overwhelm local government capacity will be sorted out by Moscow – and no one else. But the preferred option to achieve this may be bilateral rather than the CSTO/SCO.
AUTHOR'S BIO: Roger N. McDermott is an Affiliated Senior Analyst, Danish Institute for International Studies, Copenhagen and an Advisory Scholar: Military Affairs, Center for Research on Canadian-Russian Relations (CRCR) Georgian College Ontario, Canada.
Image Attribution: images.military.com, accessed on March 25, 2016