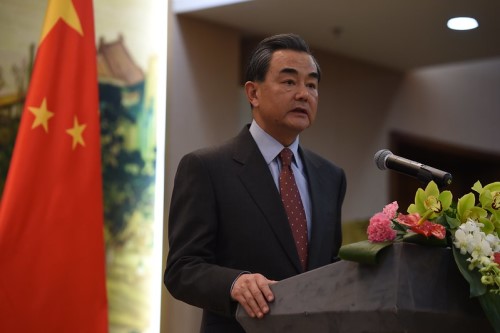 BACKGROUND: China is executing a comprehensive, multi-dimensional strategy in Central Asia. The Belt and Road Initiative (BRI) aims to overcome oversupply problems in China's domestic economy and integrate Central Asia, as well as other, more distant regions like the Middle East, into China's orbit of influence. While primarily an economic initiative and policy framework, the BRI also has a large military component.
China already has one base in the intersection of Tajikistan's Gorno-Badakhshan area and probably another in Afghanistan even if this remains unconfirmed. Moreover, the Pentagon's annual report on China's military power indicates the Pentagon's belief that the Chinese command intends to set up a full-scale base infrastructure and logistics systems abroad so that the PLA has the resources to "project and sustain military power at greater distances." The U.S. believes that China is examining the possibility of building new military facilities abroad, including in Central Asia. Tajikistan is mentioned as one of 12 countries that the PLA "is very likely already considering" as a possible option. These trends also tie into China's recent agreement with Iran, which will reportedly allow China access to a naval base at Jask on the Persian Gulf and lead to joint military training and exercises, research and weapons development, and intelligence sharing. These defense accords accompany a US$ 400 billion plan for Chinese investment through 2045, vastly dwarfing even China's activities in Pakistan and clearly tying Iran into China's economic and strategic orbit through the BRI and the defense accords.
It is in this context that we should assess the recent reports of China's offer to the Taliban for the construction of a highway network. It has also worked with Pakistan to express concern about a "potential terrorist resurgence" once U.S. troops leave Afghanistan, despite Pakistan's long-running encouragement of those groups. While it is incontestable that a modernized and expanded road network in Afghanistan will permit cross-country transportation, access to neighboring countries and regional trade with Central Asia; it will also have obvious strategic advantages for China, especially in the context of the grand strategic design outlined above.
The road network will permit direct land access from China to Iran to accompany China's considerable maritime presence in the Indian Ocean and the Gulf. This could be utilized to rapidly transport army forces and components for air and/or missile bases, and therefore provide a means for projecting direct force into Afghanistan, Central Asia, or Iran if needed. Inasmuch as foreign ports are contractually bound to serve as military ports for China, contractors on roads and airports would likely be similarly obligated given China's past record on its foreign projects. These new military capabilities will add to China's existing and impending defense structures in Central Asia and beyond. Moreover, China's telecommunications projects, e.g. using Huawei, could soon possess the capability to project informational influence and power into Central Asia, Afghanistan, and Iran. Indeed, we are witnessing the early stages of a gradual unfolding of this comprehensive economic-military-informational strategy buttressed by Chinese diplomacy and power throughout the entire expanse of Central Asia.
IMPLICATIONS: The scope of this grand design indicates the priority that China attaches to its expansion into Central Asia and beyond to the Gulf and Middle East, as well as the diversity of means at its disposal. It further demonstrates its seriousness in executing this strategy by its effort to counter the Trump Administration's enhanced interest and efforts to establish a growing presence, particularly in Kazakhstan and Uzbekistan. Emulating the U.S., China has set up its own version of the 5+1 process by which China's Foreign Minister regularly meets with his Central Asian counterparts. This process represents another venue by which China can offer investment projects that Central Asian governments cannot easily refuse and thereby enhance its overall influence in their polities. It is also a mechanism for interaction with Central Asian governments on a regular basis without Moscow's mediating or countering influence. Several Chinese initiatives in the region have run aground due to Russian suspicions and Moscow's apprehension that it might gradually become marginalized in Central Asia. The 5+1 mechanism duly allows China to circumvent Russian objections and reflects its economic superiority in Central Asia. It also provides the diplomatic support, aside from other and regular bilateral communications between governments, for tailoring China's grand strategy to the specific circumstances of each of these states.
The states currently most at risk from this Chinese strategy are Kyrgyzstan and Tajikistan. Tajikistan already struggles to pay back its debts. Thus, it is at risk of falling into the same debt trap as Sri Lanka, where it will have to surrender equity in key installations in return for defaulting on its debts. This could occur, for example, by allowing a greater and more permanent expansion of China's military presence inside Tajikistan, for which the proposed road network for Afghanistan would serve as a logistical support system. China could also compel Tajikistan, as it did in 2011, to surrender more territory to China, or obtain much more influence over Tajikistan's economic resources. In June 2020, President Xi Jinping urged stronger "joint efforts" with Tajikistan to implement key BRI projects and offered more cooperation against the Covid-19 pandemic – a veiled suggestion of deeper Chinese involvement in Tajikistan's economy and public health sectors.
All instruments of power: military, diplomatic, economic, and informational, are clearly tied together and working in harmony to effectuate a major transformation of Chinese strategy in Central Asia and beyond. The new agreements with Iran have enormous implications for the Middle East, and comparably large significance for Central and South Asia. Once news of the agreements became public, Iran dropped India from the formerly bilateral railway project to connect Chabahar, a prospective trading hub in southern Iran to Zahedan, the capital of Sistan-Baluchistan Province. The reason given was India' inability to commit to funding the project. China rapidly committed to funding the project, which clearly connects with its overall vision of projects tying Iran and regional trade to China. The railway's purpose is to connect Chabahar, Iran's only major port on the Indian Ocean, to Afghanistan and Central Asia with a potential to carry seven million tons of goods per year. Thus, the deal with Iran strongly affects Central Asian trade and puts China in a key position in this domain as well.
CONCLUSIONS: We will likely see more such policy moves until and unless China's offensive is checked or reaches its limits. Even more striking than the opposition to Washington's policies in Central Asia and the Middle East is the apparent acquiescence and silence of the Russian government about these moves that clearly aim to dethrone Moscow from its claim and aspiration to a pre-eminent position in Central Asia. Despite the endlessly expected anticipation by experts that Chinese moves here will undermine its entente or alliance with Russia and signs of grumbling among experts in Moscow, Putin and the Russian government have had little or nothing to say about these discernible trends. This is perhaps because they now need Chinese support so much that they, like others, cannot speak out against the Chinese encroachments on Russian interests. Certainly, Moscow lacks the resources to compete with China in most areas of policy. However, as appears to be the case regarding the Sino-Iranian agreements and Central Asia, coordination with Russia and Moscow's acquiescence in the vast expansion of Chinese influence seem to be the order of the day. This acceptance of Chinese policies may not last for long, but whatever options are available to Moscow, the scope and extent of China's strategic offensive into the Islamic world can no longer be denied or dismissed. By launching these moves, China aims to transform not only regional but also the global order. In other words, China's drive to the West must now be factored into the global struggle for supremacy among the great powers and this fact can only enhance Central Asia's strategic importance for some time to come.
AUTHOR'S BIO: Stephen Blank is a Senior Fellow with the Foreign Policy Research Institute.
Image Source: United States Department of State via Flickr. Accessed 12.11.2020