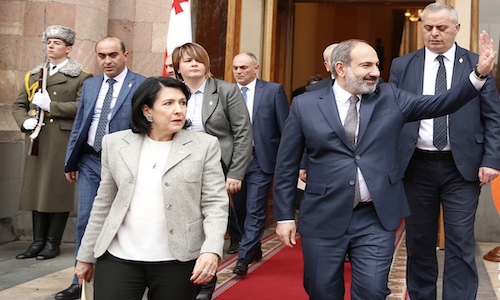 BACKGROUND: Pashinyan's visit to Georgia was marked with cordial gestures and several important meetings with Georgian top politicians and religious figures. Pashinyan met with his Georgian counterpart Giorgi Gakharia to discuss a wide range of bilateral issues, including regional transit projects and cooperation in the energy sphere. Both politicians expressed their readiness to work for closer bilateral ties and expand cooperation in the areas of trade, new technologies, education and tourism. Armenia's prime minister also met with President Salome Zurabishvili, who visited Armenia last year. During their meeting, Zurabishvili and Pashinyan discussed matters of bilateral importance and measures to ensure peace and stability in the region. In Tbilisi, Pashinyan also met the Catholicos of the Georgian Orthodox Church, Patriarch Ilia II, and Speaker of Parliament Archil Talakvadze.
Pashinyan also took part in a meeting with representatives of the Armenian minority from Tbilisi and Samtskhe-Javakheti, a region located in the southern part of Georgia and inhabited by a large ethnic Armenian population. During the meeting, Pashinyan publicly ensured Georgian authorities and citizens that neither Armenia, nor Armenians, will take part in an "anti-Georgian conspiracy," clearly alluding to the fact that the situation in Javakheti has often been a source of friction in Armenian-Georgian relations.
Pashinyan's visit brought immediate positive results as Georgia and Armenia signed an agreement that will allow citizens of both countries to cross the common border using only ID cards. Beyond concrete outcomes, Pashinyan's declarations left little doubt that Yerevan is more than keen to reinvigorate ties with its northern neighbor. Aside from deepening bilateral cooperation in a vast number of fields, Pashinyan declared his intention to bring relations with Georgia to the level of strategic partnership. Beyond friendly declarations, relations between Armenia and Georgia still have a long way to go before reaching the level of strategic partnership, which encompasses cooperation in a much wider range of sectors including defense, economy, politics and culture. Yet Pashinyan's declaration remains highly important, since Armenia's only existing strategic partnership is with Russia.
During the visit, Pashinyan put a lot of diplomatic effort into finding common ground with Georgia and underlined the importance of putting aside old prejudices and mutual distrust. He also sought to downplay the existing and important differences between Yerevan and Tbilisi. The Georgian counterparts were more restrained in their declarations but ensured that Pashinyan's visit to Georgia will bring bilateral ties to a "qualitatively new level."
IMPLICATIONS: In the decades following the dissolution of the Soviet Union, Armenia and Georgia strived to maintain functional relations but bilateral ties have never been particularly close despite their geographical and cultural proximity. Several contributing factors include their divergent geopolitical orientations, the uneasy situation in Samtskhe-Javakheti and differing views on separatist conflicts in the region. Georgia prioritizes ties with the West and is part of a tripartite alliance with Azerbaijan and Turkey, while Armenia has cultivated relations with Russia and joined Moscow-led integrative projects. Consequently, their participation in two different trade blocs – the Eurasian Economic Union in the case of Armenia and Georgia's Deep and Comprehensive Free Trade Agreement with the EU make the development of closer commercial ties problematic. Georgia and Armenia also have conflicting views on separatist conflicts in the region, since Tbilisi understandably promotes territorial integrity when it comes to Abkhazia and South Ossetia while Armenia pursues the self-determination principle in the resolution of the Nagorno-Karabakh conflict.
The situation in Samtskhe-Javakheti has frequently been a source of discord and mutual suspicions between the two neighbors. Unlike other inter-ethnic conflicts in the South Caucasus, the situation in this Georgian region inhabited mostly by ethnic Armenians never escalated into a war but tensions have remained. Local Armenians often complain that Tbilisi does not respect minority rights and cares little about the region's economic underdevelopment. Moreover, calls for greater autonomy from ethnic activists in Samtskhe-Javakheti, which were exploited by some Armenian politicians, have sparked fears in Georgia over another possible secessionist conflict. Other, smaller incidents have also clouded Armenian-Georgian relations, including a legal conflict over Armenian churches in Tbilisi between the Armenian Diocese in Georgia and the Georgian Patriarchate.
Since coming to power in 2018, Pashinyan and his government have sought to advance relations with multiple actors in pursuit of a more balanced and multi-vector foreign policy, which could help boost Armenia's economic performance. The country's decades-long regional isolation has put landlocked Armenia into an uneasy dependence on Russia. Part of the Pashinyan government's effort has aimed to expand ties with Armenia's immediate neighbors, Georgia and Iran, to counter Armenia's geographical isolation and expand its economic and political options. Georgia in particular has strategic importance for Armenia since it serves as a gateway for its imports and exports as well as the only land route connecting Armenia with its largest trading partner Russia. Armenia is less geopolitically significant for Georgia; however, cooperation with Yerevan offers a counterweight to its relations with Azerbaijan, which have recently been affected by tensions regarding the demarcation of their common border.
While Armenia's new government has not so far achieved any major breakthrough, it has been able to re-energize ties with Georgia, which has led to some positive outcomes particularly in the economic and political spheres. Over the last two years, the number of high-level meetings between Georgian and Armenian politicians have risen significantly, including on the presidential and prime ministerial level. Georgia was the destination of Pashinyan's first official trip after becoming prime minister, which also bears diplomatic significance. Georgia and Armenia have now laid the groundwork for expanding economic cooperation. After a long hiatus, they re-launched the Armenia-Georgia Inter-Governmental Commission on Trade-Economic Cooperation in 2019, to facilitate commercial cooperation. Plans are underway to boost trade turnover between Georgia and Armenia to US$ 1 billion and it has already risen from US$ 489 million in 2017 to US$ 679.7 million in 2019, according to official Georgian statistics.
Pashinyan's government has ambitious plans to boost transit and energy cooperation with Georgia as a link in the north-south transit route including Iran and Russia, which would run parallel to the International North-South Transport Corridor linking Iran, Azerbaijan and Russia. However, these far-reaching plans might not materialize due to political and economic constraints. Armenia placed much hope in an agreement between Georgia and Russia over transit corridors in separatist South Ossetia and Abkhazia, which would facilitate land trade between Armenia, Georgia and Russia. However, the de facto representatives of the breakaway regions torpedoed the agreement last year. Likewise, Armenia was interested in the planned Anaklia deep-sea port, which could boost its overseas imports, but the Georgian government cancelled the contract to build Anaklia in January this year. In 2019, Pashinyan resurrected the old idea of establishing a gas corridor from Iran through Armenia to Georgia, but despite signing a transit agreement with Tehran the project has not so far taken off due to technical constraints and the high risk of serious opposition from both Russia and U.S.
CONCLUSIONS: Pashinyan's plans for improving Armenia's problematic geopolitical position by employing real, not declarative, multilateralism in the country's foreign policy is not new – previous governments have tried the same but for the most part achieved modest results due to a lack of financial resources and geopolitical constraints. The same factors might hinder the ambitious plans of Pashinyan's government when it comes to transit and energy cooperation with Georgia. However, it remains possible to expand cooperation in many fields including economy, cultural heritage and people-to-people contacts. Pashinyan's rhetoric, which aims to find common ground with Georgia despite existing differences, and to improve the climate of bilateral contacts by tackling mutual suspicions, will be also helpful in bringing the two neighbors together beyond mere pragmatism based on geopolitical considerations.
AUTHOR'S BIO:
Natalia Konarzewska is a graduate of University of Warsaw and a freelance expert and analyst with a focus on political and economic developments in the post-Soviet space.
Image Source: Public Domain via Wikimedia Commons accessed on 4/13/20