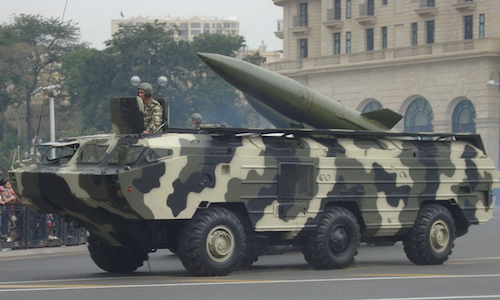 BACKGROUND: Until recently, Azerbaijan has not prioritized substantial strategic ballistic missile capabilities given the assumption that the enemy – Armenia – possessed limited military-strategic stationary targets such as airports, large warehouses, and plants. Therefore, instead of boosting its ballistic missile arsenal, Azerbaijan chiefly focused on enhancing ballistic missile defense (BMD) in order to neutralize the corresponding threat emanating from Armenia.
In 2011, Azerbaijan signed an agreement with Israel for the delivery of two EL/M-2080 Green Pine radar systems and nine Barak-8 missile defense and air defense systems, a deal worth US$ 700 million. Green Pine is produced by Elta, a subsidiary of IAI. If the mobile radars are deployed in southeast Azerbaijan, they could provide advanced warning of long-range missiles fired from Iran and could also track Iranian missile test launches. Although the exact locations of the Green Pine radars and Barak-8 missiles remain unclear, they clearly form part of a BMD system and counter-balance Armenia's Tochka, Scud-B and Iskander-E short-range ballistic missile (SRBM) systems.
In addition, Azerbaijan already has two divisions (16 units) of S-300PMU-2 systems supplied by Russia since 2011. While these systems were reportedly deployed around Baku in 2012, their actual state of readiness is unclear since Azerbaijani crews are not known to have test-fired the systems either in-country or in Russia. Azerbaijan's almost simultaneous purchase of the Israeli systems reflects a degree of distrust in the Russian systems and the imperative to diversify its supply of arms.
In contrast, Armenia until recently enjoyed an obvious strategic and technical advantage, possessing a solid arsenal of precision-guided rocket equipment. In addition to its already substantial ballistic missile fleet, including successfully upgraded Soviet Scud-B and Tochka, Yerevan has extensively reinforced its capabilities by obtaining at least one battalion of advanced Iskander-E SRBM, with a maximum range of 280 kilometers, from Russia – its closest strategic ally. The systems were first showcased during a military parade dedicated to the anniversary of Armenia's independence in September 2016. The demonstration was particularly symbolic given the public resentment in Armenia after the loss of territory and servicemen during the unprecedented escalation of tensions in April that year.
Armenia's grand strategy in the context of its missile capabilities is straightforward: the ballistic missile component of the Joint Armenian Armed Forces (JAAF), comprising Armenia's regular army and Artsakh (Karabakh) defense forces, is on the one hand intended to deter Azerbaijan from resuming war against Karabakh and Armenia. On the other hand, it is a critical element of Armenia's global conventional strike strategy, designed to wipe out the adversary's strategic military infrastructure in a pre-emptive strike, in the event of an anticipated large-scale Azerbaijani attack.
IMPLICATIONS: Increasingly concerned over Armenia's acquisition of Russia-manufactured Iskander-E systems in 2016, Azerbaijan has sought to balance the ballistic missile asymmetry and even to outnumber its opponent's capabilities in this specific field. Baku has solved its missile dilemma by acquiring Israeli LORA operative-tactical ballistic missiles and Polonez multiple-rocket launch systems, while at the same time keeping the options with Russia, Pakistan and Ukraine negotiable. Nevertheless, the Azerbaijan-Belarus arms deal has been fraught with both political and technical difficulties.
In late 2017, Belorussian and Azerbaijani press relying on sources close to the Defense Ministries, reported that Baku had closed an arms deal with Minsk worth US$ 170 million aimed at purchasing the systems. They argued that the Belarus-Chinese Polonez M20 operative-tactical missiles could effectively mitigate Azerbaijan's deficiency in ballistic missile capabilities and balance those of Armenia.
While concluding the deal, the Chinese side hesitated to approve the export of M20 ballistic missiles, hence Minsk subsequently attempted to amend the contract when Azerbaijan's Defense Minister Zakir Hasanov visited Minsk in October 2017. Minsk likely offered Baku Polonez MRLS armed with A200 rockets, instead of M20 precision-guided ballistic missiles. This seemingly caused additional delays and as Russia's Kommersant newspaper leaked in April, Azerbaijan first ordered two battery-size (more than 10 erector launchers) packages with A200 artillery rockets, which are already supplied, and another with M20 munition expected to be delivered by the end of 2018.
In anticipation of this outcome, Armenia negotiated with Russia to purchase TOR-M2 surface-to-air missile systems, intended to engage precision-guided munition. Additionally, facing Azerbaijan's LORA and Polonez SRBM systems, Yerevan will likely respond asymmetrically by reinforcing its air force with a squadron of Su-30SM aircraft. This enhancement of JAAF's capacity for offensive operations complies with Armenia's pre-emptive strike doctrine as an option in the case of an Azerbaijani offensive against Karabakh or against Armenia from Nakhichevan.
Politically, the Belarus-Azerbaijani arms deal will almost certainly exacerbate relations between Armenia and Belarus, despite their formal collective defense and security commitments under the CSTO. The political and military rapprochement between Minsk and Baku is not new, and its development in certain aspects damages Yerevan's security interests by neglecting the treaty commitments and undermining the spirit of alliance.
During the escalation of tensions between local Armenian and Azerbaijani armed forces throughout the Line of Contact in Karabakh in April 2016, Minsk unequivocally backed Baku's posture against Armenia. Prior to this, Belarus supplied 11 Sukhoi Su-25 aircraft to Azerbaijan. In 2005–2011, Baku also acquired 12 self-propelled Pion howitzers, about 150 T-72B main battle tanks, up to 60 BTR-70 armored personnel carriers and over 90 122-millimeter D-30 howitzers from Belarus. Moreover, in 2014 Azerbaijan procured at least two battalions of 9K37M Buk-MB (SA-17 Grizzly) surface-to-air missile systems as well as radio-electronic warfare means from Belarus.
Belarus' relations with Azerbaijan and Armenia increasingly favor the former, ignoring Belarus' formal commitments to Yerevan. The recent purchases have increased the gap in military capabilities, already fueled by Russian arms sales to Azerbaijan worth US$ 5 billion since 2011. The ongoing militarization of Azerbaijan and Armenia has irreversibly shifted the security environment in the South Caucasus, incentivizing both sides to view the Karabakh problem thought the lens of political realism. With a zero-sum logic prevailing in Yerevan and Baku, both have become preoccupied with military build-up as the only means of survival at the expense of the adversary's security.
CONCLUSIONS: Azerbaijan's endeavor to acquire "smart" warfare capabilities, combined with militaristic rhetoric and constant military drills, indicates a readiness to wage war against Armenia. However, the potential repercussions for Azerbaijan remain uncertain, not least given the new leadership in Armenia. Azerbaijan is seemingly utilizing a brinkmanship strategy to test the reactions of Armenia's new political elite.
If the Armenian leadership starts to question the credibility of the country's defense capabilities as a deterrent, Armenia could take steps in line with the logic of pre-emptive military action in the face of an anticipated imminent threat from Azerbaijan. A resumed conflict would compel Yerevan to either recognize Karabakh as an independent state, or to proclaim Karabakh a part of Armenia – deliberately seeking to embroil the CSTO in the conflict.
Azerbaijan's missile deals will definitely affect Armenia's military planning, making it more focused on a pre-emptive strike concept. Armenia's overall strategy is shifting towards threat prevention, displacing a soviet-style conventional deterrence and defense logic with capacity for pre-emptive punitive measures in order to reduce casualties and strategic losses.
AUTHOR'S BIOS: Eduard Abrahamyan is a regional security analyst with emphasis on the Black Sea, South Caucasus and Central Asia. He is a CACI Spring 2017 Rumsfeld Fellow and a PhD Candidate at University of Leicester, UK.
Image source: By: Public Domain via Wikimedia accessed on 8.22. 2018