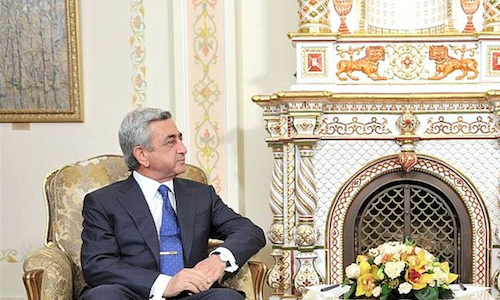 BACKGROUND: Speculations about the possible resignation of Armenia's Prime Minister Hovik Abrahamyan began several months ago. However, President Sargsyan likely took the principal decision after the armed attack in July on a police compound in Yerevan, which a group of 31 armed men captured and kept under control for two weeks before surrendering on July 31. On August 1, Sargsyan stated that he would form a government of "national unity." Abrahamyan formally notified the president about his resignation on September 8. He remains deputy chair of the RPA.
On September 13 the National Assembly, upon the president's request, voted in favor of Karen Karapetyan as the new prime minister. Karapetyan briefly served as mayor of Yerevan in 2010-2011. Before his 10-month term, he had worked as chief executive of the Armenian subsidiary of Russian natural gas producer, Gazprom. Karapetyan has continued his career with Gazprom since 2011. Karapetyan's background has led some analysts to suggest that his new appointment was particularly approved by Moscow as an additional guarantee against a possible change of foreign policy.
Instead of the majority of ministers in the previous cabinet, who have served in several cabinets while entertaining strong connections with oligarchic structures, Karapetyan appointed a number of newcomers unknown to the public, many of whom cannot even be located via online search engines.
Journalistic investigations show that most of new cabinet members have had connections with Russian commercial structures. In addition, Karapetyan's successor at the post of chief executive of Gazprom Armenia, Vardan Harutyunyan, was appointed the director of the State Revenues Service on October 11.
President Sargsyan practically gave Karapetyan a free hand concerning appointments to posts in the new cabinet. Consequentially, Karapetyan has been able to change almost the entire cabinet with the exception of appointments that remain the president's prerogative. Thus, the head of the police and the ministers of national security and foreign affairs remained on their posts; President Sargsyan also appointed the head of the presidential staff, Vigen Sargsyan, as the new minister of defense.
IMPLICATIONS: Forming a new government about half a year before the parliamentary elections could be an attempt to placate the public, as disappointment with the previous government was a major reason for the radicalization of protests. Following the July attack on the police compound, a number of people gathered nearby, despite several attempts by the police to disperse them. These have included two police attacks on a nearby neighborhood, leaving over a hundred wounded, and daily arrests of hundreds of protesters. Forming a new cabinet with members who were not previously state servants and therefore less likely to have been involved in corrupt practices and misappropriation of public funds, could be useful. Some observers suggest that unless Karapetyan's cabinet demonstrates at least some achievements, a new mass protest campaign is inevitable.
However, just before Karapetyan's appointment, the tax code was amended with potentially unfavorable outcomes for small and medium businesses. Also, remittances from Armenians working in Russia – the country's main source of hard currency – are expected to decline further. Thus, the prospects for economic improvement are bleak. Karapetyan is also hardly in a position to change the structure of governance dominated by oligarchs, whose possessions are safe as long as they remain loyal to the president, similarly to the Russian model. Any attempt to change the oligarchic, monopolistic economic structure, or to tax the oligarchs' businesses could seriously destabilize the whole structure.
Karapetyan's and some of his appointees' connections with Gazprom remain an issue of public concern. Just days before Abrahamyan's resignation, it was announced that the Yerevan thermoelectric plant had accumulated a debt amounting to US$ 52 million for natural gas supplied by Gazprom Armenia – the monopolist gas supplier in which Gazprom owns 100 percent of the shares. It may be expected that another "property for debt" deal is in the making. The largest, and most scandalous, previous deals of this kind took place in 2013, when Gazprom acquired the remaining 20 percent of the shares in Armenia's gas distribution network that had until then been state property. The government then explained that the handover was necessitated by a debt of over US$ 300 million that had been accumulated since 2011. During the parliamentary debates, it turned out that cabinet members had not been aware of this debt, as minister-chancellor Vacheh Gabrielyan, who until April 2013 had been the minister of finance, admitted in a Radio Liberty interview. Gabrielyan, who was later promoted to deputy prime minister, is of the few officials who remained on his post in Karapetyan's newly appointed cabinet.
The appointment of Vigen Sargsyan, the president's loyal aide, as the new minister of defense, was unexpected. Sargsyan's appointment, as well as the reconfirmation of Eduard Nalbandyan as the minister of foreign affairs, occurred on October 5 – much later than the other cabinet appointments. In his first public statement Sargsyan, educated in the U.S., demanded a greater role for the army in social and economic life, claiming that the army should turn "from being a very heavy burden on the state and economy into a leader and locomotive," and that "the entire population should have many scientific, economic, industrial or other projects related to the army." It remains to be seen whether Sargsyan's statement was only lip service to the "nation-army" concept that some politicians have long promoted, but particularly after the heaviest exchange of fire along the entire line of contact in Nagorno-Karabakh on April 2-5, or signals a possible redistribution of assets. A "patriotic" agenda could be a convenient pretext for redistribution, as it would be less fervently opposed. In any case, the fundamental structure of the oligarchy can hardly be touched.
CONCLUSIONS: Last year's constitutional amendments will probably secure the RPA's hold on power after the general elections in 2017, when the presidential system will be replaced with a parliamentary one (see the 12/29/15 Issue of the CACI Analyst). Against this backdrop, and given President Sargsyan's previous political course, he would be unlikely to change the cabinet shortly before the elections if the newly appointed prime minister could potentially become a strong contender within the party.
From this point of view, Karapetyan's appointment seems quite logical, as he has no political base of his own and no serious political ambitions in Armenia, and will hardly run for election. He has no previous political status to defend and it would therefore be safe to blame him for economic hardship and failure to reform. He could easily return to Russia once again, like he did in 2011 after resigning as mayor of Yerevan overnight and immediately taking a job with Gazprom in Moscow.
Therefore, the suggestions that Karapetyan's appointment will give Moscow additional leverage are probably incorrect. In this regard, keeping Nalbandyan, whose dismissal was long awaited by the expert community and would be welcomed by the political opposition, as the minister of foreign affairs is a more important signal of Armenia's consistency in foreign policy and continuing allegiance to Russia.
AUTHOR'S BIO: Armen Grigoryan is an Armenian political scientist, the author of several book chapters, journal articles, and policy papers. His research interests include post-communist transition, EU relations with Eastern Partnership countries, transatlantic relations, energy security, and conflict transformation.
Image source: static.kremlin.ru, accessed on October 18, 2016