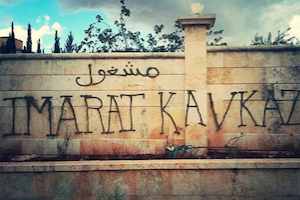 BACKGROUND: Russian officials claim that "a lasting trend of stabilization has been achieved in constituent territories of the North Caucasus Federal District." They attribute these results to improved interaction between the FSB, military and law enforcement forces – in other words improved coordination among intelligence, army, and police forces – to inflict heavy losses upon the insurgents and reduce the number of terrorist attacks. Notwithstanding these achievements, these reports exemplify a hallowed and long-standing Russian bureaucratic tradition of "ochkoviratel'stvo" (eyewash) to portray situations as better than they are.
There are several signs that the progress is illusory. The recent ISIS attack in Derbent that claimed the lives of several Russian policemen is one example, as is the fact that Putin has reconfirmed Ramzan Kadyrov as the warlord of Chechnya, signifying awareness that if Kadyrov goes, the local situation will break down. Moreover, the economic crisis in Russia is undermining the ability of the central government to implement a growth strategy in the North Caucasus. Poverty, inflation, and unemployment are all rising, while the regime's ability to provide subsidies to the North Caucasus, the basis of the unitary state in the masquerade of federalism, is coming undone as a result of the economic crisis. Therefore, the economic means to buy loyalty and sustain local government is steadily eroding as well.
Russia's massive 2010 spending program to rebuild the North Caucasus has turned out to be an utter failure. The Russian Prosecutor General's Office has reported that crimes of corruption (i.e. those it found) in the North Caucasus Federal District cost the state over two billion rubles in losses in 2014; a quadrupled increase from 2013. This is less a reflection of increased investigative capacity than a sign of corruption that is utterly out of control. In Dagestan, the epicenter of the insurgency, officials estimate that 50-60 percent of the local economy is a shadow economy. This has led to a loss of legitimacy, but also to Muslims actually bypassing the state on issues of land tenure and their recourse to Sharia law. Land disputes also appear to be a major source of protest and therefore of recruitment into the Caucasus Emirate and other groups.
IMPLICATIONS: A major cause of all the insurgencies that have racked the North Caucasus are attributable in part to Russian misrule, but the level of corruption has probably never been as pervasive as now. This adds to the brutality of Russian forces that are responsible for many abductions and repressions and the inability to develop the region economically. Taken together, these factors create a truly toxic environment. Moreover, the failure of the federal program for the North Caucasus and massive corruption during the 2014 Sochi Winter Olympics shows that nothing is to be expected from the previous panacea of huge building and infrastructure projects.
The present-day insurgencies in the North Caucasus began in 1994 with the first Chechen War. And while Kadyrov now rules Chechnya for Moscow, he is clearly quite independent and indispensable to Russian authority. His absence might well plunge Chechnya back into chaos. But the price of his success has been the migration of the insurgency to the rest of the North Caucasus. Moscow seems to have no means to extinguish the flame of insurgency. Instead its policies regenerate the recruitment of insurgents that continues at past rates despite repressions and migration of Jihadis to Syria.
It is increasingly clear that Moscow has begun to understand that it cannot sustain the burden of developing or even maintaining the North Caucasus without foreign assistance. Recent Russian and foreign press reports indicate that Russia is talking to Azerbaijan, Saudi Arabia, and other Gulf States about directing investments from either their sovereign investment funds or other state vehicles to projects in Chechnya and the broader North Caucasus. The incentive is to block the spread of ISIS and other forms of extreme Sunni terrorism, an objective that all these regimes supposedly share. While it is possible that these states will deem it in their interests to invest funds in the North Caucasus due to their concerns about terrorism, Saudi and Gulf rulers are deeply skeptical of Russian policies in the Middle East.
In Syria and Yemen, Moscow and Tehran are on opposite sides of Saudi Arabia; supporting Assad in Syria and the Houthis in Yemen. The overall Russo-Iranian cooperation irritates these governments. Recently at Doha, primarily due to its suspicions of Iran and of Russia's support for it, Saudi Arabia foiled Russian efforts to have oil producers reduce production to drive up prices. There is no guarantee that these investments will be made, let alone that they will help consolidate Russia's hold over the restive North Caucasus. However, Russia's renewed quest for support from Muslim governments has implications beyond the question of whether they will help pacify the North Caucasus.
The quest for foreign Muslim governments to invest heavily in the region implicitly, and perhaps unconsciously, represents an acknowledgement by Moscow that it can no longer maintain this imperial conquest by its own means and must find external support to preserve it. For all the talk of a "Velikaya Derzhava" (great power) it may well be the case that in the North Caucasus, this is becoming a great power on others' sufferance and checkbooks. That is an inherently unstable foundation because the very notion of empire precludes reliance upon outsiders' support to keep the whole enterprise going. Therefore, the turn to foreign investment betokens another sign of the Russian government's inability to preserve its current system by means of its own legitimacy and capabilities for economic development, and the ensuing necessity of turning to others from whom Moscow can "borrow" those public goods.
It is quite unlikely that Russia will make significant progress in overcoming the insurgency in the North Caucasus or addressing its root causes by its own means in 2016. Therefore, the insurgency will continue to plague the region and the Russian state as sanctions and the economic crisis continue. Even if energy prices rise, the structural deformations of the Russian economy and political system preclude a reform that will meaningfully address the problems in the North Caucasus, whereas Russia's behavior in Syria will probably facilitate the ongoing recruitment of Jihadis at home.
Whether or not these potential investors earmark large sums for the region, the legitimacy of Middle Eastern economic and political interests in the North Caucasus has now been established and Moscow cannot insulate the theater as it used to. And given its ambitions in the Middle East, it will need to answer for its behavior towards its own Muslims. By seeking these investments, Russia's government has implicitly conceded that it cannot govern this region alone. The legitimacy and effectiveness of its rule can only be sustained by large-scale foreign investment from foreign, i.e. Muslim governments and state investment funds. This clearly signifies another retreat of Russian imperial pretensions de facto if not de jure. It also suggests that eventually – and Russian emigration from the North Caucasus is an indication – the insurgency will prevail and that a new constitutional arrangement for these territories will become necessary.
CONCLUSIONS: The intertwining of Russian policy in the North Caucasus, the South Caucasus and the Middle East will become stronger and more visible to both internal Russian policymakers and external analysts and actors over time. Middle Eastern and South Caucasian governments have now been invited to contribute to Russia's imperial management and they will not simply write checks without demanding a voice in what is going on. Meanwhile, the strategic connection between Moscow's policies towards these regions will grow for the same reason, since Russia now needs these partners to sustain its domestic political system, which is a foundation for everything it tries to do abroad.
This could boomerang upon Russia because the foreign influence of Saudi Arabia in Muslim countries has often taken the form of increased Salafism and extremist Muslim religious-political positions. The North Caucasus is already awash with such sentiments. In other words, Russia's quest for foreign support opens up a new page in regional history, which will make the region much more a part of world politics than it has hitherto been, in ways that may ultimately be very much opposed to Moscow's interests and desires.
AUTHOR'S BIO: Stephen Blank is a Senior Fellow with the American Foreign Policy Council.

Image Attribution: www.wordpress.com, accessed on June 23, 2016