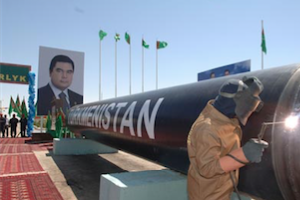 BACKGROUND: Ashgabat was recently struck by an unprecedented export crisis and shrinking gas export options have prompted Turkmenistan to seek other markets for its supply. In February 2015, Russia's Gazprom decreased its gas purchases in Turkmenistan to 4 bcm from 11 bcm in 2014, and in January 2016 decided to cancel them altogether. Iran, another export destination for Turkmen gas, is poised to decrease supply imports in favor of developing domestic production, which is expected to soar after the sanctions are lifted. As gas exports to Russia and Iran plummet, Turkmenistan grows alarmingly dependent on its major export outlet – China. In 2014, China received ca 25 bcm of Turkmen gas. This volume was expected to grow to 40 bcm at the end of 2015 due to the expansion of the Central Asia-China gas pipeline and is predicted to reach 65 bcm in 2020. However, gas exports to China have so far not been profitable, because Turkmenistan's revenues are decreased by the debt it owes to China's National Petroleum Corporation for the construction of the Central Asia - China pipeline and the development of the Galkynysh gas field.
In addition, Turkmenistan's economy contracted sharply in 2015 after hydrocarbon revenues dropped due to dwindling market prices for natural gas and a devaluation of the local currency, the manat. Turkmenistan's government recently decided to implement specific measures to offset its economic overreliance on energy revenues, aiming to boost growth and investment in non-energy sectors. In addition, Ashgabat has decided to end the generous subsidies for gas, electricity and water, which will increase hardship for an already impoverished population.
Simultaneously, Ashgabat seeks to expand its hydrocarbon export flexibility, which includes building new gas export infrastructure such as the planned Turkmenistan–Afghanistan–Pakistan–India (TAPI) pipeline and the East-West pipeline, as well as diversifying and modernizing the country's oil and gas industry.
The effectiveness of measures aimed at boosting the non-energy sector will probably be restricted by Turkmenistan's economic system, which limits growth in private sector. Thus, Ashgabat regards diversified hydrocarbon exports as a viable medium-term solution to offset the negative effects of the current export and financial crisis. However, it remains to be seen whether the East-West pipeline is an adequate response to the crisis and whether it will become a cornerstone for Turkmenistan's western expansion.
IMPLICATIONS: Expanding energy cooperation with Turkey will allow Ashgabat to advance its export possibilities in the European market. In November 2014, Turkmenistan's state gas company Turkmengas signed an agreement with private Turkish firm Atagas for the purchase and sale of gas to TANAP, however no details have so far been revealed about the agreement. Closer cooperation in the energy realm is a logical step following a strengthened Turkish presence in Turkmenistan's market, as Turkey is one of Turkmenistan's most prominent trade partners. In addition, Ankara is currently actively seeking additional sources of gas import, as it needs additional volumes to satisfy its booming domestic demand.
Energy cooperation with Turkey was further emphasized in early 2015, when Azerbaijan, Turkey and Turkmenistan decided to establish a trilateral mechanism on energy cooperation. This strategy specifically aims to strengthen energy ties between the three countries and facilitate the flow of Turkmen gas to Europe, providing a practical foundation for realizing the Trans-Caspian Pipeline (TCP). With a planned annual capacity of 30 bcm, TCP is designed to carry Turkmen gas via the Caspian Basin to Azerbaijan, where it can connect with the Southern Gas Corridor system.
The European Union also seems intensely engaged in bringing Turkmen gas to European markets and has in the past few months intensified diplomatic efforts to lobby for a break-through in the realization of TCP. Turkmen gas is expected to play an important role in the EU's energy diversification scheme. The EU's demand for natural gas is predicted to grow in upcoming years due to the implementation of environmental policies, which will result in an increased role for gas in Europe's energy mix. Turkmen gas could also ensure security of supply in the Central and East European member states, which are the most vulnerable to a possible halt of Russian gas transit through Ukraine. However, the decline in natural gas prices can make expensive infrastructural projects such as TCP unprofitable in the short-term perspective.
Several obstacles remain to the realization of TCP. Importantly, the status of the Caspian Basin remains unresolved. The agreement on basic political principles concluded by the heads of the five Caspian littoral states at the Astrakhan Summit in 2014 is a positive step towards formulating a convention on the status of the Caspian Sea, which is expected to be drafted at the upcoming Caspian Summit in Astana in 2016. Notwithstanding, Iran and Russia remain vehemently opposed to the realization of TCP.
Tehran prefers transit of Turkmen gas through its own territory to gain leverage over Turkmenistan and to attract European investment in its oil and gas sector by becoming an important part of the EU's energy diversification scheme. Furthermore, a direct transfer of Turkmen gas to the European market will challenge Gazprom's market share in Europe and reduce Russia's current leverage over Ashgabat, gained by transferring Turkmen supply to the West. Turkmenistan remains economically dependent on Russia, which hosts a large number of its migrant workers, and will seek to avoid jeopardizing its relations with Moscow. The high risk associated with the construction of a subsea pipeline such as TCP also substantially increases the costs of such an investment and so far no interested countries have made any commitments to financing of the pipeline. Ashgabat is unlikely to bear the financial burden of TCP given its strict pipeline policy, which does not allow financial engagement in building external pipelines.
Iran has also expressed a readiness to facilitate the transit of Turkmen hydrocarbons via its territory to other consumers. The Iranian transit route, however, has infrastructural constraints. No existing pipeline can connect Iran's border with Turkmenistan in the north-east with its north-western region bordering with Turkey. Even though Tehran has committed to constructing two new pipelines with a capacity of 30 bcm annually, neither of them will be technically able to pump Turkmen gas to the Turkish border. Transferring Turkmen gas will require additional infrastructure, and it is not clear who will pay for it.
Azerbaijan and Iran currently compete directly with Turkmenistan for the European market share and it is unclear what volumes of Turkmen gas they are willing to accept while simultaneously avoiding unnecessary competition for their own hydrocarbon exports. Additionally, both TCP and the Iran route require building additional infrastructure and Turkmenistan will have to contract gas volumes large enough to make these energy projects economically profitable.
CONCLUSIONS: The East-West pipeline will boost Turkmenistan's export capacity by connecting the country's major gas fields with the pipeline network at the Caspian coast. The route is a first important step towards realizing Turkmenistan's westbound export strategy, but several political and financial factors have to be addressed to create a stable export route from Turkmenistan to the West. Furthermore, there is no suitable energy infrastructure for transferring Turkmen gas from Turkey to Europe, except for the planned Trans-Adriatic Pipeline, whose modest capacity cannot possibly be expanded to transfer large volumes of Turkmen supply. At this point, the Iranian route seems to be more politically advantageous than TCP, because it will evade the long legal debates that block the realization of TCP and will reduce Russia's control over the project. However, any possible transit of Turkmen gas to Turkey or further to European markets will require additional infrastructure and few are interested in bearing the financial burden, especially as low natural gas prices can make such an investment unprofitable in a medium-term perspective.
AUTHOR'S BIO: Natalia Konarzewska is a graduate of University of Warsaw and a freelance expert and analyst with a focus on political and economic developments in the post-Soviet space.
Image Attribution: www.eurasian-research.org, accessed on March 25, 2016