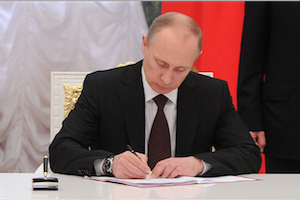 BACKGROUND: On December 31, Russia's President Vladimir Putin signed a new National Security Strategy (NSS) that blames the U.S. and its allies for building regional orders in Europe and East Asia that deny the principle of equal and indivisible security, excluding Russia and other non-Western powers from the U.S.-led regional alliance networks. The NSS reaffirms Russia's international mission to balance U.S. hegemony and secure a multi-polar world that preserves geopolitical balance, the authority of the United Nations, and traditional views on national sovereignty. The NSS sees the Russian regime under direct threat since Moscow has placed itself in Washington's crosshairs for resisting U.S. efforts to dominate the world.
Alleged Western efforts to overthrow foreign governments, such as regimes friendly to Moscow, are seen as a major problem. The text claims that the U.S. and its allies are employing massive financial assets, their domination of the international information order, internationally servile NGOs, and locally obedient partners to subvert foreign governments under the guise of democracy promotion and anti-terrorism. Whereas the West accuses Moscow of Russian hybrid warfare tactics, the NSS uses reverse imagery to warn that, "the struggle for influence in the international arena involves the whole range of political … economic, and information instruments" as well as military power and clandestine warfare—mandating a comprehensive defense by Russia and its allies against this onslaught.
In his annual review of Russian diplomacy on January 26, 2016, Russian Foreign Minister Sergei Lavrov told the media that, while Moscow wanted to improve relations with the Georgian people, "the criminal mistakes of former Georgian president Mikhail Saakashvili" forced Moscow to detach Abkhazia and South Ossetia from Tbilisi's control, which is the main source of bilateral tensions. Lavrov further asserted that Moscow was concerned by reports "that ISIS is setting up its cells not only in Afghanistan and some Central Asian countries, but also in the Pankisi Gorge … trying to get through all the cracks and gaps. No one will be safe unless we fight them together."
Lavrov also reaffirmed the "Russian world" concept as not "just some Russian invention… not a project, but an objective reality." Lavrov complained that NATO was misleading people into thinking that Russian leaders would use force to protect ethnic Russians "all over the world" to justify NATO's military buildup along Russia's periphery. Simultaneously, he insisted that Moscow would maintain "contact and communication channels with these people to see how we can help them, above all to ensure that they are able to use their language, have mass media available in their native language, so that they can get together and hold various events to help preserve their culture and identity, ensuring their rights as citizens of the state where they live – rights that would not be infringed upon and be based on generally recognized norms of international law."
IMPLICATIONS: Russian leaders also warn Eurasian countries against developing defense ties with NATO, especially joining the alliance or supporting its missile defense projects, constructing socioeconomic ties with the European Union or other Western regional economic structures, and backing Western sanctions or other measures against Russia. Instead, they affirm Moscow's determination to build its Eurasian Economic Union and partner with China and other non-Western states in establishing a new institutional framework that would embrace Central Asia and the Caucasus in an eastward orientation. Lavrov explained that Russia should "do everything we can not to depend on the whims of a particular group of countries, above all, our Western partners."
Russian leaders caution their counterparts in Central Asia and the Caucasus that Western governments are seeking to overthrow "legitimate political authorities" with "color revolutions," by backing local groups and individuals who, under the banner of promoting civil liberties, are seeking to undermine their regimes and replace them with U.S. puppets. They hold the West responsible for the "anti-constitutional coup" in Kyiv that overthrew the constitutional system and created enduring enmity among Ukrainians and insecurity for their neighbors. The complaint that the West has transformed Ukraine into a long-term source of European instability adjacent to Russia implies that Moscow will do whatever it can to avert similar developments in other Eurasian border regions.
Another line of thought found in the current Russian discourse is to limit Western ideas in local media, including through suppression of the Internet, by warning of how foreign intelligence agencies and terrorists misuse information flows to weaken national unity and stir up ethnic and religious hatred. If leaders in Central Asia and the Caucasus suppress media freedoms, they will further alienate their countries from Western partners and have fewer alternatives to deepening ties with the Eurasian autocracies.
Despite professing concern about the proliferation of conventional and unconventional weapons, the Strategy's claim that the U.S. is erecting biological weapons facilities along Russia's periphery could prove self-defeating if it results in more restrictions on the local governments' cooperation with Western disease control and WMD interdiction programs. These biosafety and biosecurity programs inevitable involve joint training and local capacity building. For example, in March 2011, Georgia opened a new U.S.-funded biological research facility, the Richard G. Lugar Center for Public Health Research, near Tbilisi that aims to advance public and animal health by detecting infectious diseases and epidemiological surveillance.
European governments have been developing better countermeasures against Russian influence over time, and Moscow has minimal influence over most countries in Africa, the Western Hemisphere, and even Asia. However, Russia's Eurasian neighbors have less effective defenses against Russian policies they oppose due to their geographic proximity, economic and cultural interdependencies, and other links with Moscow.
Importantly, many of their citizens share the Russian government's worldview due to the ubiquity of the Russian media and other forms of ideological influence. The Gallup Polling Organization's 2014 survey of former Soviet Union (FSU) countries found that most of the respondents – except for those in Moldova, Azerbaijan, Estonia, and especially Georgia – agreed that Russian Federation media sources covering the situation in Ukraine and Crimea were reliable. Only a small percentage of the respondents used Western media and those who used both generally trusted Russian media more than Western media, except in Georgia. Only in Georgia and Estonia was distrust of Russian Federation media sources common and only Georgians saw Western media as more reliable than Russian media and consumed more Western than Russian media. Regarding Russian policies in Ukraine, the more highly educated respondents, who used Western as well as Russian Federation media, were more likely to express support for Crimea's "joining" Russia than the average respondents, even in the Baltics and Azerbaijan, Georgia, and Moldova – all countries where support for the Crimea occupation was small.
CONCLUSIONS: Of course, the question remains whether Putin and other Russian leaders, who can comment intelligently on international affairs when prompted, genuinely believe these bizarre claims about Western goals, motives, and even capacity for influencing events in Eurasia. However, even if they are simply propounding instrumentally useful distortions as part of their information operations, whatever their private beliefs, they may find it useful or necessary to pursue policies that accord with the agreed doctrine. One wild card is how the newly elevated Russian nationalism seen in recent Russian government discourse could affect Russian ties in Central Asia and the Caucasus. The language is instrumentally useful for the Kremlin in rallying nationalist sentiment behind its policies, but the mobilization of Russian ethnic nationalism will complicate Moscow's relations with former Soviet republics fearful of Russian irredentism or vulnerable to Moscow-backed ethnic strife.
AUTHOR'S BIO: Dr. Richard Weitz is a Senior Fellow and Director of the Center for Political-Military Analysis at the Hudson Institute.
Image Attribution: img.rt.com, accessed on March 9, 2016