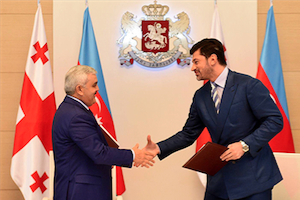 BACKGROUND: Kaladze's September 25 and October 26 meetings with Miller were accompanied by assertions by both the minister himself and Georgia's ex-PM Bidzina Ivanishvili which seemed to indicate the government's support for the Gazprom deal. On October 9, Kaladze said Georgia will consider importing gas from Russia once again after having switched to Azerbaijani gas in 2006. In an October 20 statement, Kaladze said "there was no possibility" to import additional gas from Azerbaijan, which supplies close to 90% of Georgia's gas imports, leaving Georgia with no choice but to import Russian gas to cover the gap in its increasing gas consumption. On October 27, Ivanishvili stated that "there is no crime if Georgia buys Russian gas" and that he saw "nothing wrong" with the Georgian energy market becoming more diversified. The ex-PM added that he would also like to see gas imports from Iran, and that market diversification is desirable for Georgian companies despite much gratefulness to Azerbaijan's state-owned SOCAR.
A potential Gazprom entry into the Georgian gas market would be politically sensitive not least because of a series of explosions which damaged power lines and gas pipelines in the winter of 2006, blamed on Russian interference and branded a "series of sabotage acts" by then-president Mikheil Saakashvili. Aside from prompting a switch to Azerbaijani natural gas, the events kickstarted Georgia's endeavor to end its dependence on Russian energy – a strategy which has enabled it to forge an independent foreign policy and deepen ties with NATO and the European Union.
As reported in the 11/30/2015 CACI Analyst, Kaladze's statements triggered controversy both at home and abroad. The government's moves towards a deal with Gazprom were quickly criticized by the opposition: the United National Movement (UNM) and Free Democrats opposition parties, as well as civil society organizations, quickly opposed the plans. On January 16, a "No to Gazprom" protest concert and rally were organized outside a government building in opposition to "Russia's aggressive propaganda campaign against the West in Georgia." The UNM is holding a protest rally on March 6 with similar aims. The party's MPs were quoted as saying that Kaladze is lobbying for Russian interests, attempting to "conceal" talks with Gazprom and supplying contradictory statements, which "triggers legitimate suspicions and questions marks about the goals, scale and purpose of these talks".
IMPLICATIONS: The talks have also put Georgia's strategic relationship with Azerbaijan to the test — despite the fact that Baku itself has a 2 bcm per year gas deal with Gazprom. On November 5, quickly following Kaladze's and Ivanishvili's statements, Georgia's President Giorgi Margvelashvili and his counterpart, Azerbaijan's Ilham Aliyev met in Tbilisi and signed a joint declaration, including a clause on continuing SOCAR gas exports to Georgia. Margvelashvili recalled Azerbaijan's "very principled position" during the 2008 Russo-Georgian war, while Aliyev saw it fit to assure the Georgian side that Baku "will be able to provide natural gas in large volumes for itself, neighboring countries, and also for European states for at least 100 years". A preceding lightning visit to Azerbaijan by ex-PM Garibashvili was widely speculated to be aimed at mending ties with Baku as a direct result of the talks with Gazprom unexpectedly coming to light.
A whole host of factors muddle the picture of Georgia's actual energy requirements: its reliance on a complicated mix of energy suppliers, growing demand for natural gas, its status as both gas importer and transit country, as well as seasonal fluctuations in demand. According to the latest data presented by Kaladze's Ministry of Energy, Georgia's current demand for a yearly 2.177 bcm of natural gas is fulfilled to 87% by Azerbaijan: 1.211 bcm is imported directly, while another 686 mcm is transported via the South Caucasus Pipeline (SCP) from the Shah Deniz field in the Caspian Sea, which is operated by British Petroleum. The rest of the gas is imported from Russia, although most of comes as part of the 10% fee which Georgia receives in kind for facilitating the transit of Russian gas to Armenia.
Kaladze's claims that Georgia had bought Russian gas (on top of its Armenia transit fee) for several years, including during the UNM's leadership, do put a dent in the criticism that the Georgian Dream government has endured for its talks with Gazprom. They do not, however, invalidate time-tested concerns held by the political opposition that any form of energy dependence on Moscow tends to reduce states' foreign policy options. One needs not look far to find that neighboring Armenia's utter reliance on Russian energy and defense is an example of that very issue: Yerevan's 2013 bid to sign an AA/DCFTA (Association Agreement including a Deep and Comprehensive Free Trade Agreement) with the EU was unilaterally stopped in its tracks by Moscow.
Perhaps inadvertently, Georgia's Russian overtures may have turned it into a regional power broker. Isolated Armenia's reliance on Tbilisi for transit of Russian natural gas means that Moscow cannot easily play hardball in negotiations, lest the transit be interrupted. This factor both explains Serzh Sargsyan's hasty visit to Tbilisi, which followed in the week after Kaladze's Gazprom plans became known, and Russia's hesitation to forcefully settle issues related to the transit fee, which have been negotiated since 2011 (Armenia has expressed a desire to import more natural gas, which could mean increased transit fees for Georgia). Tbilisi is in a position of strength, because Moscow cannot cut its gas without cutting gas to Yerevan, as it threatened to do in January, without losing part of its influence over Armenia to Iran. Tbilisi is also in a good position relative to Azerbaijan, because Baku needs Georgia's cooperation to be able to export its gas westwards through the SCP.
CONCLUSIONS: Despite stating earlier that importing additional gas from Azerbaijan before the 2019 Shah Deniz expansion would be impossible, Georgian PM Kvirikashvili declared on March 4 that a deal had been reached not with Russia, and not another contender, Iran, but with Azerbaijan. The deal includes unspecified SOCAR investment into Georgia's economy, a sizable decrease in gas prices "from $318 to approximately $278-$283 per 1,000 cubic meters", and a promise of the delivery of an additional 500 mcm of gas per year, apparently enough to cover Georgia's growing energy consumption.
Georgia's six-month quest for a better price on gas appears not to have only have improved its economic situation in the short- and mid-term, but it has also demonstrated its position of relative strength vis-a-vis both Moscow and Yerevan, as well as reaffirmed its position as a necessary partner to Azerbaijan, although at the price of increased mistrust in Baku. On the other hand, the process has exacerbated domestic political rifts in Georgia, contributing to record levels of mistrust between the governing and opposition parties in the prelude to the parliamentary elections in the fall of 2016.
AUTHOR'S BIO: Boris Ajeganov is a research assistant with the CACI-SRSP Joint Center, based in Stockholm. His research interests include frozen conflicts, the European integration of the South Caucasus, as well as Transcaucasia's role in European energy security. He can be reached at This email address is being protected from spambots. You need JavaScript enabled to view it. .
Image Attribution: www.agenda.ge, accessed on March 6, 2016