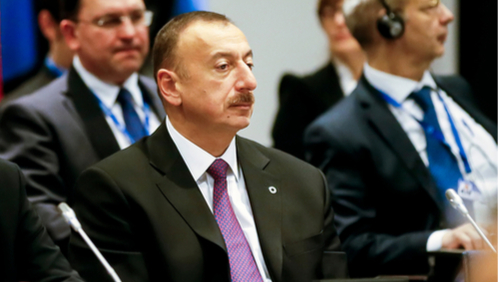 BACKGROUND: Azerbaijan has striven to maintain positive relations with Ukraine and Russia simultaneously, which is in line with Baku's balanced and independent foreign policy. Azerbaijan is also emulating Turkey, which has developed substantial cooperation with both Kyiv and Moscow, and has now taken the lead in mediating between the two. In the past several years, relations between Russia and Azerbaijan have improved and intensified in numerous areas such as economy, military and culture. Growing political dialogue and bilateral trade reinforced these positive dynamics. Azerbaijan has become Russia's number one partner in the South Caucasus and is under pressure from Moscow to join the Eurasian Economic Union and the Collective Security Treaty Organization. Russia's deployment of a Russian peacekeeping contingent to Azerbaijan's territory after the 2020 Nagorno-Karabakh war provided Moscow with significant leverage over Baku and substantial influence in matters concerning Nagorno-Karabakh.
Azerbaijan did not publicly criticize Russia for recognizing the independence of Ukraine's separatist regions Donetsk and Luhansk, although Baku's foreign policy is centered on respect for the principle of territorial integrity. Moreover, Azerbaijan has not joined sanctions against Russia and Baku has avoided publicly criticizing Russia for the military attack on its neighbor. This has been the case despite Azerbaijan's close relationship with Kyiv. In recent years, trade between Ukraine and Azerbaijan has grown consistently, and Ukraine has become one of Baku's main military partners and energy export destinations. Kyiv also took Azerbaijan's side during the war in Nagorno-Karabakh and voiced support for its territorial integrity. Azerbaijan's President Ilham Aliyev's visit to Ukraine in January this year was a sign of these positive dynamics. Aliyev traveled to Kyiv when Russia's military attack on Ukraine was imminent and signed several documents with Ukraine's President Volodymyr Zelenskyy, which reaffirmed the sovereignty and territorial integrity of both countries, and the need for protection of their internationally recognized borders. Nevertheless, Baku did not offer Ukraine either political or military support after Russia's attack on February 24. Instead, Azerbaijan sent humanitarian aid and provided free fuel for Ukrainian ambulances, fire fighters and other emergency vehicles. A majority of the Azerbaijani public seems to support Ukraine and condemns Russia's attack. On February 27, Azerbaijani civil society organizations also staged a pro-Ukraine solidarity rally gathering a substantial number of attendants, a rare occurrence in authoritarian Azerbaijan with its restrictions on the freedom of assembly.
IMPLICATIONS: Azerbaijan seems to purposefully remain on the sidelines of the Russia-Ukraine conflict in order to avoid antagonizing either Kyiv or Moscow, and to realize its own policy objectives while the world is preoccupied with the Russian aggression. Although the 2020 tripartite ceasefire agreement remains in place, Baku remains focused on Nagorno-Karabakh and a range of unresolved issues that hinder peace efforts in the region.
From Azerbaijan's perspective, Nagorno-Karabakh was the number one concern behind the recent Declaration of Allied Interaction, which was signed by President Aliyev and his Russian counterpart Vladimir Putin on February 22 in Moscow, just before Russia recognized the so-called independence of Ukraine's separatist regions Donetsk and Luhansk and attacked Ukraine. Despite the particularly poor timing of the Moscow visit, Azerbaijan achieved several important objectives in exchange for its neutrality in the upcoming conflict between Russia and the West. The declaration elevated Russia-Azerbaijan ties to the level of allies and strengthened their cooperation in several areas including military and security, trade and energy. The most important points for Baku was that Russia reconfirmed Azerbaijan's territorial integrity and vowed not to support any separatist attempts against it. Moreover, the declaration reaffirms both parties' right to conduct an independent foreign policy, which several experts regard as Moscow's acceptance for Azerbaijan's multi-vector foreign policy, and an expression of Russia's intent to continue peacekeeping efforts in Nagorno-Karabakh.
Another reason why Russian goodwill is important for Azerbaijan is that the Russian peacekeeping mission in Nagorno-Karabakh still lacks a clear mandate after its deployment in November 2020. The only legal framework for the peacekeeping mission is the general provisions of the November 2020 tripartite agreement and discussions on its legal mechanism are still ongoing. Baku has become increasingly critical of some aspects of the Russian peacekeeping mission and has lately sought to clarify its mandate. Azerbaijan particularly opposes the fact that the Russian contingent is either unable or unwilling to stop Armenian military deployments in Nagorno-Karabakh in breach of the ceasefire, and that it allows Armenians to utilize the Lachin corridor without Baku's permission.
Against the backdrop of Azerbaijan's growing discontent with the Russian peacekeeping mission, clashes between Azerbaijani and Armenian forces in Nagorno-Karabakh and along their shared state border have intensified amidst the Russian aggression against Ukraine. Armenian authorities of the separatist Nagorno-Karabakh Republic accused Azerbaijan of recurrently cutting off gas supplies to the region, causing intermittent shortages in heating for the local population in sub-zero temperatures. The Armenian side has also warned that the Azerbaijani military has shelled villages and ordered locals to leave, and reported a large Azerbaijani military build-up along the line of contact, accusing Baku of seizing the opportunity presented by the situation in Ukraine to plan renewed military attacks on the region. Pro-government Azerbaijani media and some political figures have initiated a rhetorical campaign against the Russian peacekeeping contingent in Nagorno-Karabakh, accusing it of being unable to ensure the ceasefire and of ignoring attacks against the Azerbaijani military due to corrupt ties with the Karabakh authorities.
A major escalation took place on March 24-25 when Azerbaijani troops breached the line of contact and captured the village of Farrukh (Parukh) in Nagorno-Karabakh, using firearms and drones. Clashes followed between Armenian and Azerbaijani forces, which according to Karabakh authorities left 3 Armenians dead and 14 wounded. The Azerbaijani side did not release information about their casualties. The Azerbaijani incursion was condemned by all Minsk Group co-chairs including Russia, which criticized Azerbaijan for violating the ceasefire and entering the area under the Russian peacekeeping mission's responsibility. However, the Russian peacekeeping contingent reportedly did not stop the Azerbaijani military advances. Armenia's Prime Minster Nikol Pashinyan addressed this in his March 25 telephone conversation with Vladimir Putin, urging the Russian president to investigate why. On March 26, Azerbaijan's Ministry of Defense responded with a request to Russia to facilitate the complete withdrawal of Armenian military and armed detachments from Azerbaijan's territory. Baku also asserted that Azerbaijan will not abandon recently captured territories, and hinted that it will attempt to gain control over additional areas of Nagorno-Karabakh.
CONCLUSIONS: Azerbaijan seeks to balance its relations with Ukraine and Russia during the war; however, its engagement is rather symbolic and based on pragmatic calculations. Baku has carefully avoided criticizing Russia for its actions in Ukraine even after shelling the Azerbaijani honorary consulate in Kharkiv in early March. Baku did not join Western sanctions in order to avoid antagonizing Russia, which has a substantial influence over the Nagorno-Karabakh issue.
Nagorno-Karabakh is the exclusive center of Baku's attention and Azerbaijan clearly wants to seize the moment as the West and Russia are preoccupied with the war in Ukraine to further improve its positions in the region. Baku is therefore ramping up pressure on the Russian peacekeeping contingent tasked with overseeing the ceasefire in Nagorno-Karabakh and accusing it of inability to perform its duties. Moreover, Azerbaijan seemingly seeks to gain control over areas of Nagorno-Karabakh that it did not recapture in 2020, and is testing the ground in the hope that Russia will not be able to handle multiple fronts at once. Thus, in the absence of more decisive reactions from the Kremlin, further Azerbaijani advances should not be ruled out.
AUTHOR'S BIO: Natalia Konarzewska ( This email address is being protected from spambots. You need JavaScript enabled to view it. ) is a graduate of the University of Warsaw and a freelance expert and analyst with a focus on political and economic developments in the post-Soviet space.