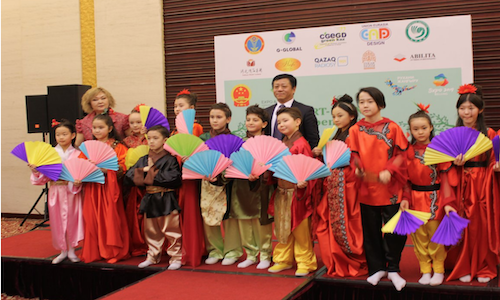 BACKGROUND: Central Asia has a long border with China. This region, located between China and Western markets, has a key role in China's Belt and Road Initiative. China's investments and credits have in several cases aroused suspicion in local societies, where increasing state debts and fear of debt traps have fueled anti-China attitudes. Fears that China will take over land or natural resources in exchange for its loans have contributed to protests in recent years. After 1991, elites and societies of the newly established independent republics perceived China with fear or suspicion. These sentiments had their antecedents in Soviet propaganda promoting a negative image of China between the 1960s and 1980s. Limited knowledge of Chinese culture and society, language and religious differences also influenced the public mood. Moreover, China's increasing economic involvement in the region and especially the increasing number of Chinese farmers renting land in Central Asia amplified these perceptions. Moreover, the Muslim and Turkic nations in Central Asia condemn China's "counter-extremism centers" in Xinjiang, where ethnic Kazakhs and Kyrgyz are held together with other Muslims from indigenous ethnic communities (see CACI Analyst 19/04/16). Several protests against Chinese workers and business activities have taken place in recent years.
Aiming to improve China's global image, Beijing launched several soft power projects in the early 2000s. China's main soft power tools in Central Asia, as well as in other regions, are the Confucius institutes. According to Chinese strategy, Confucius (the symbol of traditional Chinese wisdom) has great potential to attract audiences abroad and gain wide popularity around the world.
In the early 2000s alone, the number of students at Confucius Institutes in Central Asia reached 22,270, but only 6,739 took part in the Chinese Language Qualification Exam (HSK). At each Confucius Institute, students learn the Chinese language, history, and spiritual and cultural values ​​of China. The anticipation has been that teaching the Chinese language in Confucius Institutes and Confucius classes would be an effective tool for China's soft power in Central Asian countries, and to change perceptions of China for the better. By spreading culture and language through the Confucius Institute, Beijing seeks to strengthen the attractiveness of China and to eliminate the prejudice, hostility and threat perceptions that were allegedly cultivated during the Soviet period. According to a report from Sinopsis on China's soft power influences in Kazakhstan, China also organizes cultural and humanitarian events, information tours for journalists and media representatives, and offers affordable treatment with Chinese traditional medicine. China also facilitates cooperation between Kazakh and Chinese experts through regularly conducted bilateral meetings and forums between experts from the two countries. China has established similar forms of cooperation with other Central Asian countries as well.
IMPLICATIONS: In 2019, there were 535 Confucius Institutes and 1,134 Confucius Classrooms in 158 countries worldwide. According to the Hanban/Confucius Institute Headquarters, a public institution affiliated with the Chinese Ministry of Education, 13 Confucius Institutes operate in Central Asia, including 5 in Kazakhstan, 4 in Kyrgyzstan, 2 in Uzbekistan and 2 in Tajikistan. Although China has yet to develop an effective concept of cultural diplomacy, promoting the Chinese language has reached tangible results in recent years. Studying Chinese has become increasingly popular among Central Asian youth and is viewed as a means for increasing career opportunities and competitiveness in the labor market. Chinese has become the second most studied foreign language after English in Central Asia. Moreover, China has opened scholarship programs for Central Asian students. According to data from China's Ministry of Education, a total of 492,185 international students from 196 countries studied at 1,004 higher education institutions in China in in 2018. Kazakhstan was the tenth largest country of origin with 11,784 students, and students come from other Central Asian countries as well.
According to Yagya Watanyar Saidovich and Li Minfu of St Petersburg State University, in order to avoid counter-reactions to its cultural expansion, Beijing is taking care to ensure that its cultural and civilizational presence in Central Asia is not perceived as a manifestation of hegemony, but rather as a partnership for the purpose of mutual participation in the development of multi-civilizational relations and inter-civilizational friendly ties aiming to strengthen the sovereignty of each participating country. However, China's Confucius institutes, which operate within local universities, provide significant freedom of maneuver. While other foreign NGOs must submit reports and are monitored by local institutions, these institutes operate as local ones.
While these various initiatives may serve to improve China's image among elites as well as the public in Central Asian countries, China's approaches to soft power also have important shortcomings, especially when compared to those of Russia and the West. According to Kazakh expert Gaukhar Nursha, although the Chinese culture and educational system is attractive to young Central Asians, the students risk being disappointed: "They hope that knowledge of the language and culture will provide them with an economic advantage in getting a job. But the difficulties with learning the Chinese language, the relatively small number of jobs where it is in demand, and the still strong position of English, make China's efforts to popularize less effective than expected." She also stresses that although many analysts have highlighted the significant role played by the Confucius institutes in strengthening China's political and economic partnerships with other countries, their impact in Kazakhstan and Kyrgyzstan over the past decade remains small.
Moreover, the language barrier limits the public use of Chinese media as a source of information. In this regard, Russia retains a hegemonic role. Although China has realized several media projects and organizes media tours for local journalists with the aim of spreading positive information about China, their influence in the region come nowhere near that of Russian or Western media projects. Moreover, strong sinophobic sentiments prevail among the ethnically Turkic and Muslim populations of the Central Asian republics.
CONCLUSIONS: Despite the increase of Chinese soft power influences in Central Asia in recent years, they remain limited for now, especially comparing to the influence exercised by Russia and the West. However, the role of the Russian language and culture is decreasing in the region, and a significant share of the young well-educated class, which will form the future political elites, has studied either in the West or China. China is likely to increase its
cultural and educational involvement in the region in coming years, and has built friendly relations with local political elites. However, for Central Asian states, the possibility of balancing between East, North and West remains a precondition for avoiding becoming clients to any one power.
AUTHOR'S BIO:
Nurlan Aliyev is a PhD Candidate and Researcher at the Faculty of Political Science and International Studies of the University of Warsaw. He received the Visegrad Fund Scholarship for 2018-2020. From 2000 to 2017, he worked as an expert at various government, non-government and international institutions. His research focuses on political and security processes in Russia and post-soviet countries, as well as asymmetric warfare threats.
Image Source: Art event Open Road accessed 12/19/19