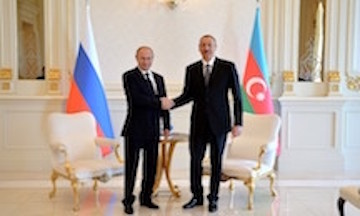 BACKGROUND: In the past several weeks, several events have shaken seemingly firm Azerbaijani-Russian bilateral relations. First, on May 15, Russian authorities shut down Azerbaijan's largest diaspora organization in Russia, the All-Russian Congress of Azerbaijanis. This organization is closely linked to the Government of Azerbaijan, and was established and empowered in 1990s with the help of former President Heydar Aliyev. The Congress was always considered as an important player in bilateral political relations and many rich Azerbaijani businessmen working in Russia were members of this organization. Russian authorities explained the closure with an alleged lack of legal documents, yet at the political level this was perceived in Baku as a serious damage to the friendship between the two countries. For obvious reasons, political circles in Baku believe that such major moves do not usually happen simply for a lack of minor legal documents. Members of the Azerbaijani parliament have sharply criticized the decision of the Russian government.
The closure of the Congress was followed by a sharp escalation of the Armenian-Azerbaijani conflict on July 4, when Armenian military units shelled the Azerbaijani village of Alkhanly and as a result of this bombardment, a two year old girl and her grandmother were killed in their yard. Considering the heavy Russian military presence and influence in Armenia, such massive bombardment is again seen as being blessed by the Kremlin.
Instead of issuing a clear condemnation of the aggressive act, the Russian government during the same week issued an unusually angry statement against Azerbaijan, expressing concerns regarding Russian citizens of Armenian origin being stopped at Baku International airport. The matter concerns some 25 Russian citizens who carry Armenian surnames, who have been refused entry into the country. The Ministry of Foreign Affairs of Russia demanded that the Azerbaijani government to stop this "outrageous act".
On July 11, the popular Azerbaijani news portal haqqin.az reported that Russian and Armenian border guards are engaged in joint military trainings in the area of the Azerbaijani-Iranian border. This territory is currently under Armenian occupation and for Azerbaijani authorities, the engagement of Russian military forces in this area is a humiliation and insult. The article quoted the Azerbaijan State Border Service's press officer saying that the matter is being investigated and an official request to the Russian border troops has been sent.
IMPLICATIONS: Azerbaijan and Russia generally enjoy positive relations, based on strong human contacts, diaspora activities, growing trade, military cooperation and political dialogue. Azerbaijan avoids the anti-Russian rhetoric that some former Soviet republics occasionally wage. Official Baku strongly believes that peace and stability in the region can and should be achieved only through mutually beneficially cooperation, political and economic partnership and respect to each other's internal affairs. Visiting diplomats to the region often cite Azerbaijani-Russian relations as an example of good partnership, which other leaders in the region should follow. While Azerbaijan remains outside the Russia-controlled Eurasian Economic Union, Customs Union and Collective Security Treaty Organization, it maintains positive relations with Moscow.
Therefore, these latest developments are causing confusion among Azerbaijani political circles. It is not clear if these are stand-alone events or part of larger Russian strategy towards Azerbaijan. Is Russia trying to send some signals to Baku? Is Russia changing its policy towards Azerbaijan? And if so, why? After all, Azerbaijan has been keeping a fairly stable and balanced foreign policy, including avoiding deeper linkages with NATO.
One possible explanation cited in Baku arises from the realization of the large natural gas pipeline through the territory of Turkey. The Trans-Anatolian pipeline is expected to be completed in two years, and will carry some 16 billion cubic meters of Caspian gas to European markets. This will become the first part of the so-called Southern Gas Corridor, so actively lobbied by the European Union. Although always opposed to this pipeline, the Russian gas giant Gazprom seemed in recent years to have accepted this pipeline as a reality. But the near- completion of the construction could have created new irritation in Russia.
At the same time, the poor relations between Azerbaijan and the European Union in recent years have again started showing some signs of normalization. After Azerbaijan refused to negotiate and Association Agreement with the EU in 2014, relations between Baku and Brussels hit bottom. Most bilateral negotiations stopped. However, in 2017 Baku and Brussels mandated talks on a new, comprehensive partnership agreement. This may add to the irritation felt in the Kremlin vis-à-vis Azerbaijan.
Finally, several analysts link the warning signals from Moscow to the growing military cooperation between Azerbaijan and Israel. The December visit of Israeli prime minister Binyamin Netanyahu to Baku and the agreement on military sales has worried Russian defense circles, who traditionally supply military hardware to Azerbaijan. This large market in the Caucasus is an intense battlefield between major weapons suppliers, including Russia, Turkey, Pakistan and Israel. Azerbaijan, having effectively modernized its army thanks to Turkish and Israeli weapons, was able to repel an Armenian attack in 2016 and even liberate some 800 hectares of previously occupied territories. This might have added to irritation in the Kremlin.
CONCLUSIONS: Whatever the reasons for the recent anti-Azerbaijani moves in Moscow, this can only further damage bilateral relations and push Azerbaijan closer to the West hands. The July 11 meeting between Azerbaijani president Ilham Aliyev and U.S. Secretary of State Rex Tillerson is a clear sign of that trend. Both governments expressed an interest to deepen bilateral partnership in various field, such as security, energy, trade and humanitarian sectors. Similar words were expressed by Minister of Finance Samir Sharifov, chair of the U.S.-Azerbaijan intergovernmental commission on July 7 at the U.S. Independence Day celebration. And on July 11, an international conference in Washington, DC regarding the energy corridor in the Caspian region and the role of Azerbaijan in it further highlighted the importance of Azerbaijan to the U.S. foreign and security policy.
For Russia, worsening relations with Azerbaijan, especially on the issue of the resolution of Nagorno-Karabakh conflict could have strategic consequences in the region. Moscow should avoid minor conflicts with Baku, such as the one related to the closure of Azerbaijani diaspora organization and instead focus on solid mediation efforts to resolve the Nagorno-Karabakh conflict. That would bring firmer Russian influence in the region.
AUTHOR'S BIO: Alman Mir-Ismail is a freelance writer in Baku.
Image source: http://en.kremlin.ru/events/president/news/49704 accessed on 14.07. 2017