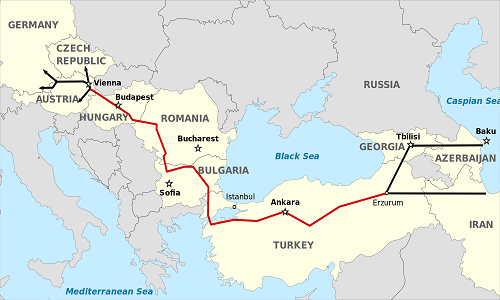 BACKGROUND: On January 24, during the European Gas Conference in Vienna, the Deputy CEO of Russia's Gazprom Alexander Medvedev said the company plans to use the capacity of TAP in order to deliver more than 100 billion cubic meters (bcm) of extra gas annually to Europe. The reason is, according to Medvedev, that the planned capacity of Turkish Stream will not be sufficient to carry all this gas.
Turkish Stream is planned to terminate near the Greek border in the Ipsala district of Turkey, the same planned endpoint as the Trans-Anatolian Pipeline (TANAP) and the access point for TAP. TAP initially envisaged the transportation of 10 bcm/y of Azerbaijani gas from the Shah-Deniz field's stage-II (SD-II) by hooking up with TANAP at the Turkish-Greek border, and then into Southern Europe across Greece, Albania and via the Adriatic Sea to Italy's south. Gazprom signed a Memorandum of Understanding (MoU) with Italian Edison and Greece's DEPA in 2016 on natural gas deliveries across the Black Sea from Russia to Greece and from Greece to Italy via the Interconnector-Turkey-Greece-Italy (ITGI)/Poseidon pipeline as an extension of Turkish Stream. The Poseidon is an undersea extension of ITGI across the Ionian Sea to Italy, and is almost a mirror image of TAP. Since ITGI/Poseidon is still under question, for technical, financial, feasibility and cost efficiency reasons, Russia decided to benefit from TAP in order to overcome these challenges.
Commenting on Medvedev's statement, the TAP consortium's Head of Communications Lisa Givert said that TAP's commitment to transporting 10 bcm/y of SD-II gas was underpinned by a 25-year agreement. The pipeline has been designed with an option to expand up to 20 bcm/y when extra gas volumes come on stream with the construction of additional compressor stations along the route, TAP confirmed. Ulrike Andres, commercial and external affairs director of TAP, said Azerbaijan is the most likely gas source for TAP's phase-II, however, "there is a minor capacity available on the secondary market for short-term transportation [...] should there be demand from shippers." The TAP Consortium can offer its expanded capacity, in line with EU legislation, to any shipper through open seasons auctions as long as they comply with the participation requirements, Andres noted. According to Spain's Enagas (a TAP shareholder), TAP can provide capacity to any third gas-shipper requesting transportation capacity in the pipeline on the secondary market during open season in compliance with the regulatory framework. Italy's Snam (also a TAP shareholder) said that "Gazprom's joining TAP will double its capacity. TAP's capacity can be increased up to 20 bcm with a small investment, which will be cheaper than Poseidon's expansion."
IMPLICATIONS: Theoretically, Russia can export gas via pipeline from the endpoint of Turkish Stream to Europe, without breaching the EU's Third Energy Package (TEP) rules and without Gazprom's presence in the TAP Consortium. The European Commission's regulation have left 50 percent of TAP's final/expansion capacity open to third party access (TPA). When TAP's capacity is expanded from the initial 10 bcm/y up to 20 bcm/y, Russia can in accordance with this regulation request the Consortium to construct additional entry/exit points for compressors in Greece and can reserve space in the pipeline by requesting TPA to transport its gas at the second stage of gas delivery. Moreover, BP in 2016 signed a MoU with Rosneft to purchase 7-20 bcm/y of Russian gas. The volume is largely equal to potential Azerbaijani gas supplies (10-20 bcm/y) to Europe in 2020, from the Shah-Deniz project in which BP is development operator. Therefore, if Russia does not own the infrastructure but simply sells its gas from the Turkey-Greece border, its actions will not contravene TEP rules. Russia's Gazprom, with its current gas potential, will be in a position to supply additional gas for TAP's enlarged capacity, earlier than any other potential gas supplier given regional instability in the Middle East and a blurred perspective of Mediterranean, Turkmen and Iranian gas for Europe.
However, the Shah-Deniz Consortium has already secured 100 percent of TAP's initial capacity of 10 bcm/y for Azerbaijani gas with a 25-year-contract and with the assurance of the EU's TPA exemption for the first stage of gas delivery. Thus, Russian gas cannot be transported via TAP for at least the next 25 years due to long-term contracts together with relevant EU legislation, unless significant market or geopolitical changes take place during this period or extra gas demand and shortage emerge in the market to motivate TAP's expansion. Moreover, TAP's expansion would enable Gazprom to deliver a maximum of 10 bcm/y, whereas Turkish Stream's second string was supposed to pump 15.75 bcm/y. Therefore, TAP's potential expanded capacity would not be sufficient to deliver Gazprom's planned volume of gas to Europe. Although SOCAR did not consider Gazprom a rival in the TAP project, the injection of Russian gas into TAP could nevertheless create a rivalry between Russian and Azerbaijani gas in terms of volume and market share. Russian gas could block the prospects for additional volumes of Azerbaijani gas expected to come from new gas fields in TAP's stage II.
Furthermore, Russia's participation will be a strong blow to the political investments of the EU and U.S. throughout the implementation process of the project, envisaging to reduce Europe's gas dependence on Gazprom. According to Amos Hochstein, the U.S. special envoy for energy affairs, the SGC is important for Europe when the continent's economic and political security is threatened by energy monopolies. In support of the SCG, the new U.S. Ambassador to Greece, Geoffrey Pyatt, stressed the necessity of protecting those "projects against other proposed schemes which threaten the future of Europe's energy security" and "would exacerbate European dependency on Russian gas".
TEP rules have previously prevented Gazprom's energy expansion and monopoly on gas transportation in Europe. They also foiled the construction of South Stream under anti-trust rules banning suppliers from owning pipelines without offering other third suppliers access. Yet, after Russia mended its ties with Turkey for the implementation of Turkish Stream, Russia now seeks to use TEP rules in its favour to pre-empt TAP's future deliveries beyond 10 bcm. Therefore, the EU's energy legislation, which once played against Gazprom, now might leave the union with no option to prevent the company's access the TAP's future capacity. This indeed threatens to derail Brussels' plans to reduce Europe's dependence on Russian gas. However, there is currently little the EU can do to block Gazprom's potential bid for using TAP's expanded capacity, as this might violate the EU's position on open market rules.
CONCLUSIONS: Given the uncertainty of Turkish Stream's second string, as well as the ITGI/Poseidon pipeline, Gazprom also plans to use the additional capacity of TAP, since the planned capacity of Turkish Stream will not be sufficient to bring extra amounts of Russian gas to Europe. However, the injection of Russian gas into TAP could fuel rivalry between Russian and Azerbaijani gas in terms of future market shares. Russian gas could block additional volumes from new gas fields in Azerbaijan (as well as alternative sources from Turkmenistan, Iran, Iraq, and the Mediterranean). This can downgrade the importance of the SGC in the context of the EU's diversification plans, undermine the security pillar of European energy policy and enlarge Gazprom's existing market share. However, the contractual commitments to SGC, the EU's legislative instruments and technical ambiguities make Gazprom's access to TAP less likely for near future. The EU can at most, along with the endeavours of the energy companies involved in TAP, extend the initial exemption from TPA for the consortium in order to keep Gazprom out.
AUTHOR'S BIO: Ilgar Gurbanov is a Research Fellow in the Centre for Strategic Studies (Azerbaijan).
Image source: wikimedia.org, accessed on March 27, 2017