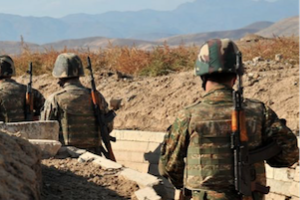 BACKGROUND: Thanks to the substantial revenues from gas and oil exports in recent years, Azerbaijan's armed forces are now a well-financed and equipped force. This year, Azerbaijan budgeted US$ 1.7 billion for its army of 66,000 personnel, amounting to 5.1 percent of the country's GDP. Azerbaijan's modernized armed forces feature a range of new equipment, 85 percent of which is imported from Russia. Armenia also allocates a significant amount of its GDP, (4.29 percent) to the military. However, for Armenia's impoverished economy, this represents only US$ 430 million for its 45,800 servicemen.
Azerbaijani ground forces possess around 450 tanks, 100 of which are third generation T-90 SA tanks and the rest are mostly older second generation T-72 tanks. Ground forces are also well equipped with 200 BMP-1, 2, 3 and BMD-1 infantry fighting vehicles, as well as 750 BTR-70 and 80A armored personnel carriers. Armenian ground forces have 228 T-72 and medium T-55 tanks at their disposal. The third generation is represented only by 20 pieces of T-80 tanks. The 420 infantry fighting vehicles and armored personnel carriers that Armenia possesses display an even bigger disparity from its opponent. In addition, most of these vehicles are outdated and in a rather bad condition, with only 50 pieces of modern BMP-2 and 160 BTR-80.
Azerbaijan's ground dominance is most visible in the field of artillery, with around 120 multiple rocket launchers and 60 older 2S1 Gvozdika self-propelled howitzers. It has also purchased more modern Msta-S self-propelled howitzers, the infamous TOS-1 Heavy Flamethrower System, the self-propelled 120 mm Vena mortar system and several pieces of Tochka-U tactical ballistic missiles from Russia. Azerbaijan inherited dozens of BM-21 "Grad" multiple rocket launchers from the USSR, but in 2013 also imported modern 9A52 Smerch multiple rocket launchers from Russia. It also purchased the portable anti-tank complex SKIF from Ukraine. Armenia also inherited dozens of Grads and purchased several WM-81 multiple rocket launchers from China in 1999 and later the French portable Milan anti-tank complex. Yet it lacks the more powerful Smerch and TOS-1 systems. Armenia also possesses the short range ballistic missile system 9K720 Iskander and Tochka-U tactical ballistic missiles.
With regard to air defense, Azerbaijan possesses the Tor and Buk (MB, MI1-2) missile systems, and Osa-1T and Strela-10, S-300, S-200, S-125 and Indian-Israeli (SAM) Barak 8 tactical surface-to-air missile systems. Armenia's air defense is less modernized and variable, yet it is still formidable. Its backbone is the S-300 surface-to-air missile system, supported by S-200, S-125, S-75, Strela and portable SAM Igla.
In the air, Azerbaijan's dominance is undeniable. Baku has 16 MiG-29 and MiG-29 UB fighter aircraft from Ukraine as well as 19 Su-25 jet aircraft supported by 2 Su-24 attack aircraft and 2 Il-76 strategic airlifters. Over the last five years, Azerbaijan's air force has purchased 60 MI-17 helicopters and 24 modern MI-35M helicopters. Armenia is significantly lagging behind in terms of fighter aircraft and its ground forces are supported only by 15 obsolete Su-25 jet aircraft and L-39 trainer aircraft. Armenia has 12 MI-24 attack helicopters, along with 10 multipurpose Mi-8 and several very outdated Mi-2 transport helicopters.
In the case of Nagorno-Karabakh, the Armenian army is supported by ca 20,000 highly motivated servicemen of the Nagorno-Karabakh Defense Army, armed with about 170 T-55 tanks, 250 infantry fighting vehicles, 320 pieces of artillery including 40 Grads, with a limited number of SAM and air force units. In addition, many ordinary residents of Nagorno-Karabakh are war veterans whose cellars are stocked with weapons.
IMPLICATIONS: Azerbaijan's army is both larger and better equipped than its Armenian counterpart. However, in order to assess the actual strength of both sides, additional factors need to be taken into account, which led to Armenia's victory against a much stronger and better equipped Azerbaijan in the 1990s.
Unlike Azerbaijan, which descended into chaos during the Karabakh war, Armenia built its statehood and managed to keep its society coherent, avoiding protests and factional struggles during the war. It was the domestic power struggle in Azerbaijan that allowed Armenians to seize the crucial Azerbaijani stronghold of Shusha. Armenia was also able to swiftly create a professional army, absorbing various militias, and thus boosting both morale and political stability in its army. Armenia's priority for effective anti-aircraft capabilities over air superiority was crucial, enabling it to decimate Azerbaijan's air force with small losses. A similar tactic was applied regarding tanks. Armenians used the difficult terrain of Karabakh, in combination with anti-tank weapons, to first destroy enemy tanks and then deploying their own tanks in a counteroffensive.
Armenia was also more active and successful in the field of diplomacy, effectively lobbying for its interests in Moscow and Washington. The Russian presence in Gyumri secured Armenia's western flank, enabling it to concentrate its forces in Karabakh. And finally, whereas victory was an issue of prestige and justice for Azerbaijanis, Armenians viewed it as a question of national survival, which was mirrored in the morale of Armenian soldiers.
Yet today, many factors that previously worked in Armenia's favor are no longer present. Unlike in the early 1990s, Azerbaijan is a largely stable country, with a well-equipped and trained professional military. Azerbaijan also enjoys a larger advantage in terms of military equipment than ever before. On the other hand, Armenia's diplomatic influence remains strong and Azerbaijan would suffer heavily in terms of international condemnation should it seek to reintegrate the separatist region by force. And although Russia seeks a more balanced relationship with Baku, it could hardly abandon its ally Armenia if facing an Azerbaijani onslaught. Also, unlike in the early 1990s, Karabakh with its densely forested high mountains towering as a natural fortress over the Kura-Aras lowland is under full control of well entrenched Armenians.
Therefore, despite Azerbaijan's superiority, reintegrating Nagorno-Karabakh by force would probably cost Baku too much in terms of both diplomatic and military losses. Yet the imbalance of forces has never been larger and Baku recently found a window of opportunity to strike with small losses in order to bolster the stability of the regime and to break the status quo regarding the stuck peace process.
It seems that this rare window was opened by Russia, Armenia's closest ally. As a member of the CSTO, Armenia can buy weapons and equipment from other members at discounted prices. Although Yerevan purchased 35 T-72 tanks and 110 armored vehicles from Russia, the current condition of Armenia's economy has limited Yerevan to mostly purchase firearms such as AK-105 rifles, machine guns, carbines and several sniper rifles. In contrast, Moscow provided richer Azerbaijan with much of the devastating weaponry accounted for above.
These purchases have certainly tipped the military balance in Baku's favor. In February 2016, Moscow announced it will provide Yerevan with a credit of US$ 200 million to buy new military equipment, including Smerch, TOS-1, the Avtobaza-M ground-based radar jamming and deception system, RPG-26 anti-tank rocket launchers, Tigr infantry mobility vehicles, Konkurs-M anti-tank missiles, Dragunov sniper rifles and KamAz trucks. Such purchases would probably reestablish the relative military balance between the parties. This might compel Baku to use the closing opportunity to conduct a limited and moderately successful operation in Karabakh.
CONCLUSIONS: It seems that full-scale war is still not an option for Azerbaijan. Yet for the government in Baku, facing social discontent, a successful minor operation in Karabakh, such as the one in early April, might help create a "rally under the flag" effect and force the OSCE Minsk group to take action regarding the peace process. Russian arms have provided this opportunity, and Russia's announced credit to Armenia could provide a stimulus for action before the military balance is partially restored. At first glance, Moscow's rearmament of Azerbaijan may appear as a strategic mistake, placing its ally Armenia in a difficult position. However, providing Azerbaijan with sophisticated weapons systems will make Baku more dependent on Moscow in years to come and will significantly weaken the position of other potential suppliers. And by strengthening its domination on the arms market in both countries, Russia has created a more effective leverage for influencing the military balance in the volatile South Caucasus than ever before. Therefore, in the long turn, the main beneficiary of the recent re-escalation of the Nagorno-Karabakh conflict is Russia.
AUTHORS' BIO: Tomáš Baranec is a graduate of Charles University in Prague. His research interests include nationalism and factors of ethnic conflicts and separatism in the Caucasus. He works at the Institute for Security and Defence Studies (Armed Forces Academy) in Bratislava. Juraj Beskid, Ph.D., works at the Institute for Security and Defence Studies (Armed Forces Academy) in Bratislava.
Image Attribution: www.bbc.co.uk, accessed on May 10, 2016