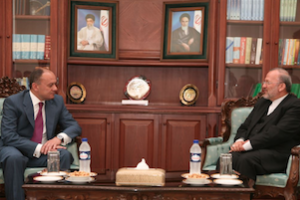 BACKGROUND: The South Caucasus has historically been important in Iran's strategic rivalries with both Turkey and Russia. Despite sharing the Shia Islamic faith with Azerbaijan, Iran has provided substantial support to Armenia in its conflict with Azerbaijan over Nagorno-Karabakh. This policy was driven by Iran's growing concern about Turkey's and Azerbaijan's influence in the Azerbaijani-populated Northwestern provinces of Iran. The rulers in Tehran felt that separatism inside Iran could rise dramatically in the case of Armenia's strategic defeat. Iran's position has favored maintaining the status-quo in Nagorno-Karabakh through a sustained balance of power between the adversaries, in order to retain relative peace at its North-Western border region.
The ceasefire regime in Nagorno-Karabakh incentivized Tehran's military and political circles to establish military cooperation with Armenia, which Yerevan had to decline as sanctions were imposed on Iran. Upon taking office, Armenia's President Serzh Sargsyan underlined Iran's importance, in parallel with Russia, to Armenia's security. While arguing against the Western sanctions, Armenian authorities nevertheless failed to lay the groundwork for a reliable political and economic partnership with Iran.
Over the past year, Tehran has sought closer economic and political ties with Georgia and Azerbaijan, which have intensified after the sanctions were lifted. In contrast, Iran's energy pipeline ambitions have hitherto been designed to bypass Armenia due to its deepening dependence on Moscow. Tehran realizes that Russia's increasing political and economic absorption of Armenia hinders it from establishing a sustained economic corridor to Europe. Yet the visit of Iran's First Vice President Eshaq Jahangiri Kouhshahi to Yerevan in early November 2015 signaled Armenia's importance in Iran's engagement with the region.
Meanwhile, some Iranian moderate-wing officials recently laid out the rationale of forging strategic relations with Armenia. In December Iran's former Ambassador to Armenia, Mohammad Farhad Koleyni, reportedly encouraged both Armenian and Iranian officials to build bilateral ties based on a "One Nation, Two States" concept, reminiscent of the Turkey-Azerbaijan relationship. This idea stems from a profound belief among certain Iranian politicians, clerics and academics that Armenians and Persians share the same ethnic origin, and that Armenia is part of the pan-Iranian world.
Regardless of Russia's dominance in Armenia's political and social life, Tehran hopes to build a sustainable strategic relationship with Armenia in order to anchor Iran in the South Caucasus in political, military and economic terms. However, Russia's monopoly on Armenia's energy supplies in the period 2012-15 left little room for Iran and other potential investors. The economic and political obstacles due to Russian interference in Armenia-Iran bilateral ties have led to stagnation in this relationship. In response to Iranian overtures during Kouhshahi's visit, Armenian officials instead aligned with Moscow's position, proposing that Iran should align itself with the Eurasian Economic Union (EEU).
However, some experts in Yerevan and Tehran assert that Kouhshahi's visit provided an opportunity for Tehran to assess Sargsyan's government and its ability to at least independently assert Armenia's position on the Nagorno-Karabakh question. This was crucial in order to evaluate the risk that the status quo in Nagorno-Karabakh becomes disrupted by the deployment of Russian troops posing as peacekeepers, which runs counter to Iran's interests. Likewise, some Iranian and Armenian analysts suspect that statements by Armenian officials on their firm resistance against Russian boots on the ground in Karabakh are intended to lull U.S. and Iranian vigilance towards this prospect. On January 22, this prompted Iran's Foreign Ministry to offer Tehran's mediation in the Nagorno-Karabakh talks.
IMPLICATION: Iran is of high geopolitical significance to Russia. Yet Moscow's policymakers tend to view Iran's engagement with the South Caucasus according to the logic of a zero-sum game. Despite the convergence of Russian and Iranian interests in Syria, Moscow also sees Iran as a threat to its predominance in the South Caucasus and particularly in Armenia, on par with the West and Turkey. Russia was able to capitalize on the international sanctions regime against Iran, which isolated Iran from the West and confined it to a narrow political and economic space. Prior to the nuclear deal, Iran avoided antagonizing Russia and conducted a circumspect policy in the South Caucasus. Tehran may now wish to assume a more visible role at Russia's southern flanks. In mid-January, President Rouhani called on his Armenian counterpart to connect "the Persian Gulf to the Black Sea via an Armenia-Georgia transport corridor." This initiative is at odds with Russia's interests in South Caucasus and appears to be a source of concern in Moscow. Apparently, Iran seeks to offer Armenia at least a partial alternative to Russia's predominance. This, however, seems unrealistic without an alignment of Iranian and U.S. interests regarding Armenia.
The end of sanctions on Iran inevitably shifts the strategic environment at Moscow's expense, and the U.S. has sent positive signals regarding Iran's potential engagement with Armenia. Particularly, the U.S. ambassador to Armenia, Richard Mills, unambiguously announced in February that "Armenia could become a platform for U.S.-Iran commercial relations" – thereby acknowledging that Iran may play an important role in reducing Armenia's dependency on Russia. The statement subscribes to the assumption that Iran's ability to alter regional dynamics will provide Armenia with increased room for maneuver in its vulnerable relations with Russia.
However, Sargsyan's team faces a range of obstacles that will likely hamper Armenia's possibilities to forge strategic ties with neighboring Iran. One crucial issue is the de facto subordination of certain state institutions and a large part of the political-oligarchic elite to the Kremlin. Moreover, a number of agreements already bind Armenia to Russia primarily via the EEU and CSTO, precluding any tangible breakthrough with Iran without Russia's approval.
The transnational corruptive mechanisms imposed by Russia on Armenia and other post-Soviet states permit Moscow to regulate and/or limit their policymaking. Iran witnessed Russia's modus operandi with Armenia's leadership and society in 2005, when Russia effectively pressured Armenian authorities to minimize the transit capacity of the Iran-Armenia gas pipeline in order to prevent the possibility of further export to Europe and limiting the utility of the pipeline even for the domestic needs. In its approximation of geopolitical opportunities deriving from the consequences of the nuclear deal, Tehran understands that Armenian authorities cannot ignore Russia's increasingly assertive behavior in the South Caucasus. Realizing that deeper security ties with Armenia would be counterproductive in the current political context, Iranian policymakers have instead opted for minor steps, in anticipation of Russia's gradual geopolitical decline and withdrawal from the region.
As a waning Russian influence is imaginable in a long-term perspective, Iran will likely continue to consider Armenia a preferred security partner in the Caucasus, in order to counterbalance the alliance between Turkey and Azerbaijan. On the other hand, the enthusiasm in Armenian policy-making circles is limited, as Armenia's current ruling regime ultimately depends on Moscow for its survival. Hence, Sargsyan's team is unlikely to object to concrete Russian demands regarding its foreign policy in general.
CONCLUSIONS: Since the sanctions were lifted, Iran has set an agenda for developing comprehensive ties with the South Caucasian states, where Armenia, due to a range of political and historic circumstances, is of special importance to Tehran. Yet insufficient proficiency in strategic planning and frequent miscalculations in foreign policy have restricted Yerevan's strategic vision, suggesting that Armenia-Iran defense and security cooperation will be symbolic rather than practical in the short-term perspective. Meanwhile, Tehran has embarked on promoting its own regional agenda, implying that the establishment of strategic ties with Yerevan is only a matter of time.
In Washington's re-evaluation of U.S. strategy in the South Caucasus, Iran's engagement could potentially be a contributing factor to diminishing Russia's excessive influence over Armenia. Geopolitical circumstances might lead Iran to work with the West in containing Russia from the southern direction.
AUTHOR'S BIO: Dr. Eduard Abrahamyan is an Armenian regional security and defense policy analyst. He is currently based at the University of Westminster in London, and is a fellow of Policy Forum Armenia, Washington DC.
Image Attribution: www.rferl.org, accessed on March 9, 2016