Tokayev's Reforms: An Evolutionary Model of Change?

By: Svante E. Cornell and Albert Barro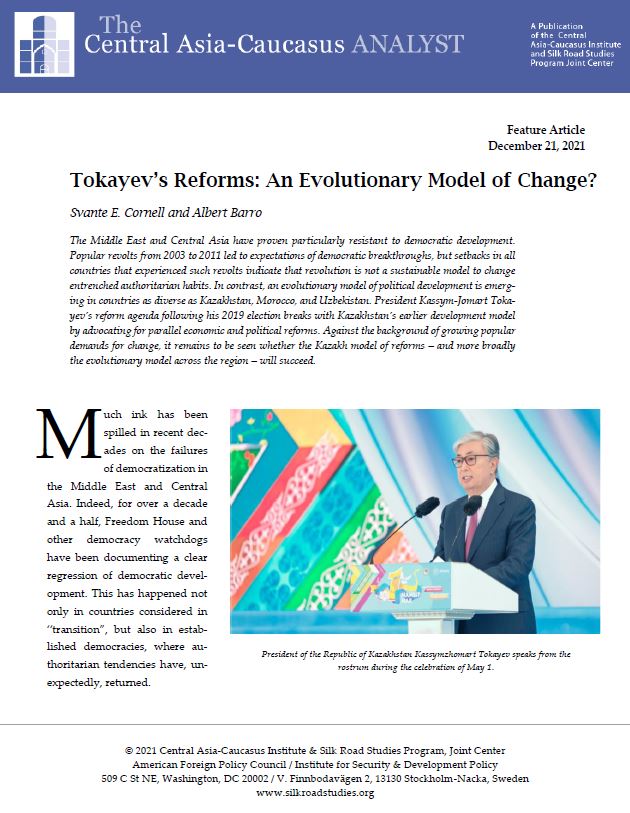 Much ink has been spilled in recent decades on the failures of democratization in the Middle East and Central Asia. Indeed, for over a decade and a half, Freedom House and other democracy watchdogs have been documenting a clear regression of dem-ocratic development. This has happened not only in countries considered in "transition", but also in established democracies, where authoritarian tendencies have, unexpectedly, returned.
The Middle East and Central Asia have proven particularly resistant to democratic development. The resilience of authoritarian systems of govern-ment in these regions caused considerable frustra-tion, which switched to great excitement when popular revolutions against corrupt and dysfunc-tional government took place between 2003 and 2011. The wave of revolutions began in Georgia, followed by Ukraine and Kyrgyzstan, upheavals quickly dubbed "color revolutions." These were followed several years later by the 2011 "Arab spring", which similarly generated great hope that democracy had finally come to the Middle East.
Except it did not work out that way. The color revolutions and Arab upheavals must now be termed a failure, as no country that experienced these upheavals has progressed in a sustainable way toward democracy. Some, like Libya, Syria and Yemen have descended into civil war. Others, like Ukraine and Kyrgyzstan, experienced recur-rent political crises while continuing to be mired in corruption. For some time, Georgia and Tunisia appeared to go against the grain, and make sus-tained progress – but in recent years, those two have also backtracked. All in all, it seems clear that revolution is not a sustainable model to change entrenched authoritarian habits.