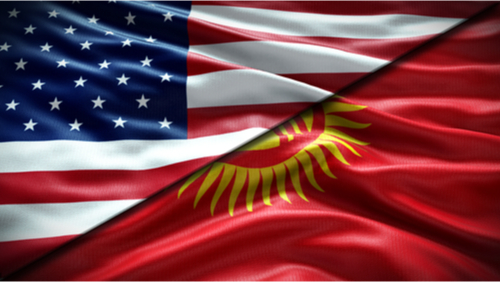 BACKGROUND: Even before the U.S.'s abrupt retreat from Afghanistan, relations between the U.S. and the states of Central Asia had flagged. Yes, Washington had responded positively to President Shavkat Mirzioyev's reforms in Uzbekistan and continued long-standing investments and commercial projects in Kazakhstan. But it had otherwise proven to be all but deaf to the Central Asians' interest in opening transport corridors for goods, people, gas, and electricity to Afghanistan and through it to Pakistan and the Indian Ocean. In the same vein, it showed little interest in the Central Asians' keenness to link arms with each other to advance common goals. Indeed, when both Moscow and Beijing sent their foreign ministers to participate in a major conference in Tashkent to discuss both intra-regional cooperation and transport, Secretary of State Antony Blinken begged off and instead passed the buck to a second-level official from the National Security Council.
In the case of Kyrgyzstan, Washington's disinterest was understandable. Back in 2014 Kyrgyzstan's then president, Almazbek Atambayev, demanded that U.S. and NATO forces abandon the Manas air base outside the capital, Bishkek, which coalition forces operating in Afghanistan had used since 2002. There was much to object to in this decision. Besides acting peremptorily, Atambayev was unabashedly doing Moscow's bidding. Indeed, he bragged publicly about his close ties with Putin. After leaving office, Atambayev was imprisoned on charges of corruption and manslaughter.
Today a new president rules in Bishkek. Shortly after he came into office in January 2021, Sadyr Japarov called an election that shifted the country from what had been a chaotic parliamentary order to a presidential system. President Japarov has also decried the miasma of corruption that suffuses both the government and society in Kyrgyzstan. Whether his campaign is genuine and will achieve results remains to be seen, but for the time being he seems to be taking step to fighting this cancer in the polity, even to the point of offering financial rewards to whistleblowers.
In a similarly reformist vein, Japarov has come to realize that his small country cannot survive by depending only solely on Moscow and Beijing. Indeed, many observers have concluded that Kyrgyzstan has for all intents and purposes reverted to its status under Stalin, namely, as a so-called "Autonomous Region" within the Russian Federation. If this continues, all Japarov's dream of restoring Kyrgyzstan's nationhood will come to naught. The solution he proposes is to balance his country's inevitable ties with nearby Russia and China with cordial and productive engagement with the West, and especially the United States.
To this end, his government prepared a document setting forth a full range of new relations with Washington and transmitted it to the U.S. State Department. His goal is to restore the cordial relationship that had existed earlier. Had not Bill Clinton had bought the claim of Kyrgyzstan's first president that this mountainous land would become the "Switzerland of Central Asia"? On this basis, Clinton had even dreamed of focusing America's ties with the newly sovereign states of the region on its least populous country, Kyrgyzstan. President Japarov would doubtless welcome such an outcome but will be glad to accept something less, provided it is serious and stable.
IMPLICATIONS: Unfortunately, the times do not favor Japarov. The Obama and Trump administrations had left to the World Bank their main project in Kyrgyzstan – a system to transmit hydroelectric power from there and neighboring Tajikistan to Afghanistan and Pakistan. And nobody in the Biden administration had bothered to warn the Kyrgyz (or any of the other Central Asian governments) of America's intention to abandon Afghanistan. When the American embassy in Bishkek delivered to Kyrgyzstan's main military hospital new X-ray equipment it weas the first such gesture since 2017.
All this backed Kyrgyzstan into a corner. But rather than simply make the usual pleas for a high- level visit and handouts from USAID, Japarov decided to lay out a full plan by which Washington could reestablish a many-sided relationship with his country. This is the document, as yet not publicly released, that has been transmitted to the State Department. What is striking about the Kyrgyz proposal is that it provides a useful template by which Washington can revive its flagging relations with all five of Afghanistan's northern neighbors. It covers political, economic, and civic issues and is accompanied by a commitment on Kyrgyzstan's side to wage a more effective fight against corruption and to affirm democratic freedoms within the presidential system that has now been reinstituted.
The only thing missing – and an important one – is that it does not address the need for Washington to reorganize its strategy in Central Asia fully on a regional basis, as opposed to the five bi-lateral relationships that have prevailed to now. Washington began to move in this direction when it established the so-called "C5 + 1" format for consultation with the five Central Asian states. But this promising initiative has become a low priority amidst the State Department's other concerns. The absence of a strong regional association leaves all Central Asia open to the "divide and conquer" tactics that Russia, China, and even the United States, have practiced in the region. By comparison, the European Union has already convened a region-wide conference to consider future relations between Central Asia and Afghanistan. Like it or not, America condemned itself to playing catchup.
CONCLUSIONS: Will Washington now embrace President Japarov's bilateral initiative and perhaps even expand beyond it by adding initiatives and projects of its own? Could it even use the Kyrgyz initiative as the basis for a fresh look at its relations with all of the five states of Central Asia, which presidents Obama, Trump, and Biden largely ignored? The United States could even take this gentle proposal from Bishkek as the basis for launching a broader discussion on the future relations between the Central Asian region as a whole and Afghanistan, and of America to both. This is not out of the question, but some first step is needed to break the log-jam that has marginalized the United States' presence in the region for nearly a decade. While pursuing the interests of his own country, President Japarov may unintentionally have shown how Washington might take that first step.
If this happens, Kyrgyzstan will become "The Mouse that Roared," to cite the title of the droll 1959 British film. This time, however, the lesser power will have advanced its cause not by threatening military action, as did the miniscule Duchy of Grand Fenwick in the film starring Peter Sellers, but with a sensible proposal by which a great power—the United States—can not only render timely assistance to a small state that is trying to reform itself, but by which it can itself once more become a serious presence in a major part of Asia that lies on China's and Russia's doorstep.
S. Frederick Starr is the founding Chairman of the Central Asia-Caucasus Institute.