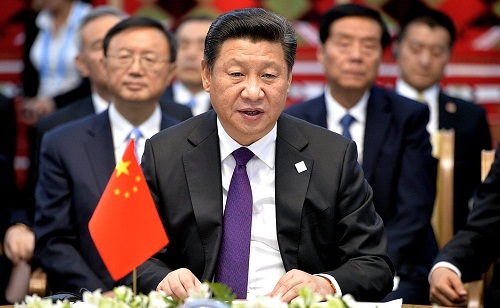 China's gradually increasing economic role in Central Asia since the early 2000s is unsurprising considering the region's geographic proximity to China's dynamic economy. In this context, Beijing has carefully shaped a military strategy in the region, particularly in neighboring Tajikistan. In September 2016, Beijing offered to finance and build several outposts and other military facilities (in addition to the Gulhan post, which was opened in 2012) to beef up Tajikistan's defense capabilities along its border with Afghanistan, whereas China's and Tajikistan's militaries performed a large counter-terrorism exercise in October 2016. These unexpected actions have raised concerns in Russia over rising Chinese influence in Tajikistan.
BACKGROUND: China's economic expansion in Tajikistan is relatively new. In the early 2000s, China's influence in Tajikistan was quite weak and limited due to the lack of transport communications that could connect the two countries. Bilateral trade rates significantly increased only after the opening of a new major highway Dushanbe – Kulma. China has invested approximately US$ 720 million in infrastructure improvements in Tajikistan, including the rebuilding, widening and improvement of the road between Dushanbe and Khujand, which has proceeded since August 2007 with equipment, labor, and oversight from China. Another factor that contributed to the empowerment of China's economic activity was the availability of financial resources and its readiness to invest even in less important sectors of Tajikistan's economy.
The bilateral economic relations entered a new phase during the deepening global economic crisis in 2008, and particularly as Tajikistan's relations with Russia deteriorated. In 2009, Russia took a position favoring Uzbekistan in its dispute with Tajikistan over the Rogun Hydro Power Plant, which became the main catalyst that pushed official Dushanbe towards China. Tajikistan, one of the poorest former Soviet republics, is heavily dependent on hydroelectric power imports and regularly experiences electricity outages. Therefore, the construction of Rogun HPP is a matter of life and death for Tajikistan, which urgently needs to increase domestic electricity production capacity. Tajik authorities say the Rogun Dam would be able to produce electricity for the whole country, and also provide parts of Afghanistan and Pakistan with cheap electricity.
Tajik authorities were therefore looking for an alternative partner and economic counterweight to Russia, which became China. While China has actively participated in several sectors of Tajikistan's economy, it has been careful to avoid infringing on Russian interests. China's main interest in Tajikistan is in power-engineering, which is the most lucrative for foreign investors. However, China has not sought to replace Russia as the main constructor of Rogun HPP and surprisingly, Tajikistan's President Emomali Rakhmon announced in October 2016 that the country re-launched the construction of the world's tallest dam for the hydro plant. In a speech broadcast by state television, Rakhmon said Rogun will start providing electric power in late 2018.
Through its growing economic influence, China has quietly become the pre-eminent economic power in the region. Trade between China and the five post-Soviet central Asian states — Kazakhstan, Kyrgyzstan, Tajikistan, Turkmenistan and Uzbekistan — has risen from US$ 1.8 billion in 2000 to US$ 50 billion in 2013. And China's influence in the region, and in Tajikistan in particular, also has a military dimension driven by security concerns. In fact, by increasing its expenditures on security in the Central Asian region, China seeks to create secured buffer zones along its borders with Afghanistan, Pakistan, and Tajikistan. China is primarily wary of the threat emerging from radical Islamism in the region, which could spill over to destabilize China's Xinjiang Uyghur Autonomous Province.
IMPLICATIONS: For these reasons, China has set up an anti-terrorism alliance with Pakistan, Afghanistan, and Tajikistan in order to boost coordination with regional countries to tackle a growing domestic militant threat. In this context, China is becoming more militarily active in Tajikistan, which is otherwise considered to be firmly under Russian influence.
On October 20–24, 2016, a combined force of 10,000 military personnel from the National Army of Tajikistan and the People's Liberation Army (PLA) of China engaged in a five-day counterterrorism exercise in Tajikistan's Ishkoshim region, bordering Afghanistan. To date, neither Beijing nor any of its regional partners have publicly commented on China's sudden interest in bilateral military cooperation with Tajikistan. Dushanbe's willingness to promote ties with Beijing is linked to the growing activity of what it considers domestic radical Islamists, namely members of the banned Islamic Renaissance Party of Tajikistan.
Although these moves could position China as a vital player in Central Asia, Russian experts are seemingly doubtful about the future of China's military cooperation with Central Asia. Notably, Russia has an entrenched presence in the region and its largest foreign military base is located in the heart of Tajikistan. Yet while Moscow has not publicly condemned China's military activities in Tajikistan, it is hardly comfortable with China's growing influence in the Central Asian region. Although Russia's presence in the region has weakened over the last decade, it still considers Central Asia as its area of privileged interest.
Russian officials are careful not to dramatize China's current activities in Tajikistan, pointing out that the main priority of the military cooperation is border security. Even though Russia has not been invited to join the new quadrilateral alliance, it has sustained a military presence in Tajikistan for over fifty years, and the new military agreement between Moscow and Dushanbe prolongs its deployment in Tajikistan until 2042.
Presumably, China will continue its expansion in the Central Asian region, including in Tajikistan, both economically and militarily. Chinese direct investment in Tajikistan in 2015 amounted to US$ 273 million — 58 percent of the overall total. The potential consequences of Tajikistan's growing economic reliance on China came into sharper focus in 2011, when Dushanbe agreed to hand over about 1 percent of its territory to Beijing in exchange for debt relief.
China's neighborhood policy towards Central Asia indicates Beijing's interest in playing a central role in the security field in the region, which is an important part of its multi-billion–dollar investment into the Silk Road Economic Belt. China also seeks to ensure that Al-Qaeda- or Taliban-affiliated Tajik Islamists and insurgents will not pose a serious threat to its national security (in particular to the Xinjiang province). China's new regional security construct could also involve other Central Asian countries, probably Turkmenistan and Uzbekistan, in the future. The new China-Tajikistan-Afghanistan-Pakistan quadrilateral military alliance (excluding Russia) mainly aims to prevent the growing threat of Islamism in the region, which affects all of the participating countries. Geopolitically, China is also interested in establishing a "safe zone" along its Central Asian borders, whereas the alliance will mostly contribute to strengthening coordination, along with training of military staff and Special Forces.
CONCLUSIONS: China seemingly does not deem economic investments alone to be sufficient for further expansion in Central Asia, for several reasons including language barriers, religion, and incompatible doctrines. Therefore, China actively promotes and funds the establishment of Confucius Institutes and language centers in local universities, and offers study or exchange programs for students from Central Asia.
However, at this stage, China's main military focus is on arms export, counterterrorism, border security, and joint military initiatives. Moreover, even though countries in Central Asia are willing to deepen ties with Beijing, most of them, and Tajikistan most of all, are still unable to ignore Russia's influence in the region and their heavy reliance on Russia.
AUTHOR'S BIO: Fuad Shahbazov (@fuadshahbazov) is a policy analyst for Wikistrat Inc. He is the author of the books "Syria 1946-2012" and "Tunisian model of Democracy in the Arab world."
Image source: en.kremlin.ru accessed on February 17, 2017