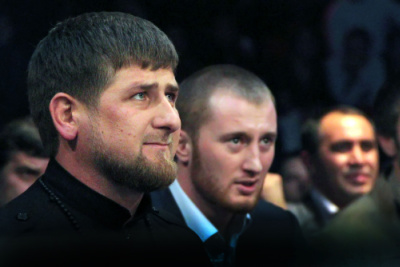 BACKGROUND: At least on the surface, Kadyrov and Prigozhin had an odd relationship. They agreed in large part on how the war should be conducted. It is not hard to see parallels between Prigozhin's calls for total war on Ukraine with Kadyrov's calls for "jihad" against the country. They and their close allies publicly appealed to each other in familiar terms – Adam Delimkhanov referring to Prigozhin as the diminutive Zhenya, and Kadyrov himself referring to Prigozhin as to an elderly brother, a rare manifestation of respect by the Chechen leader. Yet politically, the two were political polar opposites. Prigozhin drifted away from the rest of the elite and political leadership in the course of Wagner's deployment to Ukraine. Kadyrov, while despised by the siloviki, has proven to be an indispensable loyalist.

The two traded barbs over their respective involvement in Ukraine, in particular the role of the Kadyrovtsy and the Wagner Group. Prigozhin questioned the ability of Kadyrov's forces to defend the Donetsk and Luhansk People's Republics, while Kadyrov spoke against Prigozhin's rhetoric over Wagner's difficulties in securing Bakhmut. Tensions grew high between them as Prigozhin's anti-Shoigu rhetoric escalated. Crucially, one month before the Wagner Coup, as reported by the Institute for the Study of War, there were signs that the Kadyrovtsy would, in effect, replace Wagner as Russia's shock troops in the Donbass.

If this was the case, it is not hard to see how this further pushed Prigozhin towards his rebellion. After all, the rivalry was not just a military rivalry but a political one – the deployment of Kadyrovtsy to replace Wagner would scar the PMC's reputation, as well as that of its commander. This goes both ways – in the early days of the invasion, the Kadyrovtsy suffered reputational damage, as did Kadyrov himself with his many publicity stunts. Once seen by many as a formidable and frightening force, it soon turned out that Kadyrov's units were incapable of serious military action, instead earning the reputation of ridiculous "TikTok warriors." Additionally, the two represent different foreign policy aims for Putin – Wagner is Russia's arm in Africa, while Kadyrov has been instrumental in building relations with the Islamic World (or, at least, the conservative Islamic World).

During Wagner's rebellion Kadyrov was, unsurprisingly, willing to offer great levels of assistance to the central government in Moscow. While other governors and republic heads offered vocal support and called for their citizens to leave Wagner, Kadyrov offered military assistance. While this was ultimately never needed, it shows both the degree of Kadyrov's loyalty to Putin and how willing he was to dispose of his rival's military capability. Further, it added to his image as a warrior willing to fight for the righteousness of his cause. Moreover, it further damaged Prigozhin's reputation and casted Kadyrov in a much better light, not just to a Chechen audience but to the Russian elites and people. He was defending both the Russian Motherland and the status quo that Russia's elites rely on.

IMPLICATIONS: After Prigozhin's death, along with Wagner commanders Dmitry Utkin and Valery Chelakov who were also on board the plane, there has been an effort to remove remnants of Wagner from public view: the most prominently displayed instance on social media was the removal of a Wagner cemetery in the south of Russia. Since the crash, the Kremlin has moved to incorporate Wagner's forces in Ukraine into the Russian military (while keeping its African operations, which are a key component of Russia's policy towards the global south, separate). This has presented Kadyrov with several opportunities.

While several analysts believed Prigozhin to be a "dead man walking" long before his death, Kadyrov is unlikely to be "next," as some on social media claim. In fact, the complete opposite is true. Kadyrov is a pragmatic politician reliant on Putin for his survival and this is exactly the kind of person Putin needs right now. Recently, rumors have been circulating about Kadyrov's health. However, Kadyrov seems to be alive and well for now, and visits paid to a Moscow hospital were apparently to see his ill uncle. While Kadyrov will always prioritize his personal security, if Putin needs something done – for example more troops in Ukraine – Kadyrov will be able to assist. Moreover, if the troops are deployed in circumstances similar to Wagner – outside the formal (and even informal) organization of the Russian military – this would ease contact between Kadyrov and the siloviki who despise him by separating their areas of responsibility. This would also add to Kadyrov's reputational roster; he would be able to channel the ultranationalism Prigozhin so often appealed to while repurposing it into Kremlin loyalism. This can be expected in a system where extreme political viewpoints that the Kremlin finds useful for legitimation are funneled into parties like the LDPR, where they can be used for rhetoric but pose no real danger. Prigozhin, on the other hand, clearly crossed the line by attempting to act on these views.

The most obvious way that Kadyrov may seek to take advantage of this situation is by reigniting the Kadyrovtsy's security potential. Wagner was able to serve as a part of the Russian army that the Russian state did not need to oversee. While the Kadyrovtsy are formally part of the Russian Federation's Rosgvardia, Kadyrov's personal influence over them, as well as his rule over Chechnya like a medieval fiefdom, means that his troops can fill this void. It will not be the same; Wagner's appeal came from a plausible deniability for carrying out unconventional and ruthless tactics that Kadyrov cannot provide. However, Kadyrov's influence over his troops can fill the need for a separate chain of command, meaning that the Russian military leadership can focus their attention elsewhere – especially important given Ukraine's counteroffensives and the culling of Russian officers. They would not provide deniability, but would rather free up resources for the Russian Army – despite the possible limited effectiveness of the Kadyrovtsy as a fighting force.

Yet the Kadyrovtsy's main appeal to Kadyrov is the security that they provide for him personally. Kadyrov is a target in multiple blood feuds relating to his rule of Chechnya, and his private army provides him with security from these. In the past, Kadyrovtsy have been utilized to attack the homes of the relatives of insurgents. Deploying these troops to the war in Ukraine is a considerable risk for Kadyrov – a gamble with some payoff that could risk his own security apparatus.

Ultimately, Kadyrov will prioritize his reputational and political goals of maintaining his current position as a bare minimum, bolster security for himself and his allies in Chechnya, perhaps pursue some self-gratification in "proving himself" to Putin whom he views as a father figure, and seeking to further entrench himself in the overall power structure of the Russian Federation. Kadyrovtsy are already deployed in Ukraine and Kadyrov will be reluctant to send large numbers of fighters since it would risk deteriorating the security situation in Chechnya.

CONCLUSIONS: Prigozhin's death considerably helped strengthen Kadyrov's weakened position. Kadyrov's hard-built reputation as the leader of a tough military force was damaged due to the rise of the Wagner Group on Ukrainian battlefields. Yet Prigozhin's demise, followed by the dissolution of the Wagnerites, saved Kadyrov who is again seen as the single leader of a personal military. Kadyrov's personal loyalty to Putin during the June mutiny has proven to be an important factor, with the Russian president keen to value his loyalists against the backdrop of the first signs of internal cracks in his personalized power structure.

However, given wider political concerns (Kadyrov has very few friends in Russia's political elite and a considerable portion of the elite despise him) and security concerns (Russia's need to replace depleted manpower while the use of Kadyrovtsy in Ukraine weakens his own standing in Chechnya), this is a moment that requires a weighing up of options. Ultimately, while his status as a loyalist is a big plus for the Kremlin, Kadyrov will almost certainly continue to do what works best for him; talk the talk, play it safe and strengthen his own position.
About the author: Alexander Yeo is a PhD candidate at the University of Glasgow. Emil A. Souleimanov is a professor at Charles University.