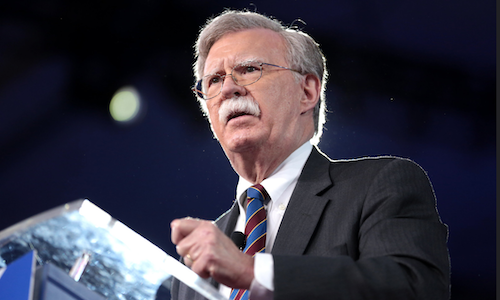 BACKGROUND: The Pashinyan government in Armenia remains unwilling to make territorial concessions that alone would break the logjam and by creating the basis for peace, open the way to lasting reforms inside Armenia. During his visit, Bolton made clear that he fully grasped the linkage between Pashinyan's sweeping electoral mandate for reform and the need to make concessions based on that mandate in order to drive reform forward. Beyond Bolton's statement, President Trump's congratulations to Pashinyan echoed these sentiments. Indeed, even Russian Foreign Minister Lavrov stated that, "the declarations about readiness to search for resolutions, which are coming from Baku, should be fully supported" and expressed a hope for Armenian reciprocity.
The Armenian forces in Nagorno-Karabakh have created their own government, demanding recognition as an independent state along with their partisans in Yerevan and the Armenian diaspora. This demand essentially legitimizes forceful territorial land grabs – if Nagorno-Karabakh became independent it would reunite with Armenia and thus ensure perpetual war with Azerbaijan. Since these demands are unacceptable to Baku and other interested parties, the political situation is stalemated.
This stalemate provokes frustration and episodic violence. Samvel Babayan, a former "Minister of Defense" of Nagorno-Karabakh, has advocated transferring the territory to a Russian mandate. This proposal naturally generated an uproar in Nagorno-Karabakh and Yerevan but it also signifies that neither one of those political entities grasps the need for peace. Babayan's proposal, if implemented, would violate the Madrid principles forged by the OSCE Minsk Group of France, Russia, and the U.S. and that serves, with Azerbaijani and Armenian agreement, as the only acceptable negotiating framework. The Madrid principles also insist on returning undisputed territories other than Nagorno-Karabakh conquered by Armenia in 1993, to Azerbaijan. Yet neither the leaders in Nagorno-Karabakh nor Yerevan appear willing to comply.
Transferring Nagorno-Karabakh to a Russian mandate is also not a viable solution. That outcome would further consolidate Russian hegemony in the Caucasus, directly threaten Azerbaijan, and add to Russian pressure on Georgia. Since there is no earthly chance of an international mandate over Nagorno-Karabakh, Babayan's statements suggest that neither Armenia nor the "government" in Nagorno-Karabakh, are ready to take steps for peace. Indeed, Armenia's government, despite its commitment to democracy and socio-economic-political reforms, advocates resuming negotiations with a delegation from Nagorno-Karabakh representing it as an independent state, an obvious non-starter. Since Russia has no ideas other than to sell both sides weapons, strengthen its military and economic domination of Armenia, and mount constant threats against Georgia, it certainly cannot be counted on to bring peace to the Caucasus.
IMPLICATIONS: If one adds the real danger of revived hostilities in Nagorno-Karabakh to the issues of Russian hegemony, energy routes to Europe, and the Caucasus' proximity to Iran and Russia it becomes clear why a robust U.S. presence in the region is needed. This is the only viable chance for peaceful resolution of this war, assistance to Armenia in its democratic reforms, and support for the security of Georgia and Azerbaijan, the latter having also made several fundamental changes to its political makeup that have gone largely unreported abroad. Only Washington can persuade Armenia that if it wants democracy, security and prosperity, it must make peace on an acceptable basis with Baku and help broker the deal. A U.S. investment in the Caucasus that helps bring peace will assist all three states in dealing with their pressing need for economic and political reconstruction while adding to their security against Russian and Iranian threats. However, for this to happen, voices like Babayan's and those of his colleagues who think they can preserve the state of war at a tolerable cost must be overcome. Should Armenia fail to see that peace is the necessary precondition for reform it will lose both the war and the best chance it has had since 1990 for real domestic progress.
Armenia has also stonewalled Bolton for no apparent good reason and thereby lost the chance to achieve real benefits. It may be argued that Pashinyan has reason to believe that any concessions on Karabakh, including the non-Karabakh lands that Armenia has conquered, would cost him his position despite his mandate. Yet he has apparently gone out of his way to reassure Moscow that he will remain loyal and to assure everyone in Armenia that no concessions will be made to Azerbaijan.
Bolton also made it clear that Washington views Armenia's close ties with Iran, its major trade partner, with disfavor. In order to induce Armenia to take "decisive steps" towards resolving the Nagorno-Karabakh conflict and to distance itself from Moscow and Tehran, Bolton offered economic incentives and even the possibility of U.S. arms sales to Armenia. This would provide an alternative to Armenia's dependence on Russia, whose arms sales to both sides certainly make it harder to regenerate a peace process concerning Nagorno-Karabakh and subordinate Armenia to Russian interests.
However, Armenia apparently disregarded both Bolton and its own domestic needs. Not only did Pashinyan visit Iran on February 27, his ambassador said Armenia would do everything it could to boost ties with Iran. Once in Iran, Pashinyan stated Armenia's readiness to transport Iranian gas and oil abroad. Rather than buy U.S. weapons, Armenia has again turned to Moscow to buy 12 Sukhoi-30 fighters that it neither needs, nor can afford. In another gesture to Russia, Pashinyan sent a delegation of 83 Armenians (admittedly many of who are doctors) to Syria to relieve the humanitarian nightmare there. In still another move that makes no sense for a government ostensibly committed to a democratic transformation in Armenia, it is discussing with Huawei, the giant Chinese telecom firm, to purchase "smart city" technology that Freedom House defined as exemplifying "the Chinese model of extensive censorship and automated surveillance systems."
CONCLUSIONS: Pashinyan's government seems to believe it can allay Russia's unceasing suspicions about its democratic reforms based on an unyielding approach to Azerbaijan, and that Armenia has no choice but to embrace Iran and Russia, neither of whom has the means or inclination to bail out Armenia, whose economic problems will only affect its revolution negatively. If the war continues, Armenian reform will stagnate and pro-Moscow factions triumph. It is entirely arguable that absent robust U.S. engagement with all three Caucasian states, those negative trends will continue.
Neglect of the Caucasus, as practiced by the Obama Administration, is inevitably malign in its results whatever its intention and rhetoric. Therefore neither Bolton nor President Trump should simply write off the Caucasus as too hard to crack and hunker down until better times appear. If that is their response, better times will not occur and war will remain a real possibility. Another reason for the necessity of a vigilant U.S presence in the Caucasus is that nothing can really assure Moscow of Pashinyan's reliability. Moscow tolerated the revolution because of his promises of fidelity to a pro-Russian foreign policy. Yet it is precisely this policy that creates the nexus between corruption, authoritarianism, and belligerence that must be broken if Armenia is to move forward. Only a well-conceived and gradual turn to the West can help him stay in office and reduce the clout of the old corrupt and warlord-type elites who have held Armenia in thrall for a generation and surrendered its effective sovereignty to Moscow. In turn, this requires a U.S. that is ready to embrace support Armenia.
If Pashinyan and his team embrace the war they also embrace Moscow and its elites. If they reject Western efforts to bring Armenia into a closer embrace they will consign Armenia to long-running backwardness and war, hardly an environment conducive to democratization. And if the U.S., frustrated by Yerevan's recalcitrance, turns its back on the region, this will only lead to stalemate and war. Although Armenia has for now spurned the U.S. initiative, the need for a robust U.S. presence in the South Caucasus is greater than has heretofore been the case.
AUTHOR'S BIOS:
Stephen Blank is a Senior Fellow with the American Foreign Policy Council.
Image Source: By Gage Skidmore via Flickr accessed on 7.8.2019