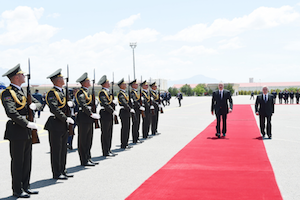 BACKGROUND: Yet this land grab shifted Azerbaijani positions to the proximity of Armenia's key highway connecting Yerevan with Vayotz Dzor and Nagorno-Karabakh. In the case of a military confrontation, this highway is decisive to Armenia's ability to provide supplies to Nagorno-Karabakh, as well as to the mountainous and geographically inaccessible Syunik province.
The land grab has exposed several Armenian villages, particularly the village of Areni, to Azerbaijan's forward positions, raising concern among the local Armenian population of fire directed against civilians. At present, Azerbaijani forces are carrying out intense engineering work at some segments of the border to reinforce their positions, equipped with sophisticated weaponry recently purchased from Russia, Belarus, Israel, and other nations. They have also sought to push deeper into enemy territory, grabbing additional hundreds of meters of contested land, usually in an effort to acquire strategic heights. This is a common practice in the mountainous parts of Azerbaijan's frontline in Nagorno-Karabakh and increasingly also in the Nakhichevan area.
The move followed clashes on Nakhichevan's border with Armenia earlier in May, claiming the lives of several Azerbaijani and Armenian servicemen. In mid-May, Azerbaijan's President Ilham Aliyev visited the exclave and made a threatening statement to Armenia. According to sources in Azerbaijan's MFA, this is part of Azerbaijan's grand strategy of making gradual thrusts into territory controlled by the enemy, initially practiced in the Nagorno-Karabakh area. Following its gains in April 2016, Azerbaijan considers the strategy relatively successful, both tactically and in order to exert psychological pressure on the Armenian side. Azerbaijan hopes that the advances will make Armenia more open to concessions in order to avoid a large-scale war with Azerbaijan.
IMPLICATIONS: Nakhichevan has been an island of peace since the 1990s. Turkey has functioned as a guarantor of its territorial integrity as established in the Kars treaty of 1920. The other major regional actor, Iran, is not interested in large-scale military confrontation or changes to the status quo in its northern neighborhood. Since the area is so close to Yerevan, Russia would have to take a clear stance in the event of escalating violence in the area. It could then decide either to back its ally Armenia, with uncomfortable consequences for Baku, or to remain neutral. The latter option would damage Moscow's credibility and likely demand that Baku makes important concessions elsewhere, e.g. in energy exports.
The border between Nakhichevan and Armenia, despite some recent engineering work conducted by Armenia and especially Azerbaijan, has been rather neglected. It remains virtually open, with a terrain consisting of hollows and mountains and, in contrast to Nagorno-Karabakh, no forests. The area is therefore difficult to both defend and attack, yet the lack of defensive positions enabled a relatively easy thrust into the enemy's territory. If Yerevan and Baku will start challenging each other in the borderland, this could lead to unintended consequences. Neither side will be overly concerned of a military setback since the area is not properly defended, possibly encouraging risk-taking and leading to increasing escalation as a result.
Due to Nakhichevan's location west of Nagorno-Karabakh, tensions in the enclave could force Armenia to divert troops from Nagorno-Karabakh, which would favor Azerbaijan if it intends to continue its steady advances into the occupied territories. During his May visit to Nakhichevan, Aliyev announced that military forces stationed in Nakhichevan are now equipped with the latest modern weapon systems and would be more than capable of repelling any Armenian aggression. These systems include Smerch, Lynx/Extra and Grad, as well as Polonez multiple-launch rocket systems recently purchased from Belarus and another recent purchase from Israel, LORA ballistic missiles.
Since Azerbaijani forces in Nakhichevan are armed with all air and ground defense systems available to the Azerbaijani military, including over 400 units of air defense and artillery, long-range artillery batteries stationed in Nakhichevan can reach the Armenian capital, as well as Armenian forces in Nagorno-Karabakh. To counter Azerbaijan's heavy artillery force stationed in Nakhichevan, Armenia recently announced the purchase of Russian Tor air-defense systems, which Armenia intends to station on Nakhichevan's border. However, military experts have criticized this move, claiming that Tor cannot intercept ground based artillery missiles and will therefore offer little protection from Azerbaijani artillery in Nakhichevan.
However, it is highly unlikely that Azerbaijan would seek to escalate hostilities along Nakhichevan's border. The situation is exacerbated by the fact that in the case of foreign military aggression against Armenian territory, including Armenia's border with Nakhichevan, the Russian-Armenian Joint Forces (RAJF) will be responsible for repelling the aggression. As per the agreement between Armenia and Russia within the framework of the Collective Security Treaty Organization (CSTO), RAJF is composed of Armenia's 5th Army Corps and Russia's 102nd Military Base located in Gyumri. Although the Gyumri base is currently under Armenian command, it will be transferred under Russian command in case of military aggression against Armenia. Baku seems to be well aware that Azerbaijani advances on the border with Nakhichevan could provoke some sort of reaction from RAJF. In fact, Russian military command officials from the Gyumri base visited Yerevan in mid-May for discussions with the new Armenian PM. Recent events have also demonstrated that instead of relying on the CSTO, which includes Belarus that recently sold the Polonez missile system to Azerbaijan, Armenia has chosen to focus on its bilateral partnership with Russia within the CSTO.
CONCLUSIONS: The westernmost point of Nakhichevan is situated only 70 kilometers from Armenia's capital. Azerbaijan's recent territorial gains have shifted its real borders with Armenia closer to the Yerevan-Vayotz Dzor-Stepanakert highway, placing some Armenian villages within reach of Azerbaijani artillery. While Baku and the Azerbaijani public have lauded these gains, which have boosted the Aliyev regime's domestic popularity, they could also raise the stakes in the conflict. This could reduce the ability of Armenia's new government to achieve compromise over Nagorno-Karabakh. Instead, it could prompt Armenia to reinforce its own military facilities along the Nakhichevan-Armenian border, and to attempt making territorial counter-gains. This would enable the Pashinyan government to appeal to nationalist and hawkish segments of Armenia's political elite and population. Even more importantly, these moves could turn Nakhichevan into a zone of latent armed conflict. Due to the exclave's proximity to Yerevan, Armenia will likely be more sensitive to Azerbaijani moves in the area, than in Nagorno-Karabakh. The potential for escalation is even higher in Nakhichevan, as the public in both Armenia and Azerbaijan have cultivated a form of resistance towards news of continuous violence in Nagorno-Karabakh. Moreover, since Azerbaijan lacks access to Nakhichevan, it will be in a difficult position to supply weapons, ammunition and manpower to the exclave. Baku could therefore become forced to request support from Turkey, the guarantor of Nakhichevan's territorial integrity as part of Azerbaijan, with the risk of drawing this important regional actor, along with neighboring Iran, into a risky war.
AUTHOR'S BIO: Emil A. Souleimanov is Associate Professor at the Department of Security Studies, Institute of Political Studies, Faculty of Social Sciences, Charles University. His recent publications include Iran's Azerbaijan Question in Revolution: Identity, Society, and Regional Security. Huseyn Aliyev is a Research Fellow at the School of Social and Political Sciences, University of Glasgow.
Image source: By: en.president.az accessed on 7.5. 2018