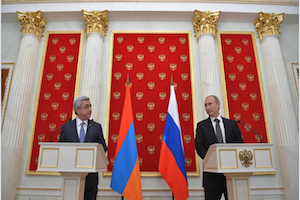 BACKGROUND: The conflict between Armenia and Azerbaijan over the status of Nagorno-Karabakh has generated an arms race between the two states, in which Yerevan strives to restore the power balance amid limited financial capabilities. Armenia remains a critical geostrategic ally of Russia in the South Caucasus through bilateral strategic agreements and membership in the Moscow-led Collective Security Treaty Organization (CSTO). The alliance was reinforced with the establishment of a common air defense system in 2016. A combined Armenian-Russian task force became officially operative this year, with both units placed under the operative command of Russia's Southern Military District (SMD).
Armenia's military planning has traditionally focused on ground operations against Azerbaijani Armed Forces, particularly in terrain adjacent to Nagorno-Karabakh's Line of Contact (LoC). Yet this also includes uncontested Azerbaijani territory and the Nakhichevan Autonomous Republic exclave, which is increasingly considered as a potential future battlespace. Baku and Yerevan seek to capitalize on any tactical vulnerability of the adversary that could be exploited in a future confrontation. Azerbaijan's reinforced strike capabilities from the Nakhichevan exclave in Armenia's strategic rear poses an additional challenge to Armenia's security and is therefore likely to become another operational theater in the event of intensified fighting.
The overall assessment of the Armenian Armed Forces is favorable, with many experts rating it as the strongest army in the Caucasus, and unit-for-unit possibly in the CSTO. The Armenian military displays high morale and professionalism, although it competes with Azerbaijan's massive increase in defense spending.
While often portrayed as separate forces, Armenia's Armed Forces and the "Artsakh Defense Army," totaling up to 65,000 active personnel, are in practice one force with a single Command-and-Control (C2) system. It is structurally correct to conceptualize these entities as one Joint Armenian Armed Force (JAAF). In comparison with the Azerbaijani Armed Forces, the segment of JAAF deployed in Nagorno-Karabakh is more compact featuring enhanced operative mobility, with a professional officer corps whose middle and upper echelons are almost entirely composed of veterans of the 1992-94 war. It is technically rather well equipped, with weapons either captured from the enemy and later partially modernized, or supplied from abroad. Based on lessons learned from the four-day-war in April 2016, which manifested the volatility of the Nagorno-Karabakh conflict, the further reinforcement of troops fielded in Nagorno-Karabakh is imperative for Armenian authorities. Unprecedented since the cease-fire in 1994, the shift in the security environment precipitated by the intense fighting in April 2016 urged Armenia's Armed Forces to adapt its development mechanisms and tactical doctrine.
In effect, the "State Program for Developing Weaponry and Military Hardware," the main concept for assessing the armed forces' re-equipment needs, underwent fundamental reevaluation. It has reportedly been substituted by a reform-oriented initiative entitled "Armenia's Common Defense Sector Development Plan," addressing a broad spectrum of defense and security needs under one concept. First introduced in May 2015 by former Defense Minister Seyran Ohanyan, this plan was subsequently adapted under incumbent Minister Vigen Sargsyan. It is designed to integrate all state structures and institutions involved in civil and military defense under a single development plan, although it prioritizes improving the quality of military materiel or consistent procurements. It envisions the development of a so-called cyber-military-industrial complex, integrating the private IT sector with the MoD-regulated military industrial framework.
IMPLICATIONS: Armenia is working to overcome its dependence on deteriorating equipment to support its ground combat capabilities. Since independence, Russian assistance has been crucial in maintaining many of the older ground force systems, providing a consistent flow of spare parts and technical assistance, as well as training of technicians. The current export arms loans will allow Armenia to replace outdated equipment and are a top priority of its defense policy.
On October 16, representatives of Armenia's MoD commented on the progress concerning the first loan of US$ 200 million agreed in 2015, which they said was "mostly completed" with US$ 30 million yet to be spent. In conjunction with the planned increase of MoD defense expenditure of roughly 18.2 percent in 2018, the loan will be implemented over the period 2018-2022. Additionally, according to Defense Minister Sargsyan, Armenia possesses extra-budgetary sources that, coupled with military loans, will be used for the sustainable reinforcement of the armed forces.
According to the agreement, the new loan reiterates the general terms and conditions of the previous one with minor differences. It specifically stipulates loan repayment terms for 15 years, 5 of which constitutes a grace period with a 3 percent annual interest rate. The repayment process is scheduled to commence in May 2023.
During parliamentary hearings held on November 15-17 on the draft state budget for 2018, the head of the standing committee on defense, national security and internal affairs Koryun Nahapetyan disclosed some details on priorities in equipment acquisition. On upcoming procurements, Nahapetyan stressed the need to reinforce the Armed Forces with the appropriate mobile artillery, air defense and aviation resources. His speech gave rise to speculations that Armenia aims to obtain Su-30SM multirole combat aircraft, once suggested by former Defense Minister Ohanyan but shelved in the wake of the April 2016 escalation. However, acquisition of combat helicopters is a more realistic alternative in the years to come, given that the operational expediency of Su-30SM fixed-wing aircrafts is questionable in Armenia's airspace.
Speaking to the author, the Defense Minster's spokesman Artsrun Hovhannisyan underscored that "the procedure to obtain the US$ 100 million loan is carried out in compliance with the long-term plan on military-technical cooperation with Armenia's closest strategic partner Russia." Hovhannisyan underscored that "the key issue is to get the Armenian Armed Forces adequately equipped with means permitting high accuracy and the use of precision-guided munitions. The listed and anticipated hardware will enable Armenia's Joint Armed Forces to thwart the enemy's movements deep inside the entire theatre of combat operations." This statement suggests that the MoD focuses on quality rather than quantity, procuring comparatively sophisticated arms.
Speaking under the condition of anonymity, another senior army official conveyed that Armenia considers another US$ 100 million military loan from China. This prospect is conceivable, given the visit of a delegation from the MoD, led by Sargsyan, to China in early September. Although the MoD termed the trip "fruitful and worthwhile," Armenia was criticized in Russian state-controlled media outlets of intending to expand its military partnership beyond existing parameters. Shortly thereafter, the government announced the plan to request a US$ 100 million loan from Russia, whereby some officials commented that despite certain interest in cooperation with China, Russia would remain Armenia's key military-technical partner. However, the Russian loan could pave the way for cooperation with China along the same format, considering Yerevan's purchases of Chinese 273mm WM-80, AR1A Multiple Rocket Launchers along with infantry weapons in the 2000s.
CONCLUSIONS: Facing limitations in its economic and military resources, Yerevan may opt for asymmetric or pre-emptive response options if an assault from Azerbaijan appears to be imminent. In this light, the military drills held in December by JAAF in Nagorno-Karabakh demonstrated that Armenia has also reintroduced a military training concept that entails snap exercises. This reduces Azerbaijan's ability to predict Armenian maneuvers and keeps the operational situation tense.
Yerevan considers Nagorno-Karabakh as an inalienable part of Armenia and is determined to continue positioning itself as the only legitimate security guarantor for Armenians living in the region, and to gain acknowledgment of this role from key stakeholders. In extension, Yerevan seeks to gain international recognition as a net-security provider, which motivates Armenia's involvement in international peacekeeping missions worldwide.
The chief objective of Armenia's defense policy is to deny Azerbaijan a similar regional ambition, which if attained would in Armenian strategic thinking challenge the country's very existence. In accordance with this logic, any alteration of the status quo in Azerbaijan's favor is perceived as an unacceptable threat to Armenia's statehood. These dynamics make sustained reform of the army and enhancement of defensive and offensive capabilities a top security priority, which in effect determines Armenia's foreign policy agenda.
AUTHOR'S BIO: Eduard Abrahamyan is a regional security analyst with emphasis on the Black Sea, South Caucasus and Central Asia. He is a CACI Spring 2017 Rumsfeld Fellow and a PhD Candidate at University of Leicester, UK.

Image source: By en.kremlin.ru accessed on 1.8. 2018