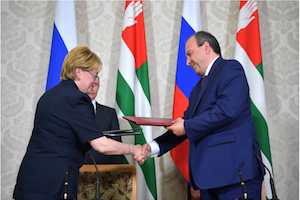 BACKGROUND: Abkhazia's foreign ministry can behave very well: On the birthday of Nicaragua's Deputy Minister for Foreign Affairs in February 2017, Abkhazia's foreign ministry sent a diplomatic note to extend its kindest wishes to the jubilarian. When Nauru's Transport Minister passed away in December 2016, Abkhazia's foreign ministry was quick to send a diplomatic note of condolences to the family and friends of the deceased. The Abkhazian diplomatic service is always ready to send its polite notes on independence days, elections, birthdays, and other occasions in a show of diplomatic courtesy. This interaction, of course, is limited to those countries that have so far recognized Abkhazia, i.e. Nauru, Nicaragua, Vanuatu, Venezuela, but also its fellow breakaway regions South Ossetia, Transnistria, and Nagorno-Karabakh – and, of course, Russia.
Nothing about this formality is original or new: diplomatic notes, commonly referred to by its French term notes diplomatiques, has been in use for many centuries. They signal that a country pays close attention events in another, and that it shares the other's joys and sorrows.
But the Abkhazian case is still noteworthy for at least two reasons. First, it confirms that Abkhazia has further succeeded in its continuous state-building efforts. Analysts often note that Abkhazia possesses all the symbols that reflect the claimed sovereign statehood: a flag, an anthem, a territory, a currency, state awards, etc. The fact that its foreign ministry has also started to operate according to the conventions of sovereign states is simply another expression of this development.
A second observation, however, may be more surprising: a look at the collection of diplomatic notes on the website of Abkhazia's Ministry of Foreign Affairs reveals that during the period for which the data is available (November 2016 to August 2017), only 30 percent of the diplomatic notes (13 out of 44) were sent to Russia. This means that Abkhazia conducts 70 percent of its diplomatic interaction with other countries – such as Vanuatu or Nauru. These numbers shatter the common assumption that Abkhazia has only one reference point in foreign relations – namely its patron state, Russia.
IMPLICATIONS: The fact that Abkhazia's diplomacy frequently manages relationships with countries other than Russia has been completely neglected in the (international) scholarship on this topic. Almost all analyses have merely focused on Abkhazia's external ties to Russia and the parent state Georgia, often in geopolitical terms that seek to uncover traces of wars and crises.
This focus on Russia certainly has good reasons. Russia is the only great power that has recognized Abkhazia's independence, and Russia's role in Abkhazia's military defense, economy and politics is more than disproportionately large.
Yet Abkhazia's foreign policy activities demonstrate that Russia is not the sole reference point in the region's external relations. The government is investing diplomatic resources in order to constantly keep track of the internal happenings in all these tiny Pacific islands and far-away Latin American countries that have recognized it. Abkhazia's diplomacy never misses an opportunity to signal a sense of political proximity; that it cares for the other, that it "is there" for its partners and that it shares the other's joys and sorrows. But why does Abkhazia invest so much of its diplomatic capital beyond Russia? There is no reason to believe that Abkhazia could ever, in the foreseeable future, gain significant material benefits from these relationships.
One may nevertheless suspect a strategy behind this diplomatic courtesy; it sends particular signals to the international community and to the Abkhazian domestic audience. Abkhazia projects to the international community that it is capable of greater involvement in a wider web of intergovernmental relations. It demonstrates that Abkhazia has successfully learned to be a "good state" despite little recognition, which in turn sustains the illusion that it has attained the normalized statehood that its leadership and population longs for. Since these diplomatic relations are limited to those countries that have recognized Abkhazia, they do not cause any status conflicts and thus become externally acceptable to the international community. To its own inhabitants, Abkhazia signals that it has additional friends "out there," other than Russia, which the country can rely on for external support, and that it is gradually normalizing its foreign policy behavior. The Abkhaz government hopes that these achievements will increase its internal approval, which is of utmost importance for a country that cannot count on external legitimacy.
Moreover, this finding has strong implications for international relations scholarship focusing on this region. It indicates that there is a need to analytically go beyond the patron states of the contested post-Soviet states. Only by closely following the ties that Abkhazia and other Russia-backed breakaway territories enjoy with countries beyond their patron, one can proceed further to a holistic understanding of these crisis-ridden areas. The Abkhazian notes diplomatiques are only one example; parallel instances may indicate how these regions tap political resources from places other than Russia.
CONCLUSIONS: Post-Soviet breakaway territories are perceived to completely rely on their one and only patron state, Russia. However, Abkhazia's diplomatic interactions indicate that this view is misleading. 70 percent of Abkhazia's diplomatic notes are sent to countries like Vanuatu, Nauru, Venezuela or Nicaragua in an attempt to manage the territory's international relations to all states that have recognized it. Abkhazia's foreign ministry takes these external ties seriously, and it pays close attention to the Latin American countries' or Pacific islands' internal developments. Its diplomacy is quick to respond to their partners' political lives when deemed apt and polite – when a natural catastrophe hits Nauru, Abkhazia sends condolences, and when Nicaragua celebrates its Independence Day, Abkhazia sends congratulatory words.
By doing so, Abkhazia seeks to professionalize and internationalize its claimed statehood, and it signals to the domestic audience that the government is capable of sustaining external friendships with a wider web of states. This aspect of "going beyond Russia" bolsters internal legitimacy, which is particularly significant in the absence of widespread external recognition, and it calls analysts to pay closer attention to the foreign relations of contested states, extending outside their geopolitically imminent surroundings.
AUTHOR'S BIO: Andreas Pacher is Editor-in-Chief of Nouvelle Europe. He has published on various aspects of Eastern European diplomacy. He received his academic education at the University of Vienna (Austria), at SciencesPo (Paris) and at Fudan University (Shanghai).
Image source: By kremlin.ru accessed on 10.2. 2017