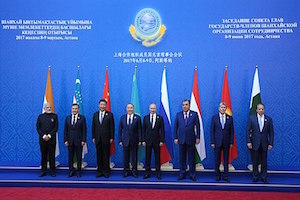 BACKGROUND: Besides its full members (China, Russia, Kazakhstan, Kyrgyzstan, Tajikistan, Uzbekistan, and now India and Pakistan), the SCO has four observer countries (Afghanistan, Belarus, Iran, and Mongolia) and "dialogue partners" (Azerbaijan, Armenia, Cambodia, Nepal, Sri Lanka, and Turkey).
In their comments at the Astana summit, the SCO's Central Asian leaders endorsed the enlarged membership. For example, Uzbekistan's President Shavkat Mirziyoyev welcomed the elevation of India and Pakistan to full membership for providing the SCO with more resources, a higher profile, and increased momentum, especially in the communications and transportation sectors. In addition, Mirziyoyev endorsed Beijing's "One Belt, One Road" (OBOR) initiative to integrate the Central Asian economies with each other and with China. He also called for rapid launch of the China-Kyrgyzstan-Uzbekistan railway.
Moreover, in line with Uzbekistan's preferences for a regionally embedded resolution of the Afghanistan conflict, Mirziyoyev noted how India's and Pakistan's full membership in the SCO means that the organization contains almost all the countries "who are directly interested in stabilizing the military-political situation and improving the socio-economic situation in the state." Other Central Asian governments welcomed the planned China-Pakistan Economic Corridor (CPEC), which would build energy, road, rail, and communications conduits between Central and South Asia through $46 billion worth of Chinese-funded infrastructure projects.
Thanks to its OBOR initiative, Pakistan's concurrent entry, and growing choice of alternative regional institutions besides the SCO available to project Chinese influence, Beijing ended its decade-long opposition to India's SCO membership. The PRC Foreign Ministry said that it expected India and Pakistan would exclude their bilateral dispute from the organization, as required by the SCO charter. President Xi Jinping also supported keeping the SCO open to new members and partners, including both additional countries and other multinational organizations. Nonetheless, the Indian government insisted that it is not bound by SCO declarations, beyond the core membership documents, that were adopted before it became a full member, such as the past SCO declarations of support for the OBOR.
IMPLICATIONS: When considering further enlargement, the existing members must balance the gains to SCO collective resources from adding more countries against the dilution of their individual national influence, attention, and benefits within a larger group. More members would mean sharing funds, posts, and other concrete benefits. Further expansion could also jeopardize the priorities the SCO's Central Asian members have for the organization. Central Asia until now has been the focus of SCO attention, but the entry of India and Pakistan will direct its focus more towards South Asia. The elevation of the two leading candidate members, Iran and Turkey, to full membership would pull the SCO further towards the Middle East. This region is a growing priority for Russia due to the Syrian War and for China due to its OBOR plans and energy needs.
Given these considerations, Uzbekistan's former leader, Islam Karimov, resisted SCO membership growth, a policy only reversed since the Uzbekistan's new government assumed office last year. At the Astana summit, Kazakhstan's President Nursultan Nazarbayev endorsed further membership expansion in principle, but did not reference any particular country. Nazarbayev also mentioned the imperative of deepening SCO ties with other regional institutions, namely the Collective Security Treaty Organization, the Conference on Interaction and Confidence-Building Measures in Asia, and the UN.
While Beijing promotes reconciliation between Pakistan and its neighbors, Russia wants to reduce tensions between China and India to enable the SCO, the BRICS bloc, and other Eurasian institutions to realize their anti-Western potential. Moscow has long sought to build a trilateral partnership under its leadership in line with its goal of achieving a multipolar world. But Sino-Indian differences have repeatedly thwarted these efforts to build a "strategic triangle" among China, India, and Russia. These tensions include their disputed borders, Beijing's unease over New Delhi's defense ties with Washington and Tokyo, Chinese support for Pakistan's nuclear aspirations, and Pakistani-linked terrorism in India. Beijing is still blocking New Delhi's entrance to the Nuclear Suppliers Group and permanent UN Security Council membership. More recently, India has objected to the CPEC, which traverses Kashmiri territory claimed by New Delhi.
China and India may both hope to use the SCO to influence the other. For example, New Delhi may see its membership as diluting Beijing's influence within the organization. Since the SCO's creation in 2001, Moscow has exploited the organization's unanimity rule to withhold support for Chinese proposals to establish a SCO-wide free trade zone, energy club, and development bank. Yet, China has increasingly circumvented Moscow's opposition through bilateral deal making and by throwing more money into partnerships than Russia could ever match. Beijing would find it even easier to overcome Indian-made obstacles within the SCO.
In his speeches at the Astana summit, Russian President Vladimir Putin showed little enthusiasm for adding new members in the near future. He stressed that India and Pakistan would need much assistance to achieve full integration into the SCO. Putin also stated that "we have not yet managed to establish a fruitful, equal and constructive interaction with our other partners outside the SCO," singling out the need for "direct contacts between the SCO and other regional organizations, first of all, with the Eurasian Economic Union," as a means to build "a major Eurasian partnership stretching from the Atlantic to the Pacific Ocean." Putin related that this broader integration process would be the focus of Moscow's Eurasian diplomacy at the upcoming Eastern Economic Forum in Vladivostok, the High-Level Conference on Trade and Economic Cooperation in the SCO in Moscow, and the Small Business Forum of the regions of the SCO and BRICS in Ufa.
Russia, China, and the Central Asian states recognize that the poor security situation in Afghanistan impedes realization of their integration plans. Putin called for greater cooperation between the SCO and Afghanistan and for a resumption of the SCO-Afghanistan Contact Group as a way to coordinate the SCO's initiatives towards Afghanistan and develop recommendations for further action. Xi endorsed the proposal to resume meetings of the Group, which was created in 2006 but which suspended activities in 2009.
More concretely, Xi also met with Afghan President Ashraf Ghani to discuss expanding Chinese economic and security cooperation through bilateral and several multilateral initiatives, including peace efforts with Pakistan and other Afghan neighbors. Despite Chinese reconciliation efforts, Afghan-Pakistani relations remain terrible. Even at the SCO summit, Afghan and Indian representatives implicitly criticized Pakistani support for terrorism, while Beijing defended Islamabad's counterterrorism credentials. The Contact Group, which suspended its activities in 2009, will find it hard to bridge the gap between these countries, now amplified by the elevation of India's and Pakistan's status within the SCO.
CONCLUSIONS: There are competing dynamics in favor and against further SCO membership expansion. As the SCO grows in size, it can bring more benefits to existing members and become more attractive to new aspirants. On the other hand, the large differences in the existing members' populations, geographic size, economic resources, military power, and geopolitical orientation have already complicated the negotiation, approval, and execution of SCO policies. While some of the existing members and observers seem most interested in the SCO's economic potential, others mainly value its regional security role. The need to reconcile conflicting national laws, regulations, and standards has also slowed the implementation of many SCO-wide agreements. The addition of new full members further widen these and other dilemmas.
AUTHOR'S BIO: Dr. Richard Weitz is a Senior Fellow and Director of the Hudson Institute Center for Political-Military Analysis.
Image source:https://commons.wikimedia.org/wiki/File:Heads_of_SCO_member_countries_at_the_2017_Summit_in_Astana.jpg, attribute kremlin.ru accessed on 02.08. 2017