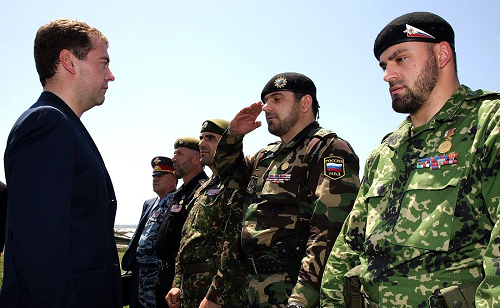 BACKGROUND: Yevkurov mentioned the deployment of Ingush military police units to Syria in an interview to the online magazine Ingushetia in February. The Ingush leader explained that the military police battalion is staffed by local Ingush spetsnaz and that it consists of about 300 men. Its objective is to perform "peacekeeping missions" in the southern Syrian city of Aleppo. The battalion is also tasked with ensuring the security of the Russian air base in Khmeimim, "reconciling" the warring sides, and securing the delivery of humanitarian aid. Yevkurov commented that Ingush military would perform tasks identical to those of their Chechen colleagues deployed to Syria several months earlier. Ingush media reported that military police units dispatched to Syria were formed of volunteers. No further comments were released by either Ingush siloviki or their Russian counterparts about the chain of command or more specific tasks of the Ingush force in Syria. Experts assume that Ingush and Chechen servicemen will patrol Sunni neighbourhoods of Aleppo and nearby villages.
The deployment of Ingush soldiers to Aleppo coincides with the announcement by the Chechen security services in February about the extended tour of the Chechen military police to Syria. As mentioned by Chechen officials in interviews to the Caucasus Knot, the Chechen mission will be prolonged possibly until the end of August 2017. They provided no details on the reason for this extension.
The deployment of Chechen Special Forces to Aleppo in December 2016 was marred in controversy. While Ramzan Kadyrov, the head of the Chechen republic, vehemently denied the presence of Chechen military units in Syria until late January 2017, local media reported that 12 Chechen servicemen based near Grozny were relieved of their duties after refusing deployment to Syria. According to Novaya Gazeta, members of Chechen Spetsnaz in Syria neither received information on the period of their stay in the country, nor on their exact tasks. Instead, members of the 500-strong Chechen battalion were issued brochures with instructions for a possible forthcoming Russian ground operation in Syria. According to sources within the Chechen security services, Chechen units in Aleppo are involved in training Syrian soldiers and police, alongside their security tasks at the Russian air base.
IMPLICATIONS: The deployment of North Caucasian Spetsnaz following the siege of Aleppo is indicative of Russia's long-term intentions in Syria. There are no reports on the participation of Chechen or Ingush military in counterinsurgency operations in and around Aleppo. Yet the "peacekeeping" mission involving Sunni North Caucasians suggests that they might be used by pro-Assad forces for "heart-and-mind" campaigns in Sunni areas, following the liberation of Sunni enclaves from the rebels. Since Chechen military police will remain in Syria, the deployment of their Ingush counterparts resembles reinforcement rather than replacement. Both the Chechen and Ingush battalions consist of professional contract-based Spetsnaz members – including former kadyrovtsy with extensive counterinsurgency experience in the North Caucasus – rather than conscripts or members of local military police. This indicates the potential for North Caucasian units to be used in future offensives by pro-Assad forces against the Syrian opposition in Sunni areas. Both their Sunni origins and previous experience of fighting Islamist insurgency make North Caucasians an attractive option for a large-scale Russian ground operation in Syria. The existing ceasefire between opposition groups and the pro-Assad forces appears rather fragile and both sides seem to be preparing for future confrontation. In that context, Russia might blame a possible collapse of the ceasefire on the opposition against Assad, which would justify a ground operation supported by air strikes. The protection of Russian "peacekeeping" forces in the area would then motivate the deployment of a larger contingent of ground troops.
Another scenario that may be anticipated stems from the fact that, until recently, the deployment of combat troops to foreign countries was not legally justified in Russian legislation. Coincidentally, on December 14 the Russian parliament ratified an amendment to the law "on military duty and military service." The new amendment allows not only military servicemen but also private citizens to provide military services abroad under short-term contracts. The law was specifically created to target the "activity of international terrorist organisations outside Russia's borders." Chechen military police was dispatched to Aleppo immediately after the amendment was ratified. Following the escalation of hostilities, Russia could choose to use the North Caucasian "peacekeeping" units as mercenary forces fighting on Assad's behalf, rather than directly representing the Russian army. The participation of Iranian and Lebanese Hezbollah volunteers, as well as Iraqi Shiite forces, on the side of the pro-Assad forces has already created a precedent with regard to the use of mercenaries. Since the Chechen and Ingush battalions are formally under the control of Russia's Ministry of Interior (MVD) and not the Ministry of Defense, their deployment in counterinsurgency operations in Syria would not legally constitute an invasion by a foreign (Russian) army.
CONCLUSIONS: : There are few doubts that the Ingush and Chechen military police units recently dispatched to Syria are expected to do much more than protecting the air base, which already has more than 1,000 Russian Special Forces providing security. Whether the Kremlin envisions North Caucasian units in Syria to take part in a possible ground operation or intends to deploy Chechens and Ingush as mercenary units fighting on the behalf of Assad's forces will most likely depend on the outcome of the current Syrian peace process. Russian Spetsnaz and private military contractors have previously been used in combat both in Aleppo and in other parts of Syria. The recent reinforcement of Russia's Special Forces with Sunni North Caucasians demonstrates that Russia's designs for its military involvement in Syria are long-term. Preparing a legal ground for Chechen and Ingush troops is yet another indicator that Russia is making arrangements for various possible outcomes of the Syrian conflict.
AUTHOR'S BIO: Huseyn Aliyev is a conflict and area-studies expert currently based at the Center for Security Studies, Metropolitan University of Prague. His recent publications appeared in Security Dialogue, International Security, Journal of Strategic Studies and Studies of Terrorism and Political Violence.
Image source: en.kremlin.ru, accessed on April 26, 2017