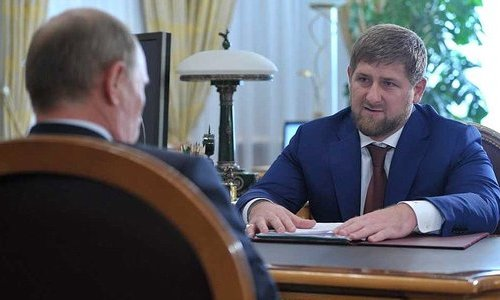 BACKGROUND: The creation of a National Guard as a sort of Praetorian force is not a recent invention. The idea started circulating among the Yeltsin elite in the beginning of post-Soviet history in 1991/1992, when the loyalty of the army in the territories of the Russian Federation was under question. Shortly after the bloody standoff with the Parliament/Supreme Soviet in 1993, Yeltsin entertained the idea of creating elite forces that would protect the regime in the case of future similar events.Yeltsin's concern was justifiable, given that the army had wavered and tried to stay out of the conflict. Yeltsin's position remained unstable and he again brought up the prospect of creating a National Guard in 1998. Yet Yeltsin then decided to retire and consequently felt no need for it.
Putin clearly has no such plans. He and Medvedev possibly entertained the same idea in 2009 and 2010, presumably in response to the violence in Kondopoga (2006), Stavropol (2007) and in Moscow (2010). All of these incidents were fueled by tensions between ethnic Russians and migrants from Russia's North Caucasus, whom Russians called "people of Caucasian nationality," and who were attacked by Russian crowds.
In 2012, after Putin's reelection as president and the adjacent public protests, the idea of establishing a National Guard reemerged once again due to the leadership's fear of "color revolutions." Observing developments in the Middle East during the "Arab Spring", the regime became increasingly wary of collapsing authoritarian regimes and ensuing anarchy, and the risk of a similar scenario playing out in Russia.
IMPLICATIONS: The National Guard will consist of up to 400,000 men, and will be equipped with heavy weapons. Putin's confidant General Viktor Zolotov has been named as its commander. Yet Putin will retain ultimate control of the Guard and can give orders directly, bypassing any intermediate leaders.
The large number of National Guard personnel should be sufficient to quell even wide-ranging public protests. The very size of the forces could, however, also create problems. If the Guards are locally deployed, they could develop associations with the local population and become unwilling to use force, especially deadly force, against them. Moreover, the National Guard forces could become fragmented over the use of deadly force against civilians.
Russian law enforcement has encountered this problem before, on several occasions. During a serious protest in Vladivostok in 2008, local law enforcement was unwilling to tackle the protestors and OMON (riot police) had to be brought in from European Russia. Similarly, local law enforcement in Moscow failed to quell a large protest in 2010, triggered by the murder of ethnic Russians by "Caucasians," after which a huge crowd emerged in downtown Moscow and started to attack Caucasians and other people who did not look Slavic. The crowd could well have switched from attacking minorities to attacking the government. Since similar situations could emerge in future cases of mass protests, Kadyrov's Chechens could present a final and highly important reserve.
Kadyrov's forces – the kadyrovsti – number up to 30,000 and were also incorporated into the Guard. Some observers have assessed this as a heavy blow against Kadyrov, transforming his militia into a regular Guard unit, fully under Zolotov's command. Yet this is hardly the case – the Chechen fighters are predominantly loyal to Kadyrov and cannot be deployed without his explicit approval. Needless to say, Kadyrov's consent is needed in order to use these forces to maintain relative peace and stability in Chechnya. It is not surprising that Kadyrov has actually been exempted from Putin's drive to increase the Kremlin's control over the bureaucracy and general population.
In 2016, Putin gave the Chechen leader his blessing by reappointing Kadyrov as head of Chechnya, while also requiring that Kadyrov should respect Russian law. However, these demands appear to have been primarily for public consumption as Putin clearly provided Kadyrov with a license to do whatever he wanted, even engaging in murder.
The investigation of Boris Nemtsov's murder on February 27, 2015, uncovered a trail leading to Chechnya. But Kadyrov has resolutely refused to cooperate, relying not only on his personal access to Putin but also on a particular connection with Zolotov. Putin made it clear to the FSB that Kadyrov was off-limits in the investigation. In return, Kadyrov was anxious to demonstrate his usefulness to Putin. On January 22, 2016, Kadyrov called out a huge rally in Grozny to support him. Kadyrov implicitly sent signals to the opposition, and even more so to the Kremlin, that he had thousands of supporters who would follow his lead in dealing with any opposition to Putin. Almost simultaneously with the demonstration, Kadyrov's chief of staff, Magomed Daudov, posted a picture on Instagram of the Chechen leader holding back a massive Caucasian shepherd dog named Tarzan. The dog's "teeth itch," Daudov wrote. "He's barely restrained."
It appears that Putin was pleased with Kadyrov's pronouncement and considers Kadyrov and his Chechen warriors a reliable force that will protect the regime even if the National Guard fails to do so.
CONCLUSIONS: Russia'spoor economic performance, mostly due to low oil prices, is a concern for the Kremlin. Putin clearly worries that an economic breakdown could lead to widespread protests, although there are so far no signs of public unrest. Yet in response to this potential threat, Putin has decided to establish the National Guard and increase centralization of the state apparatus, which has entailed a bloodless purge or retirement of many of his longtime associates. Kadyrov is a clear exception and he still enjoys permission to actually do whatever he pleases. The reasons for this approach to Kadyrov are manifold. Putin indeed regards him as the only force capable of providing a modicum of security in Chechnya. But Kadyrov and his Chechen warriors – loyal to Kadyrov and deeply alienated from the majority of Russians – could also play the role of peculiar Janissaries for the Kremlin; a last resort in case of a mass upheaval in Russia and the National Guard's inability to quell it.
AUTHOR'S BIO: Dmitry Shlapentokh is Associate Professor of History, Indiana University at South Bend.
Image source: kremlin.ru accessed on March 3, 2017