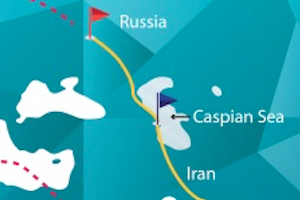 BACKGROUND: For decades, Tehran has sought deeper energy cooperation with the South Caucasus. It has repeatedly stated its intention to send more Iranian gas to the region and to the European market via Armenia and Georgia. Ankara and Baku are expressing interest in providing transit for Iranian gas to Europe. Constrained for years by sanctions, Iran could not fully pursue either of these ideas.
So far, Iran only exports a limited volume of gas by pipeline to Armenia and Azerbaijan. Armenia exports electricity to Iran in exchange, while Azerbaijan compensates Iran for shipments to its Nakhichevan exclave with equivalent deliveries to northeastern Iran. Neither agreement generates revenue for Tehran, which has made numerous statements that it is ready increase exports of gas to either of these countries as well as to Georgia. Currently, Azerbaijan supplies 90 percent of Georgia's gas, while Russia provides the other 10 percent as a transit fee for Russian gas deliveries to Armenia. The Caucasus gas market remains very small and its distribution network is not well developed.
In 2015, Armenia imported about 380 million cubic meters (mcm) of gas from Iran in a swap for electricity. The Iranian gas is not sold in the Armenian domestic market, but converted into electricity at the Yerevan thermal power plant, which is shipped back to Iran at the rate of 3 kWh for one cubic meter of gas. The gas pipeline between Armenia and Iran was commissioned in 2008, with a maximum capacity estimated at 2 billion cubic meters (bcm) per year.
Under the terms of the 2013 agreement between Russian and Armenia, Gazprom has a monopoly on gas supply to the country. The Russian gas giant, which already owned 80 percent of Armenia's main gas company, ArmRosgazprom, bought the remaining 20 percent of its shares. In 2015, Armenia imported 1.9 bcm of Russian gas.
IMPLICATIONS: In March 2016, the Armenian government awarded a license to an Iranian company, Sanergy, to build a gas distribution network in the towns of Megri and Agarak, close to the border with Iran. In accordance with a 2011 Iranian-Armenian agreement, the US$ 2 million project will be financed by the Iranian government. Construction work is expected to start soon and to be completed within 6-7 months. Gas for the network will be shipped from Iran. Under the 2013 Armenian-Russian gas deal, the project will be monitored by Gazprom Armenia, an Armenian subsidiary of Russia's gas monopoly Gazprom.
On February 7, the National Iranian Gas Exports Company's Managing Director, Alireza Kameli, said that Iran is considering options that would be increasing the 1 mcm of gas it sends daily to Armenia five-fold. He also noted that Iran plans to develop a new power line to increase Armenia's electricity exports to Iran. On April 13, Iran, Russia, Armenia and Georgia agreed to build the North-South Energy Corridor. The project is envisaged to build two power transmission lines, one between Armenia and Iran, another from Armenia into Georgia. This will allow linking all four countries into a unified power network. In February, Azerbaijan also held trilateral talks with Iran and Russia on unifying their power distribution systems.
The South Caucasus gas market is very small. The total estimated gas demand of Armenia and Georgia is about 4.5-5 bcm of gas per year. It is therefore unlikely that gas giants such as Iran and Russia will compete seriously over market shares, particularly since the countries' locations are much more important than their value as customers. It is most likely that Iran and Russia will agree to share at least the Armenian energy market. The deal seems to be part of a hidden arrangement, driven by political and business motives.
According to the 2013 agreement, Gazprom Armenia, the Armenian subsidiary of Russia's gas monopoly Gazprom, will control all of Armenia's gas imports up to 2043. This will not restrict gas imports from Iran, allowing it to become Armenia's second gas supplier. However, it seems that Gazprom Armenia will be able to block any gas transit intended to reach destinations beyond the South Caucasus region. Therefore, while Iran will supply a limited volume of gas to Armenia, it will not be able to transit any additional gas without Russian permission.
It is also unlikely at present that Iran will push ahead with the idea of sending gas to the EU energy market, including via Armenia and Georgia, bypassing Turkey. To implement such a plan, Iran would need to develop its domestic infrastructure to secure gas deliveries from the southern to the northern part of the country. Support for this idea has declined substantially in light of recent developments, including low oil prices and shrinking gas demand in Europe. Tehran has taken this plan off the table, saying that instead of piping gas it would prefer to deliver LNG to Europe.
For decades, Iran has also sought to establish itself as a transit corridor for oil and gas exports from other Caspian littoral states and Russia. Yet, because of the international sanctions, Tehran's efforts have had only limited success, while Turkey has promoted itself as a secure and reliable transit route for Caspian oil and gas producing countries, as well as for Russian and Iranian gas. But Turkey has lost its attractiveness for Russia and Iran due to recent hostile events related to conflict in Syria. Iran is now once again touting itself as a transit option, and Russia supports this idea. Last October, Russian Energy Minister Alexander Novak said that Gazprom had offered gas supplies to Iran under a swap arrangement. Gazprom will deliver gas to Iran's northern provinces and will take Iranian LNG in the Persian Gulf. This could be the next mega project that would secure even deeper relations between Iran and Russia.
CONCLUSIONS: For Iran and Russia, the South Caucasus region is important as a transit corridor that connects North and South, as well as East and West. Developing the Armenian gas distribution system and building a unified power distribution network among four states could be the first step in a much larger scheme.
It is clear that Iran and Moscow have boosted efforts to foster not only political but also economic ties. They have been seeking to increase their influence in the region, leaving other external players with fewer chances for involvement. Iran's and Russia's coordinated engagement with this region will, in particular, weaken Turkey's active participation in the regional economics and politics.
AUTHOR'S BIO: Najia Badykova is the head of Antares Strategy consulting.
Image Attribution: www.byjus.com, accessed on June 10, 2016