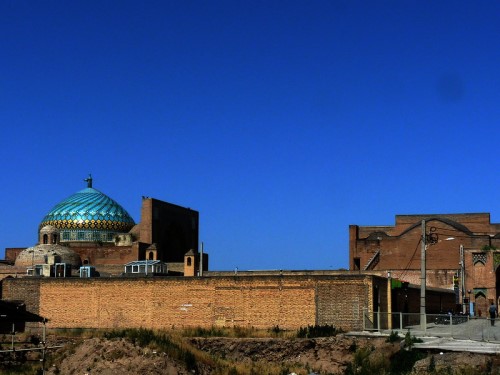 BACKGROUND: The results of the Armenia-Azerbaijan war and the subsequent Russian-brokered agreement created significant new challenges for Iran. Iran lost part of its previously long border with Armenian-controlled territory, with the return of Azerbaijani control of the border regions that had been under Armenian occupation. Moreover, Russian forces will be deployed in close proximity to Iran's border with Armenia, and Tehran was largely ignored by Ankara and Moscow in setting the post-war security arrangements. Finally, parts of Iran's domestic ethnic Azerbaijani minority has been mobilized against the regime due to its support for Armenia in the conflict.
The war resulted in Azerbaijan regaining control of regions that border Iran, which had been under Armenian military occupation for close to thirty years. In response to the developments in the battlefield, Iran bolstered its troops at its borders with Azerbaijan, including its border with Azerbaijan's exclave, Nakhchevan. According to Tehran Times, "Iran has deployed additional troops and military equipment along its borders with Armenia and Azerbaijan in an effort to prevent any change in the geopolitics of the region and international borders."
Tehran had preferred Armenian control of the border area, and had enjoyed extensive cooperation with Armenia in the occupied territories, including the establishment of a hydroelectric plant that serves Iran's border regions. Iranian state-sponsored media have already warned that Iran could face commercial losses from the change of control of the border areas.
The new security architecture for the South Caucasus will see an increased role for Russia and Turkey, with no new formal role for Iran. Under a Moscow-brokered agreement, Moscow has deployed Russian peacekeepers in Nagorno-Karabakh and in the Lachin Corridor, which connects the region to Armenia. The accord also establishes a joint ceasefire monitoring center manned by Russian and Turkish forces.
The post-war agreement also leads to the deployment of additional Russian troops in close proximity to Armenia's border with Iran. While Russian forces already control Armenia's borders with Turkey and Iran, Armenia, Azerbaijan, and Russia agreed to establish of a safe passage corridor, passing through Armenian territory, which links Azerbaijan with its exclave Nakhchevan. Russian forces will patrol a road, in proximity to the border with Iran, to secure Azerbaijani access through this region. The establishment of this safe passage corridor could lessen Azerbaijan's dependence on Iran for travel and for the transit of goods to Nakhchevan. Azerbaijan's president Ilham Aliyev stated that Turkish forces will also patrol this road, although the role for Turkey did not appear in the signed agreement, indicating that it was a topic of disagreement and likely to be a topic of further negotiation between the sides.
The players in the South Caucasus have largely ignored Iran, including Tehran's unsuccessful promotion of its own peace plan for the region prior to the agreement's finalization. The Tehran Times asked, "Why did the leaders of Russia, Azerbaijan, and Armenia decide to keep Iran in the dark about the ceasefire agreement while Iran shares long borders with both sides of the war and was directly affected by the conflict?" Subsequently, a planned visit of Iranian Foreign Minister Javid Zarif to Russia and Azerbaijan was canceled. The Iranian Foreign Ministry had announced that the visit would take place Nov. 23-24.
Iran also seems concerned about the increased influence of Israel in the region, due to its significant security cooperation with Azerbaijan. Iranian media recently expressed concern about Israel's growing popularity in Azerbaijan due to the contribution of strategic cooperation with Azerbaijan to Baku's military success in the current war.
Iran's support for Armenia in the war incensed large swaths of the ethnic Azerbaijani community in Iran (which comprise up to a third of the population of Iran). During this war, as during the first Armenia-Azerbaijan War in 1992-1994, Iran served as the main conduit of supplies—military and otherwise—to Armenia. Russia does not share a border with Armenia and because of Georgia's refusal to serve as a corridor, Moscow depended on transit through Iran to supply Armenia. Russia supplied Armenia during this war, both via flights that overflew Iran and also via land shipments from Iran's Anzali port on the Caspian Sea. Ethnic Azerbaijanis in Iran are pressuring the government to halt the transit to Armenia, which they are able to observe, since Iran's border crossing point with Armenia is located in Azerbaijani populated regions.
The return of Azerbaijani control of the border with Iran creates additional opportunities for direct interaction between Azerbaijanis in Iran and in the Republic of Azerbaijan. Over the last weeks, Tehran arrested hundreds of ethnic Azerbaijani protesters and activists who criticized Iran's support for Armenia. Several rounds of demonstrations took place in Iranian cities with large ethnic Azerbaijani populations. Ethnic Azerbaijanis in Iran also cheered on Azerbaijani soldiers as they regained control of their lands bordering Iran.
Azerbaijan President Aliyev's first trip to the newly recovered territories included a visit to the Khudafarin Bridge, which straddles the Araxes River and links to Iran. President Aliyev personally hoisted an Azerbaijani flag on the bridge. Tehran clearly perceived the symbolism of his visit, which seemed to also generate enthusiasm among Azerbaijanis in Iran. During the visit to the border region, an Iranian sniper published a picture of his aim at President Aliyev and his wife.
In parallel to its loss of political influence in the region, in the last year, Iran's role in regional gas trade has greatly diminished. Azerbaijan and Turkey are in the process of building a gas pipeline that will connect Nakhchevan to the Turkish gas transmission system, eliminating Azerbaijan's need to transit gas to the exclave via Iran. At the same time, Turkey has drastically reduced gas imports from Iran. However, Armenia is likely to continue to import natural gas from Iran, and export electricity to Iran.
IMPLICATIONS: Russia and Turkey's snubbing of Iran may reflect larger strains in the relationships between Moscow and Tehran, and Ankara and Tehran. While Russia and Iran are often viewed by the West as allies, Moscow clearly did not create any role for Iran in the post-war security arrangements in the Caucasus. Iran did not even receive a ceremonial role in the negotiations process or post-war security arrangements. In parallel, Turkey and Iran are airing accusations against one another. During the war, Turkish media published several articles criticizing Iran's support for Armenia in the war and highlighting the dissatisfaction of Iran's Azerbaijanis (referred to as Iranian Turks in Turkish media). Iranian officials and media were also critical of Turkey, echoing Armenian propaganda that claimed that Turkey brought foreign jihadi forces to the war zone.
The geopolitical results of the recent Armenia-Azerbaijan war set off a discussion in Iran on its foreign policy toward its neighbors in light of what Tehran perceives as a serious geopolitical setback. The newspaper Tasmin, which is close to Iran's Ministry of Intelligence, ran a series of articles analyzing the results of the war for Iran, including the threat from additional Russian troops that will be deployed close to Iran's border with Armenia, and Tehran's perceived "loss of Armenia" due to now increased Russian and Turkish power. In one of the articles in the series, the author suggests that Iran adopt a less threatening foreign policy toward its neighbors.
CONCLUSIONS: The post-war security design in the South Caucasus improved the position of Russia and Turkey, while creating challenges for Iran, both foreign and domestic. Russia and Turkey's treatment of Iran may indicate larger rifts in each's bilateral relationship with Tehran. While Moscow and Tehran, and Ankara and Tehran, share some common interests, they also clash on many issues, and these rifts have not been the subject of sufficient study.
Tehran's support for Armenia in the war created great dissatisfaction among ethnic Azerbaijanis in Iran and likely enlarged the numbers holding anti-regime sentiments, creating an additional factor of public dissent against the ruling regime in Iran.
Russia and Turkey's snubbing of Iran came despite warnings by Tehran that without its participation, it may act to undermine the new security arrangement in the region. Tehran is likely to act to reverse its losses, possibly through efforts to destabilize the new security design in the South Caucasus.
AUTHOR'S BIO: Prof. Brenda Shaffer is a faculty member at the US Naval Postgraduate School, a Senior Fellow at the Atlantic Council's Global Energy Center, and a Senior Advisor at the Foundation for Defense of Democracies. She currently is writing a book on ethnic minorities in Iran.
Image Source: Public Domain. Accessed 11.25.2020