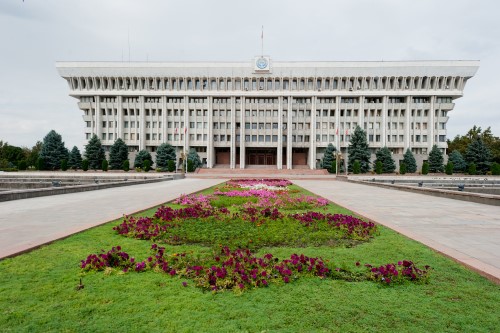 BACKGROUND: Following the election of a new national parliament, Jogorku Kenesh, on November 28, 2021, Kyrgyzstan completed a more than yearlong reconfiguration of its political system. The process started with the street protest against the fraudulent parliamentary vote of October 4, 2020, which eventually lead to the removal of incumbent President Sooronbay Jeenbekov and the appointment of Sadyr Japarov as interim leader. On January 10, 2021, voters elected Japarov in a snap presidential election, and 81 percent endorsed his preference for presidential rule in a concurrent referendum. In a subsequent referendum on April 11, voters also approved a new constitution reestablishing a presidential system, ending the country's decade-long experiment with a parliamentary-style system.
Kyrgyzstan's latest election brings the parliament in line with the new constitutional and electoral requirements. The parliament – reduced from 120 members to 90 – formed through a mixed electoral system, with 54 seats filled through preferential voting from national party lists, while the remaining 36 were decided in majoritarian single-mandate constituencies. Even though the return to a presidential form of government meant a significant curtailment of the parliament's powers, elites remained eager to seek representation. However, the election campaign was rather muted as observers noted an election fatigue in society. In the end, only 35 percent of those eligible chose to cast their votes in what was the lowest turnout ever.
Six parties gained representation, of which only one had cast itself in an oppositional mold. The combination of a loyal parliament with diminished powers makes it appear unlikely that the new legislative body will wield strong influence over policy formulation. Instead, it appears destined to function more as a political platform for raising and discussing certain issues. In this sense, the parliament might resemble a political elite club rather than a conventional legislature. The re-introduction of the majority system, with 36 seats in the parliament occupied by officeholders from specific districts, will likely ensure that a substantial number of MPs primarily are occupied with catering for local and regional problems rather than national issues.
However, a closer look at the composition of the incoming parliament, usually in some ways a mirror of Kyrgyz politics and society, reveals that a decisive and permanent generational shift has taken place in the country's politics. The generation born between the end of the World War II and 1965, is out. This was the last truly Soviet generation, with attitudes and working methods reflecting the mentality of the Soviet system. They were also the bearers of independence in 1991, steering the political and economic course of the sovereign Kyrgyzstani state.
The demographic cohort commonly referred to as Generation X, or in a post-Soviet context as "the last Soviet children" has taken its place. This generation spans from people born in the mid-to-late 1960s to the early 1980s. Overall, 45 percent of the incoming MPs are born in the 1970s, 23 percent in the 1980s and 18 percent in the 1960s. The average age of the incoming MPs is 45.5 years. This age structure can be compared to Kazakhstan and Russia, two countries which also elected new legislatures in 2021. The average age of a member of Kazakhstan's lower house, the Mazhilis, is 51, while the average MP in Russia's State Duma is 53 years old. This means that the "typical" Kyrgyz parliamentarian was about 15-16 years old at the time of the collapse of the Soviet Union. While formed in the Soviet education system, representatives of this generation have largely formed their professional experiences free from the Communist worldview.
IMPLICATIONS: But who are they? A closer look at Kyrgyzstan's new parliament reveals both change and continuity. Its ethnical make-up is compactly Kyrgyz, with less than a handful seats occupied by representatives of minorities (Dungan, Uzbek and Tajik). For the first time, not a single ethnic Russian obtained a parliamentary seat. The regional distribution of seats further shows that the majority of MPs hails from southern Kyrgyzstan (almost 60 percent), with Osh province the native home of one-third of the new MPs. The gender balance remains largely unchanged despite the fact that not a single woman won any of the 36 individual districts. However, the quota for the nationwide party lists ensured that 17 of 54 MPs elected on a party ticket are women, bringing the total share of female MPs to 20 percent. Indeed, this represents an increase compared to the outgoing corps of MPs, which in November 2021 had a 17 percent female representation.
The incoming MPs are strikingly well educated. All of them have a higher education, as required by law, and many have two higher diplomas, some even three. More than one-third have a degree in law, one-fourth are economists and close to 20 percent are engineers. A biographical analysis reveals that many parliamentarians have added a second university degree quite late, often simultaneously as working in labor-intensive occupations in the civil service or as private entrepreneurs. Given that Kyrgyzstan's system of higher education is notoriously corrupt and that buying academic diplomas is standard practice, this casts some doubt over the formally impressive academic credentials of the latest cohort of parliamentarians. No individuals have experiences from studying abroad and only one has studied at the American University Central Asia (AUCA) – the leading western-sponsored educational institution with the ambition of forming the future elite of Kyrgyzstan.
Since the first elections in 1995, Kyrgyzstan's parliament has been in an iron grip of a rent-seeking group of businessmen and civil servants. This dominance remains with approximately 60 percent of the new MPs having a background in various businesses while close to 40 percent have held high-ranking state jobs. In the flexible Kyrgyz job market, several have alternated between public offices and private entrepreneurial activities; almost 30 percent have had previous stints in the national parliament and 15 percent have served as members of city councils, mainly in Osh and Bishkek. On average, Kyrgyz parliamentarians remain a wealthy group of people. Compared to the older generation, the younger generation of MPs are risk-takers controlling many private enterprises.
Politically, the new generation of politicians hold national patriotic views. Traditional and nationalist-oriented values find resonance among a large group of Kyrgyz citizens, particularly in rural areas, where people since long have abandoned the old secular Soviet values and where liberal, pluralistic influences never have taken hold. In this ideological landscape, old Soviet-influenced ideas and values as well as liberal political ideas are on the retreat. Thus, while the Soviet imprint on Kyrgyz politics and society is rapidly disappearing, it is not replaced by liberal, western-influenced ideas, but by a return to Kyrgyz traditions. As part of this, the role of Islam is growing in importance, as manifested by the religiously oriented party Yiman Nuru (Ray of Faith) managing to enter the parliament. Displays of religiousness on the part of candidates have become a more pronounced feature of electoral campaigns in Kyrgyzstan over the past decade.
CONCLUSIONS: In Kyrgyzstan, and other Eurasian countries in which a decisive democratic breakthrough remains elusive, many experts and democracy promoters have assumed that the situation would eventually change with the coming to power of a new generation that is less restrained by the mental hangovers of the Soviet system. Kyrgyzstan appeared to be in a particularly favorable position in this regard since the country over the past decades has been the subject of much external influence through western-sponsored local non-governmental organizations (NGOs). The hope was that empowered civil society agents were the ones most likely to transform the government and advancing Kyrgyzstan's democracy. In Kyrgyzstan, this led to the rise of a class of local NGO managers, made up of young, vocal and often foreign-educated individuals in Bishkek.
NGOs have undoubtedly played a crucial role in implementing valuable projects, delivering a broad range of social services, and they remain important voices in demanding government accountability. But in spite of these contributions, the fact that NGOs were mainly financed from abroad and accountable to outsiders seems to have come at the expense of developing deep local ties. Rather than truly emerge as a response to bottom-up needs, Kyrgyzstan's civil society became a top-down project led by an urban middle class. With a new generation taking over Kyrgyzstan's government and parliament, it is clear that this class of politically conscious individuals, often labeled as progressive, born in the 1970s and 1980s have failed to organize politically and to formulate a political alternative in tune with the needs of Kyrgyz citizens.
In sum, associating Kyrgyzstan's future with the younger generation of activists in Bishkek gives a distorted picture of a complex generational change. There are other young people coming to age with very different values and perspectives.
AUTHOR'S BIO: Johan Engvall, PhD, is a Deputy Research Director at the Swedish Defence Agency and a non-resident senior fellow with the Central Asia-Caucasus Institute – Silk Road Studies Program Joint Center. He is the author of the book, The State as Investment Market: Kyrgyzstan in Comparative Perspective, published by University of Pittsburgh Press. The views expressed here are those solely of the author.
Photo credit:Flickr user Matthias Buehler - creative commons.