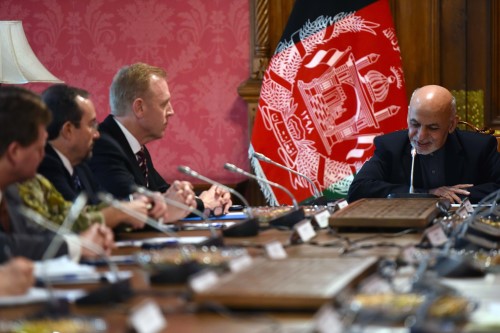 BACKGROUND: According to unauthorized media leaks apparently aimed at galvanizing a stronger U.S. official response to the allegations, starting around 2018 and 2019, Russian military intelligence (the GRU) hired Afghan middlemen to offer cash rewards to various Taliban-linked criminal militants who harmed NATO soldiers. The intelligence concerning such bounties comes from Afghan and U.S. Special Operations' interrogations of captured extremists as well as evidence of covert financial transfers through the formal and informal Hawala financial systems. Foreign powers have bought loyalties within the Afghan patronage network for decades. Moreover, the GRU Unit 29155 is notorious for its attempted assassinations, cyber attacks, and foreign election interference. Still, the number of Russian-hired killers and their results remain under investigation.
Moscow's involvement in Afghan affairs has been growing for years. Following the Soviet defeat in Afghanistan during the 1980s, the Russian presence remained minimal. Throughout the following decade, Russia gingerly reengaged after the U.S. military intervention deposed the Taliban regime, which the Kremlin had opposed due to its support for Islamist militants in the North Caucasus and other anti-Russian policies. Between 2002 and 2005, Russia supplied the Afghan government with some US$ 200 million worth of defense aid. The assistance included repairing Afghanistan's former Soviet technology, such as military transport planes and the anti-aircraft defenses around the Kabul Airport. Although the military aid subsequently decreased, in 2007, Russia reopened its Kabul embassy. Russian economic ties with Afghanistan also expanded, with Russia becoming an important energy supplier, though most Russian-Afghan commerce constituted illicit trafficking in narcotics. Although Western and Chinese involvement in Afghanistan was substantially greater, Moscow made suppressing the inflow of opiates through this northern route a major theme in its engagement with NATO under President Medvedev, but the drug issue has lost salience in recent years.
Over the past decade, Moscow's policy has become more complex, due in part to the Russian leadership's ambiguous view about the NATO combat presence in Afghanistan. At various times, Russian leaders have urged Western troops to leave as soon as possible yet stay as long as necessary. In 2001, Moscow acquiesced in the U.S. military intervention in Afghanistan since it really had no choice – the Pentagon was going in with or without the Kremlin's approval. Furthermore, many Russians who were concerned about the terrorist threat to Russia's South hoped that NATO would suppress it and then leave. Through its participation in the Northern Distribution Network, the Russian government helped NATO deliver non-lethal supplies from Europe to the Western military contingents in Afghanistan, generating transit revenue and logistical advantage. However, Russian officials have been dissatisfied with NATO's inability to subdue the Afghan insurgency or the large-scale northward flow of Afghan opiates. In addition, they have firmly opposed permanent U.S. military bases in Afghanistan or Central Asia. As relations deteriorated with the West, so did Moscow's tolerance for having a NATO military force stationed along its soft strategic underbelly. Likewise, many Russians would welcome a U.S. military humiliation in its longest war.
IMPLICATIONS: In its Afghan policies, the Russian government has cultivated diverse local and foreign partners in order to gain near-term influence and position Moscow for post-NATO scenarios. Russia's diplomatic engagement initially focused on building ties with the central government, then led by President Hamid Karzai. Though he had decent ties with the George W. Bush administration, Karzai's strained relations with the Obama administration drove him toward Moscow. In January 2011, Karzai made the first state visit by an Afghan president to Russia and, in 2014, ingratiated himself by becoming one of the few heads of state to openly support Moscow's illegal annexation of Crimea. Since leaving office in 2014, Karzai has participated in many Russian-led intra-Afghan peace dialogues, while his successor, Ashraf Ghani, has sought deeper ties with China and other foreign partners. Additionally, the Russian government has reestablished Soviet-era ties with the Tajik, Uzbek, and Turkmen ethnic minorities in northern Afghanistan since they could provide a buffer for the neighboring Central Asian states.
At first, the Russian government opposed any negotiations with the Taliban. After a few years, Russia backed inter-Afghan peace talks provided it was led by Afghan officials, not Western governments. Since around 2015, the Russian government has pursued formal ties with the Taliban. These contacts serve the immediate objective of boosting Moscow's influence while simultaneously hedging against a Taliban victory after NATO departs. Russian officials initially justified the outreach as designed to share intelligence about the terrorist organization known as the Islamic State in Iraq and Syria (ISIS), which Moscow saw as posing a more serious threat to Russia. Whereas the Taliban profess to have political ambitions only in Afghanistan, ISIS overtly strives to establish a jihadist regime throughout Eurasia. Fundamentally, Russian and Taliban leaders share the immediate objective of showing they have diplomatic alternatives and the long-term goal of removing all foreign military forces from Afghanistan.
Ending decades of hostility from the Soviet war in Afghanistan, the Kremlin has also managed to improve ties with Pakistan in recent years. There have been joint military exercises, Russian weapons sales, other defense industrial cooperation, and improved economic exchanges. These closer ties give Moscow greater diplomatic leverage and indirect leverage with the Taliban, whose leadership has strong ties with Pakistan's intelligence services. Moscow's outreach regarding Afghanistan has also extended to China, Iran, and other countries. These activities have mostly comprised multilateral meetings and declarations—helping, though not ensuring, that Moscow has a seat at the negotiating table of any peace agreement. Russian leaders want to avoid a return to the 1990s, when they were mere spectators to Afghan developments despite the country's significance for attaining Moscow's goals in Eurasia. Lastly, Moscow has shored up its regional security ties, by increasing its military deployments and security assistance in neighboring Central Asian countries. Besides bilateral defense ties, multilateral security ties have expanded within the Moscow-led Collective Security Treaty Organization. Russian diplomats have found it useful to highlight the terrorist threat in Afghanistan and elsewhere to justify these military deployments.
CONCLUSION: Speculation over what Russians did and why continues, with popular explanations for the alleged killer-for-hire scheme being revenge for setbacks in Syria or elsewhere; unsanctioned freelancing by local Russian operatives; an effort to accelerate a U.S. military withdrawal; or, conversely, to sabotage the peace process in order to keep NATO bogged down in an Afghan quagmire. Though paying Afghans to kill NATO soldiers would represent an unprecedented step for Russian policy in Afghanistan, there have been reports for years that Russians entities have provided intelligence, money, and arms to the Taliban. Moreover, they have allegedly employed criminals and mercenaries in Ukraine, Syria, and Libya.
In any case, the recent actions had minimal impact, in either Afghanistan or elsewhere. Each month, Taliban and other Afghan terrorists launch thousands of attacks against NATO and other targets (though refraining from attacking NATO soldiers since February's peace agreement). Meanwhile, Russian-U.S. and Russian-UK relations are so poor that the latest incident could hardly make them worse. Russia's conflict with the West in Afghanistan has remained limited, as has the level of cooperation. Revealing, even if Moscow can hire freelance murderers in Afghanistan, its tools of influence in Afghanistan are weak compared with the far greater U.S. diplomatic and military power and China's vast economic potential in the country.
AUTHOR'S BIO:
Dr. Richard Weitz is a Senior Fellow and Director of the Center for Political-Military Analysis at Hudson Institute.
Image Source: DoD photo by Lisa Ferdinando accessed on 9/3/2020